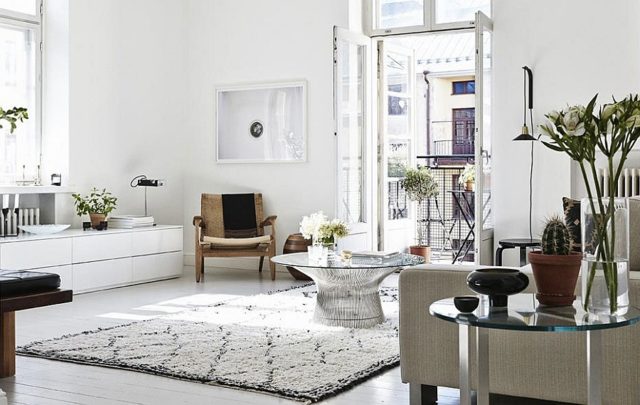 People living in the Scandinavian countries are well-known for their taste in interior design. They have come up with magnificent ideas on how to incorporate and maximise the light during the entire year. So, what is it that they do that makes each home in Denmark, Sweden and Norway so light, cosy, minimalistic and stylish? Here are a couple of tips on how to recreate the Scandinavian interior look in your own place with all of its beauty, simplicity and utility.
Colourful or colourless?
White is definitely the new black when it comes to the interior design trends. Walls painted white create the illusion of a wider space and look great in small flats. However, be careful about the furniture. Do not use a lot of colourful items, but instead go for a minimalistic approach – white, blue and grey hues. Sheer curtains are also here to help create a lighter space, so do not choose any other colours.
What kind of material should I use?
You should go for wood which would fit in perfectly with the white walls. It adds a bit of warmth and atmosphere to the space. What's more, it reflects the nature in Scandinavia with all its icy white and brown wood elements. What you can easily do by yourself is make a wooden mirror you can place in your master bedroom. This is not so hard to do, and the best of all – it is budget friendly! Just decide upon the kind of wood you want, buy the glass, cut the wood and make a frame out of it – as simple as that, and more beautiful than most of the other mirrors you have seen, right? Beauty indeed lies in simplicity.
Rug or no rug?
You will never see a wall to wall carpet in any Scandinavian country. They are more likely to have a wooden floor with a rug on it. However, no matter how simplistic they are, the rugs they choose need to heat up the atmosphere. Opt for a rug with interesting patterns. You can place it under your coffee table, and in no time that will become the favourite corner of your house, where you will enjoy sitting and gossiping with your girlfriends over a cup of coffee.
Keep it simple
Those living in Scandinavia are famous for being well-organized. You have probably seen all those storage boxes they have – so why not make some by yourself? You could make use of a piece of furniture in a different way – how about a place to rest your legs which is actually a storage for books? This can also be used as additional seating, so when looking for a Scandinavian interior DIY projects, choose the ones which are highly-adaptable and space-saving.
Moreover, do not use too many ornaments. Keep it simple, but cohesive. Group pieces that fit perfectly and add a bit of colour to sparkle up the atmosphere. If you are thinking about ways to store books you can make large book shelves out of wood where you could sort the books by the colour, so that they fit the surroundings perfectly.
If you are feeling like having your house redecorated, there is no better style to choose than Scandinavian. To get rid of the clutter, embrace the light and simplistic items which will make your home more spacious and brighter. There are numerous DIY tips on how to make your own Scandinavian interior design master piece so, chop chop, off we go!