Gardens are alluring oases that provide healthy food and shelter from everyday stress. They are also inviting green sanctuaries adorned with a rich spectrum of colours. More and more people are migrating to outdoor spaces in pursuit of a rejuvenating pastime, and there is no better decoration than pretty flowers dotted across the landscape. The stunning natural environment ornamented with splashes of colour will leave you and any visitors standing in awe. So, roll up your sleeves and let your green fingers do their magic.
Leave a colourful mark
To assemble a vivid spectacle, it is best to first ponder on specific colours. The next step is to align your colourful ideas with the realities of the budget. Nevertheless, you cannot go wrong by celebrating sunny colours. This means you are embarking on a journey to organise your garden landscaping around the exciting palette of yellows, oranges, reds, and purples. To set the stage for this enthralling scenery, you have to invest time in good looking beds that allow for blooms and bouquets over a long season.
So, let us start with a red-and-yellow Achillea, which thrives in temperate and cool climate. It craves for fertile and well-drained soil, as well as moisture during the summer. The best thing is that individual flowers grouped in corymbs can surprise you by appearing in different colours. To summon a bit more of the fiery presence, muse on Aechmea or Begonia, a clump-forming plant with varying colours, textures and shapes. If you have a heavier, rich soil in the garden, then the similar visual bliss can be invited with Chrysanthemums.
A visual symphony
Those who crave for some purple in the rockery and alpine conditions should consider Campanula. Toothed edges and bell-shaped flowers will leave you spellbound, but note that they can be invasive and require some divisions and small basal cuttings. If that does not sound like your cup of tea, go for Dahlia. It will bless you with purple charm, provided that you put it in a moist, humus-rich soil. These tones spark attention in the garden and add to its visual appeal. A bit of orange is also a great way to enrich the landscape, so enthral the spectators with Cannas or Tagetes.
Furthermore, Erysimum is a striking wallflower, which longs for cool summers and mild winters. It will reward you with rich, evergreen leaves and tall flower stems. Moving along the colour spectrum, we arrive in the airy, soothing presence of plants like Iberis. Versatile as they are, these continuously blooming plants also serve well as ground covers, and in massed displays. And yes, white is an appropriate colour because it contrasts the more rousing parts of the garden.
Finally, note that a marvellous symphony of colours in your backyard also needs to be encompassed by materials like stone, concrete, and wood. You do not want to create a messy jungle, with nature taking over everything. Therefore, turn your attention to walkways and keep them tidy. Complement the natural order of beauty with architectural elements such as decorative paving patterns, patios, pergolas, gazebos, garden walls with art, etc. A bid of artificial face-lift is a welcome addition as it introduces drama and variety in the realm of parterres and petals.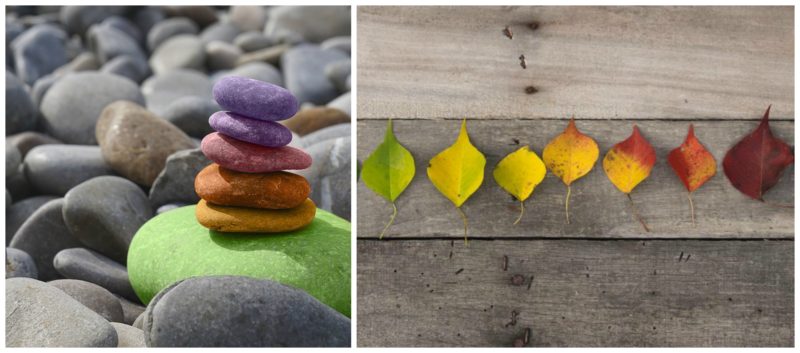 Hearts and flowers
Owning a well-groomed garden is a great way to relax, rewind or get active. Of course, you need to invest much time in assembling a flowery designed garden with blazing beds, sunny bouquets and lively interplay of colours. The rewards will come in many forms: You will be able to immerse in the magnificent outdoors and take a break. So, do not hesitate to choose the favourite colour, obtain appropriate seeds, and start shovelling. Plant flowers and you will ensure a bright, picturesque future for as long as your hands tend the natural shrine.