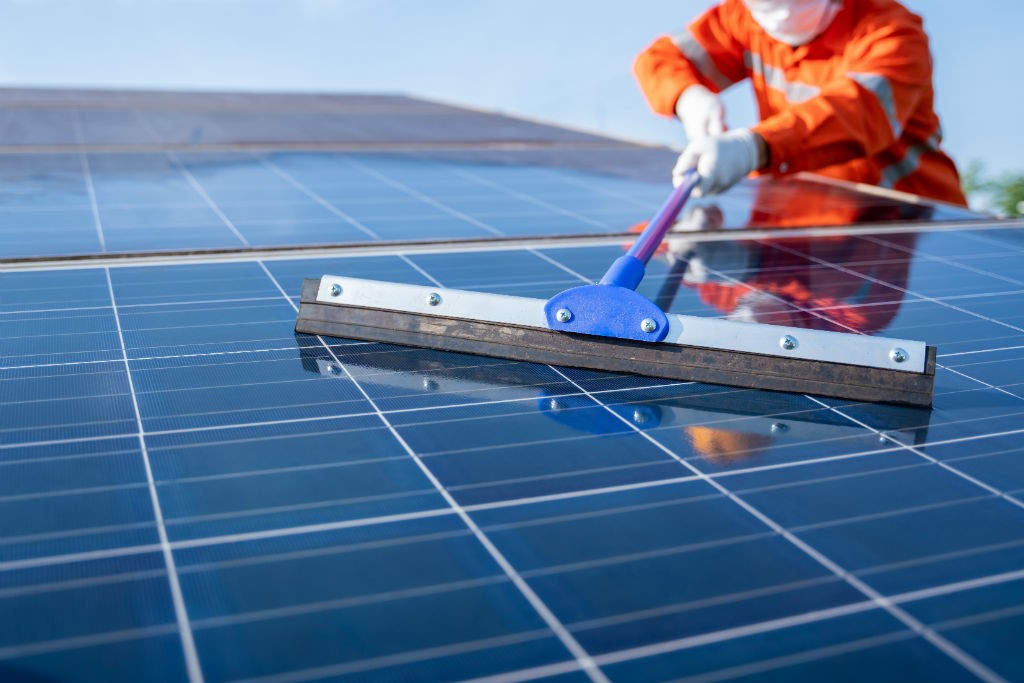 If you want your car to run at its best and keep taking you from A to B, you need to get it serviced regularly. However, because those four wheels will keep turning no matter how often you give your car some love with a sponge and polish, it can be easy to forget how important it is to keep your solar panels clean. Do you need to clean solar panels? Absolutely yes – and it's not just about making your roof look nice and shiny.
Do I need to clean solar panels?
Never forget: those panels are the way your photovoltaic solar power array and system receives that glorious free energy from the sun, beginning the process of converting it into the AC power our home energy usage demands. A home with solar is very energy-efficient so if they're covered with grime, dust, leaves, debris and bird poo, it's a bit like putting sun cream on your skin. And while rain will wash away some of the solar blocking gunk, you also need to wash solar panels properly and professionally for your system to really work at full efficiency.
Did you know that clean solar panels are, on average, about 10 percent more efficient than dirty ones? A 5kW system alone stands to save you more than $2000 each year over simply being connected to the grid – so factor in a 10% efficiency decline and the need to wash solar panels regularly becomes obvious.
How often should you clean solar panels?
Answer: When they're dirty! In all seriousness, though, modern efficiency monitoring systems should make it possible for you to compare your fully-efficient solar system operation to when it all might need a bit of a scrub. The only thing left now is to discuss how do you clean solar panels most efficiently – and whether you need the help of your favourite solar panel cleaning services.
1. With a hose
You don't even need a ladder to give your panels a bit of love. Even with your garden hose and even from ground level, you'll be surprised how much gunk you can get off. Try to direct the stream into an arc that resembles heavy rain.
2. Isopropyl alcohol
Stubborn muck like bird poo is less likely to be shifted from the ground, so get up on that roof with a ladder – and be careful! Start off by resuming the action with your garden hose, but for the really stubborn bits try some isopropyl alcohol, which is great for all those poo-ey and oily stains.
3. Do NOT use soap
The reason we recommend against the normal soaps and detergents you're used to is because of the residue you're likely to leave behind – which may simply become a new solar blocker source! Worse still, that residue can act like a sticky trap for even more dust.
5. Yes, use a soft brush
Leave the harsh wire brushes at ground level, but by all means use a soft brush and even a plastic scourer to wipe and scrape off the stubborn marks. If you're not sure if your tool is suitable and safe for solar, however, always check with an expert first.
6. It's safe to squeegee
We also say "yes" to that trusty squeegee, because – just like with your kitchen windows – it's a great way to finish up your solar panel cleaning by wiping away any solar blocking streaks.
Need professional solar panel cleaning?
Not sure what you're doing? Worried about doing more harm than good? Don't fear, Search Frog is here to help! We have an extensive list you can search for local cleaner, however 'electricians near me' might be a better search for solar electricians that can provide an inspection at the same time as solar panel cleaning. They have all the best tools, equipment and products to leave your solar panel array looking like new, so check our local business directory and get in touch with them today!