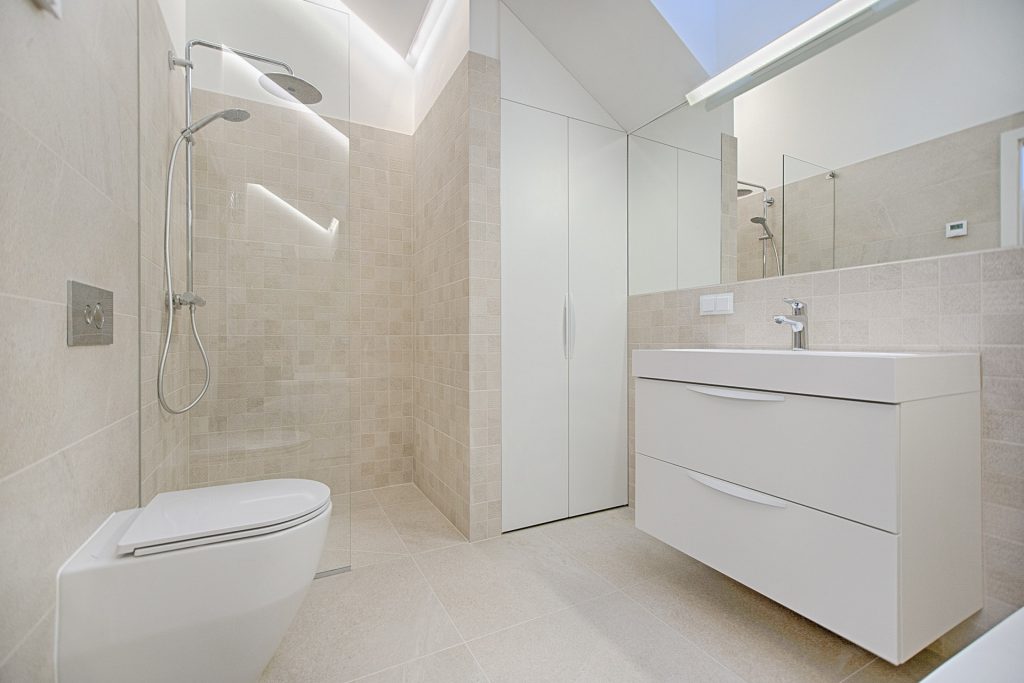 In recent years, doorless (or walk-in) showers have been in vogue. While walk-in showers have been used for several years in other forms, this contemporary doorless shower is increasingly becoming famous as a result of its effectiveness as well as aesthetic value.
Nevertheless, while some may find a doorless shower as impressive, others may dislike it. So, it is understandable to see some sitting on the fence concerning choosing between the door or doorless option for your shower. Consequently, we have established this article to ease your decision making. Let's define a doorless shower, its benefits, drawbacks as well as professional advice and bathroom design ideas. Kindly read to the end!
What is a Doorless Shower?
Structurally, a doorless shower – also known as Roman shower, walk-in shower or roll-in shower – is created to function without the use of a door or curtain.
Benefits of Doorless showers
Multi-purpose
Apart from the fact that a doorless shower can be used to bath during the night, it functions as a walkway during the day. And without a doubt, any material within an apartment which can multi-task and consequently makes the house more functional while using the same size is a worthwhile option.
Offers spacious and open feel
Since the shower is open and visible, the square footage of the bathroom will increase insight and as a result, offering a great bathroom perspective as well as feel.
Availability of Universal design
By using a doorless shower, there will be no obstruction of the bathroom's beauty. Also, the accessibility and universal design of the shower will be epitomised by the stress-free entry.
No water spots on the door
A shower's door always experiences hard water spots as well as weird build-ups. However, using a doorless shower prevent such troubles. Consequently, you will have less stress of cleaning your shower; and more time to relax.
Spa-like Luxury
A doorless shower offers every bathroom a luxurious appearance as well as feel. While using a doorless shower, you will likely feel nothing short of spa-like treatment.
Downsides of Doorless showers
Restricted Privacy
Undoubtedly, shower privacy becomes limited without a door. Depending on the tenant condition, only a single person might be allowed to use it. Any individual who decides to settle for a doorless shower must be convenient with limited privacy.
Possible water splashes in the bathroom
With some specific designs of the doorless shower, it is likely to have water splashes all around the bathroom. In order to reduce such possibility, meticulous planning and using a spacious bathroom will be necessary. You must of course ensure your waterproofing and tiling is up to scratch, especially with a doorless shower installed.
Chilly condition
Regardless of the design, water will find its way out of a doorless shower, which will likely penetrate the other parts of the bathroom. The solution to this issue is using proactive bathroom materials (including metals, porcelain, stone or engineered quartz) across the whole space.
Professional Tips
1. Use a corner area: using a cornered doorless shower gives more privacy, and it is more space-efficient compared to non-corner option. The reason is that you will be able to use the two walls as cover while you direct the walkway away from your bathroom materials.
2. Use a strategic showerhead: the whole space in your bathroom will less likely be soaked with water if you use rain-mount showerhead or other kinds of showerhead rather than the traditional angled showerhead.
3. Choose Non-slippery flooring: even though the doorless shower is incorporated into a bathroom, it is unnecessary to share similar flooring. For the sake of safety, the area of the doorless shower should be made with a non-skid material, should in the case the whole of the bathroom is not made with one.
4. Create a half-wall to safeguard splashing: A half-wall is quite useful in alleviating splashing across the bathroom, most notably in tighter areas. Also, it can be beneficial since a half-wall design is less visually invasive compared to the full wall while its eye-level vision line remains intact.
5. Make the shower floor slope to towards the drain: regardless of whether your shower has a door or not, it is vital to slope the shower floor towards the drain – irrespective of its position.
Model Ideas
Choose a simple design
Most people will consider doorless shower as elegant and grand space within the house. While this might be true, it doesn't have to be the standard. If you are the humble kind, use a similar doorless shower design. The aesthetic value of your bathroom may be amazing by using a cheerful red bucket on a modern shower, having white walls, concrete floor, and less-sophisticated windows.
Allow the other bathroom designs to add to the shower
Since the limits of doorless shower can be quite complicated while doorless shower can also be exposed visually, it is vital to use materials that flow with the rest of the bathroom on your doorless shower.
Materials for the shower should be similar to little differences
A modern bathroom may be unique as a result of a doorless shower present; hence, spice it up with more subtle yet logical design options. Apply a surround which flows with other parts of the bathroom, yet distinct. Choose shower materials made in matte metallic to match earthy wood fixtures in other areas.
Conclusion
It's not a do-it-yourself project to install a doorless shower. You'll want to discuss the best design for your bathroom with a professional local plumber. It will be necessary to address layout, plumbing and structural issues. However, these showers' beauty, pleasure, ease of use, and functionality make them worth considering.