Next to your dress, your hairstyle is probably at the top of the list of what you want to be perfect on your wedding day. Matching your wedding hairstyle to your dress is all about making sure that your hair completes your look instead of overtaking it.  After all, as the bride, you are the belle of the ball and your entire look should reflect that.
Knowing what wedding hairstyle complements what style of dress is the best way to decide on your look.  With this in mind, let's look at several wedding gown styles along with suggested hairstyles to match.
No matter which style you like, make sure to get in touch with your stylist early and follow the do's and don'ts of wedding hair.
Elegant and Sophisticated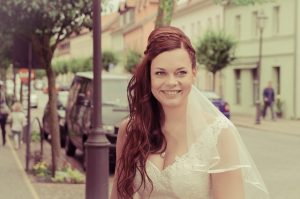 When you think of elegant and sophisticated, you think of a dress that rivals Princess Kate or Kim Kardashian. It may have some embellishments around the neckline but still maintains a classic design.  That is why it requires a more traditional hairstyle like a sleek up-do like a tight bun or French twist that is polished just like the dress itself. If your hair is longer, wearing it halfway back is another way to complement this refined style of dress.
Romantic
Romantically styled dresses are also elegant but in a different way.  With this style, the dress is made of softer fabrics and often embellished with lace.  Hairstyles fitting a lace wedding dress style of gown are graceful whether up or down. Loose curls complement this style dress more than any other.  Even if you want an up-do, think about a loose bun with soft curls or tendrils framing the face.  Side ponytails are very popular and, loosely done with soft curls, add a little trendy flair without being too dated.
Simple and Understated
Wedding gowns that are simple and understated typically have little or no embellishments and give you the opportunity to have a more dramatic hairstyle whether up or down. This means you have volume (not to be confused with big hair) and more prominent hair accessories.  This is your chance to have more fun with your hair since your dress is on the minimalist side in terms of embellishments on it. Keep in mind that your hair has to last pretty much for at least eight hours if not a little longer.
Strapless
With strapless dresses, your hair needs to show off the shoulders.  This does not mean you should definitely wear it up — you want it to accentuate your decolletage not hide it. Wearing your hair over your shoulders may be too much so consider wearing your hair halfway pulled back.  One of the nicest features about this hairstyle is that a veil or other hair accessory easily attaches to the barrette holding half of your hair back creating a very elegant look that, again, does not take away from the strapless gown.
Casual
Weddings continue to become more casual affairs especially destination weddings in the mountains or at the beach.  Simple sheath or slip gowns are often the choice design because of their soft lines which makes it easy to pretty much go any way you want with your hair as long as it is casual. Long, loose curls go with this style so well just a loose low hanging ponytail does.
The goal of wedding hair is to complement your dress so that your whole look is unbelievable.  Think about the weddings to which have gone and how the bride looked as she walked down the aisle.  It is a breathtaking moment and when your hairstyle matches your dress, you walk with a sense of confidence that only a bride knows.