Minus a fair share of red carpet disasters, celebrities, for the most part, provide us with a seemingly unending portfolio to refer to when it comes to hair and beauty.
Whether it's taking in a photo to your local hairstylist of that enviable long, glossy bob your favourite star nailed or turning to magazines for what's hot in the world of make-up, celebrities are the benchmark for what is aesthetically pleasing, current and on-trend.
That's why we are adding to your ever-growing wedding hair inspiration arsenal by counting down our top five celebrity bridal hairstyles that are chic and oh-so-attainable for your own big day.
1. Kate Middleton's wedding hairstyle
What list would be complete without an appearance from the ever-stylish Duchess of Cambridge? At arguably the most anticipated royal wedding since her groom's parents wed in 1981, Kate upped the style stakes in every way, inspiring countless modern brides to revert to a more traditional, polished look with not just their dress, but her hair and makeup too. Her famous long, glossy hair was as flawless as she is, with pinned sides held back under a flowing veil and lightly curled ends trawling down the back of her gown.

2. Kim Kardashian's wedding hairstyle
At her wedding to rapper Kanye West in 2014, Kim didn't disappoint her legion of fans with her overall look.
At her previous wedding to basketball player Kris Humphries in 2011, Kim opted for a lavish ceremony and gown, and her hair was slicked back tightly – letting her diamond headpiece and long, white veil do the talking.
The next time around, her look was much more relaxed in keeping with its Italian setting, and Kim opted for a more covered-up lace dress reminiscent of Ms Middleton, as well as letting her jet-black locks down in a natural style with a simple centre part.
3. Amal Clooney's wedding hairstyle
The new Mrs Clooney, herself a highly accomplished human rights lawyer, is widely known for never putting a foot wrong when it comes to her fashion choices and her hair – and her 2014 wedding day was no different.
A fan of classic, conservative pieces, Amal's off-the-shoulder traditional white lace gown was offset by her now-famous dark, glossy strands. With a relaxed side-part that gave way to tousled waves past her shoulders, Amal's look was a fusion of traditional bridal elegance and relaxed, contemporary charm.

4. Portia De Rossi's wedding hairstyle
At her wedding to Ellen DeGeneres in 2008, Portia opted for a style that is still just as popular in the bridal world almost a decade on. Renowned for her long blonde hair that she usually wears in a relaxed ponytail or hanging in loose waves, Portia bucked her usual look in favour of a classic chignon, scraped back off her face in a tousled boho fashion of her own.
5. Jesinta Campbell's wedding hairstyle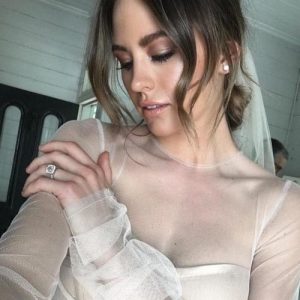 There's something we just love about the relaxed vibe of Jesinta Campbell's hair during her recent wedding to AFL legend Buddy Franklin, and that's why she appears in our celebrity wedding hairstyles list. Jesinta opted for an elegant corseted dress with matching veil, but then did the unexpected. Instead of styling her hair traditionally to match her outfit, the daring model instead went for a simple, tousled low ponytail accompanied by a middle part and lightly curled tendrils framing her face.
Which is your favourite celebrity wedding hairstyle? Head over to our movie wedding hairstyles post for more exciting creative hairstyle ideas for your big day.