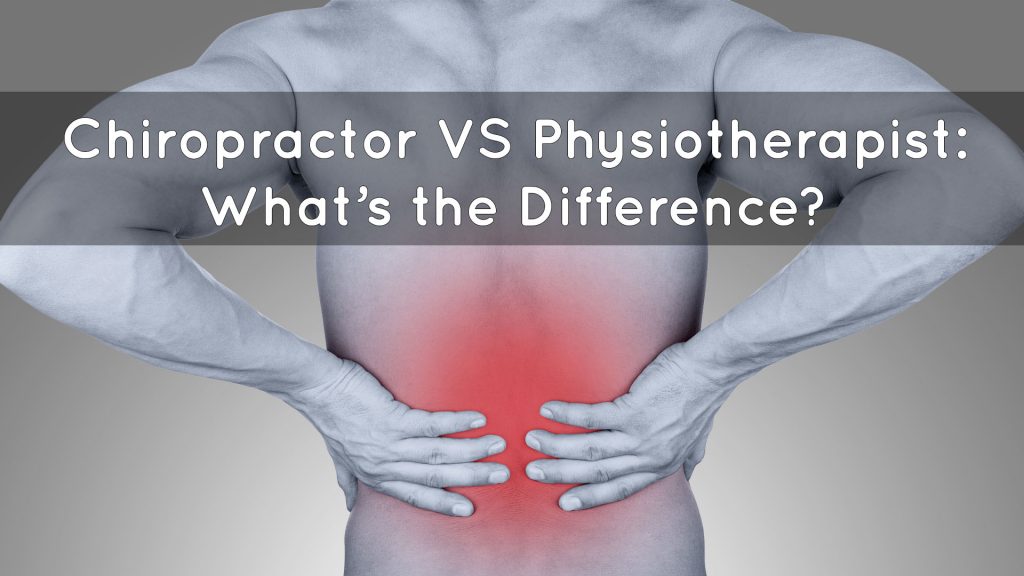 Let's face it: when you're aching, injured, sore or in pain, you just want it sorted … fast! But knowing the right road to recovery can be difficult. One friend will say: "Go to a physio!" But another tells you: "A chiropractor will fix it!" So today, we're going to be looking at one of the most important questions any aching body will want the answer to: chiropractor vs physiotherapist. Who should you be taking your aching body to today?
Physio or Chiro: The difference between Physiotherapy and Chiropractor
When your muscles or skeleton simply hurt, you just want to be visiting the right professional. So let's start at the obvious place. Chiropractor vs physiotherapy … what's the difference?
To begin with, while they are most definitely separate disciplines, there is a lot of crossovers. Both want to ease your pain, improve your mobility and strength, end or mitigate your injuries and issues, and maximise your quality of life.
The Physiotherapist
Let's start with the physio. Anyone who follows professional sport will know physiotherapists play a key role in the performance of athletes, but they are also a 'go-to guy' for all sorts of run of the mill musculoskeletal issues for you and me.
Normally with a four-year degree, they will prevent, diagnose and treat a huge range of bodily concerns and conditions using an evidence-based, hands-on approach. Their manipulation techniques focus on mobilisation, massage and even dry needling and other novel methods, and you're likely to head home with strengthening and stretching homework.
Generally, a physio clinic is a good destination after injuries or accidents, or for sportspeople looking to maximise performance and minimise problems.
The Chiropractor
While the physio focuses on mobilisation techniques, a chiropractor will use a similar hands-on approach but focus on your limb and spinal joints — particularly those where movement has become compromised or restricted.
This is where the cliched 'crack your back' techniques come in, even though chiro manipulation is highly targeted and gentle and designed to get you moving more freely and smoothly. The chiro, who will have five years of tertiary education – will also use a variety of chiropractic treatments to help solve a range of novel complaints, including headaches, dizziness and vertigo.
Generally, a great chiropractor clinic will operate with the philosophy that wellbeing requires a harmonious relationship between your spine, skeleton, joints, muscles, tissues and nervous system.
Chiropractor VS Physiotherapist – where should you go?
You may be seeking a clear answer to the 'physio or chiro' dilemma, but unfortunately, it's not quite that simple. Whatever pain, condition, complaint or injury you're suffering from, it's almost certainly of a musculoskeletal nature — and a physio or chiropractor can probably help.
What we're saying is that while they are two very distinct disciplines, where you should be heading for treatment is not clear-cut.
With that in mind, here's a rough guide when you're tossing up the chiropractor vs physiotherapy dilemma:
If you:
Are having issues with soft tissue, joints and muscles, a PHYSIOTHERAPIST could be a good place to start.
If you:
Have stiff, sore or locked joints and other treatments aren't working, it's well worth consulting with a CHIROPRACTOR.
If you:
Are completely uncertain, head to your GP for an examination, and they should be able to point you in the right direction.
It's also important to note that you have a role to play in the chiropractor vs physio question as well, as to how your particular issue is managed is also a personal choice that should be guided by professionals.
Our two cents: While everyone will say "My guy is the best – don't go anywhere else!", we are great believers in the wonders that chiropractors can perform. It's an impressively holistic discipline that focuses primarily on health, lifestyle and wellbeing, and the goal is to use non-invasive physical manipulation to put your body back into its natural balance.
But physios are also well versed in anatomy and physiology and can be a good destination particularly for rehabilitation, particularly for minor injuries and rehabilitation. So make sure you consult with the professionals and make fully informed and personalised decisions about your health and wellbeing.