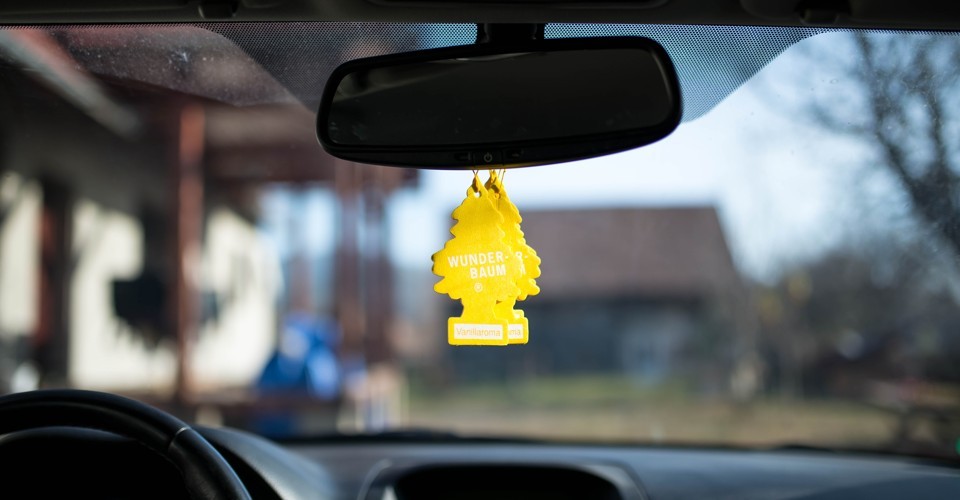 There's something oddly therapeutic about a new car smell that makes it as satisfying as the smell of freshly baked bread, or the aroma of freshly ground coffee beans on a cold winter's morning.
A new car smell could be also tied to a special moment in your life, whether it was your first day at your new job or it was a graduation present, maybe it was your first date, it's safe to say that getting a new car is an unforgettable experience.
The smell of a new car is so intoxicatingly good that even air freshener companies have tried to replicate this moment of nostalgia by creating 'new car' scents.
Unfortunately, trying to keep that new car smell is another story. Renegade french fries lost down the side of the seat, spilt drinks, coffee cups from 2 days ago, and late-night fast food runs all add to the deterioration of our beloved scent.
Thankfully, with a bit of elbow grease and a few simple techniques you can get your car smelling just like when you drove it out of the dealership for the very first time.
Just follow these simple steps.
Step 1 – Take out the rubbish
We know this seems like an obvious step but I'm sure we've all been guilty of leaving rubbish in the car at some stage. Whether it was a plastic drink bottle in the cup holder or a fast-food bag from a couple of nights ago, make sure to throw out all your rubbish.
It can be easy to forget about that banana peel left in the side door pocket, or the sandwich in the back seat, or the leftover coffee cup in the middle console, but you should always make an effort to remember to remove and clean the interior of your car on the daily.
This could also include unnecessary items left in the back seat or on the ground such as toys, books, papers, wrappers, or any other debris that can be heard rolling around.
Step 2 – Give your car a good vacuum
Now that you've removed all the larger pieces of rubbish out the way, you can start vacuuming the car. This will allow you to get into all the small nooks and crannies around your car where food debris, dirt and dust can over build up over time.
Using various nozzle attachments, vacuum the upholstery, adjust your seats and vacuum underneath, removing the floor mats will make it easier for a deeper clean. If you notice any stains, apply some baking soda and allow it to sit for several hours before vacuuming it up. Not only will this remove the stain but also any odours it produced.
This is much easier to complete if you have a handheld vacuum, if you don't have one, you can always go to your local servo where they have high-powered vacuums available.
While your floor mats are out, take this opportunity to also give them a good whack or shake to remove any dirt that is embedded into the rubber or cloth of the mats.
Step 3 – Clean the interior
Either using Armor All or a DIY 50/50 solution of white vinegar and water, start to spray down sections of the interior and then wipe it with a microfibre cloth. Start with the dash then do the middle console, followed by the back seats, passenger and driver's seat, the floors, the mats and any other remaining surfaces.
Based on your interior, use the following methods:
Leather – Apply a leather cleaning compound onto leather seats and lightly massage into the material with a cloth and then dry with a microfibre cloth. Allow for the leather to completely dry and then apply a leather conditioner to nourish and restore its flexibility in the fibres.
Vinyl – Apply appropriate cleaner that is compatible with vinyl upholstery and wipe down with a cloth. Ensure you do not get any of the cleaners on other surfaces as this may cause damage. Proceed to dry the seats with a clean cloth.
Fabric – Depending on whether your seats require a deep cleanse or simply removing odour will determine how you will need to clean your fabric. A multipurpose cleaner will suffice for a quick cleanse, for more stubborn stains you may need to use a specialised fabric stain remover.
The smell of vinegar can linger but it will eventually dissipate and is excellent for removing persistent smells like cigarette smoke.
Since windows and windscreen play an important role for your safety, don't forget to give them some TLC  – Apply window cleaner to a microfiber cloth. Make sure that the cleaning agent you are using is ammonia-free as it could damage the plastic on the interior of your car as well as your window tint. Don't forget to wind your window down part way to clean that pesky grime that builds up along the top quarter inch.
Step 4 – Find a good air freshener
Now that inside is spotless and clean, it's time to find yourself a nice air freshener for the finishing touch; it wouldn't be a new car smell without the smell. Place the air freshener in a location where it can receive a lot of airflow to circulate the scent throughout your car.
A clip-on freshener that attaches itself to your air conditioning vents is a great way to circulate the scent, just make sure you adjust the strength of your freshener as it can get a little unbearable.
Another method is to keep an unlit scented candle under a car seat, however, we do recommend exercising caution in summer because we all know how hot Perth summers can get.
How to keep your car smelling fresher for longer
Now that you've done the hard part, it's all about maintaining cleanliness to keep that new car smell you've worked so hard to achieve.
Don't leave food and drinks in the car
Clean up any food or drink spills immediately
Don't smoke inside your car
Run your air conditioning on high every week for 10 minutes to prevent the growth of mould and bad smells.
Rub down your upholstery regularly with dryer sheets.
Give your mats a good shake every week
Use pet seat covers
There you have it – you can give your old car that new car smell, perfect for you to enjoy with a little cleaning, scrubbing and elbow grease. Any steps we've missed? Let us know in the comment section below!