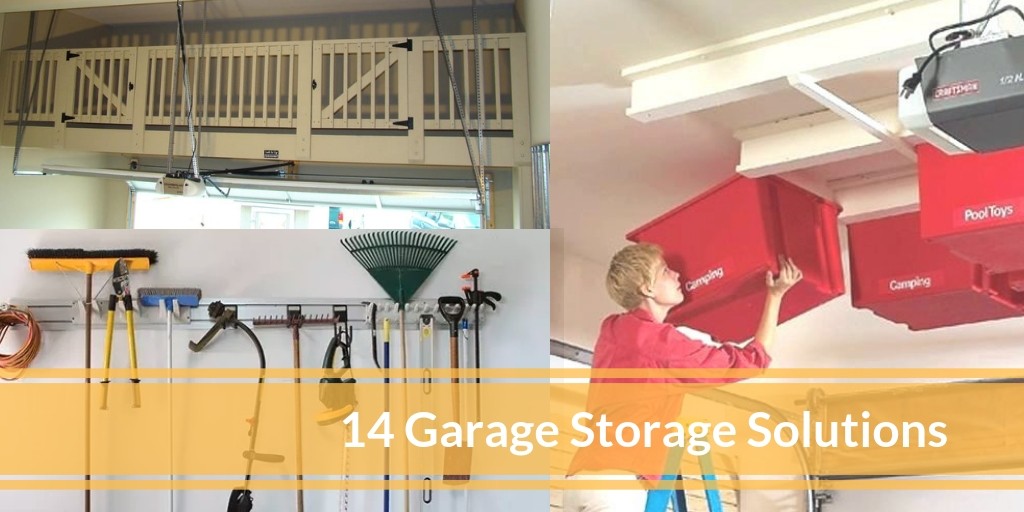 If you have a garage, you'll know this problem all too well. Once an item is no longer being used every day inside your home, but you have decided you definitely need to keep it, it's all too easy to "chuck it in the garage!" But before long, your garage – once so neat and tidy and handy – is an absolute mess. The answer? Some of the smartest garage storage solutions you've ever seen!
Moving something out of the house shouldn't mean:
You clutter up your beloved garage, and
You will have zero chance of ever finding it again.
Most of all, not using a wise garage storage solution (or 14!) means you simply aren't maximising the space you have – whether you have plenty of room to move or you're needing to use a small space very efficiently.
So here at Search Frog, we're here to help! If you've cluttered up your garage, can't find a single thing and run out of room even to safely park your car, it's time to get garage storage smart.
First things first!
But first things first – clear the clutter! Go through your existing mess and decide what can be tossed, what can be sold, and what can be donated. And then it'll be time to consider these 14 awesome DIY garage storage ideas that you'll never contemplate living without again!:
1. Ceiling storage
Look around at that garage floor and weep. But look up! Your ceilings are the perfect place for a perfect garage storage idea.
The DIY enthusiast will absolutely love this for a weekend project – all it will take is some wooden beams and some crates with wheels, and you've got the perfect place to get items like power tools out of the reach of your kids' sticky fingers.
2. Bike shelf
As a hobby, cycling is absolutely taking off. The obvious place to store your bike is in the garage, but to really get it in a safe, handy place, consider a simple wall shelf as one of the garage storage ideas you don't dismiss.
Simply use the shelf as the place you rest the top tube of the bike frame, freeing up plenty of space on the very same shelf for all your cycling accessories.
3. Flat pack shelves
While you're in a shelving mood, why not consider some more shelves? It's a particularly easy solution, especially when you're stuck for small garage storage ideas.
You can get flat pack shelves just about anywhere, and you can put up just about as many as you like in various different sizes.
4. Tool holders
If you're going to start storing other stuff in your garage, you'll need to make sure you organise your more traditional 'garage' stuff very well indeed.
You've put the power tools up high. But for all of those smaller items like hammers, screwdrivers, spanners and your handy DIY plumbing tools, get a tool holder and mount it to the wall. Not only will you know where everything is, you'll clear up bench space.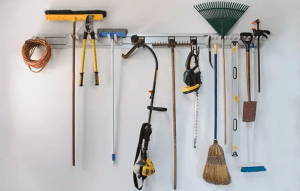 5. 'Book' tool rack
But if even wall space is limited, and you've got an awful lot of tools, consider this most amazing of small garage storage ideas.
It's basically a pegboard for your tools but arranged like the pages of a book so you can save space by flicking through the 'pages' for what you really need.
6. Timber racks
If you want to put those power tools to good use, consider this niftiest of garage tool storage ideas.
All you'll need is some wood so you can cobble together wooden lumber racks to be mounted to the wall. It's the perfect weekend DIY project.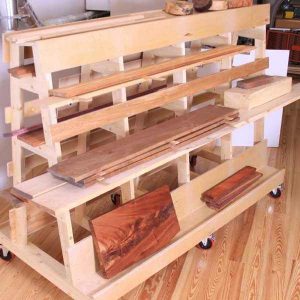 7. Fishing rod storage
The fishing aficionados among you will love this garage storage idea. Keep your rods out of the way and in great condition by using the ceiling for storage.
All you need to do is drill some big fishing rod circumference-sized holes in a couple of planks of wood so you can store those poles horizontally.
8. Rope Rack
Every garage will have cables, ropes and leads all over the place, which is why mountable spool racks are so efficient and handy. As an added bonus, you'll never blow another moment untangling every again!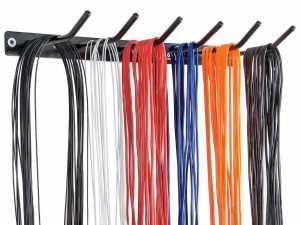 9. Surfboard hanger
You've already got your bike away safe and sound – now it's time to take care of the surfboard and kayak.
A simple but innovative board hanger will get them up and out of the way – just make sure the strap you use is strong enough for the purpose.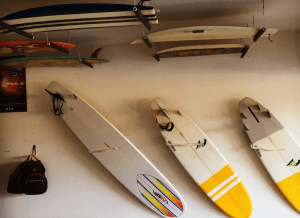 10. Tape dispenser
You might not think all those rolls of tape are taking up a lot of space, but it all adds up.
So you might as well make them easy to use when you need them, so consider a DIY carpentry project to mount them all side-by-side – and use a trip of hacksaw blade to make the tape easy to cut!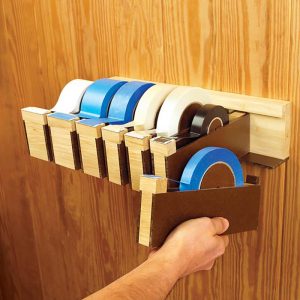 11. Plastic tubs
For all those small to medium-sized items that aren't taken care of with the garage storage solutions listed above, consider buying some big plastic tubs.
It makes miscellaneous items easier to group together, and with some strong racks or hooks, you can get them safely up and out of the way.
12. Cabinets up high
Look up to the very top of those garage walls – can you imagine a long row of garage cabinets?
It won't necessarily be among the cheap garage storage ideas unless you're a handy carpenter already, but the good news is there is pretty much no limit to the amount of up-high cabinets you can add.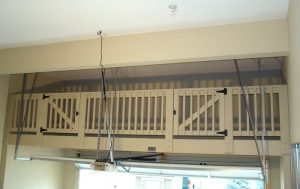 13. PVC storage
One of the best ways to use space the most efficiently is to get that stuff up and above your heads. An easy way to create overhead racks is with PVC pipes that can be bolted to the ceiling joists to hold even very heavy loads.
14. Bins and tubes
Got any concrete-forming tubes? Once you grab some for a few bucks each at a hardware store, you'll find they're a brilliant place to store long tools, cricket bats, tennis racquets and many other items.
Got this far and still can't park the car in your garage? Then you might want to take advantage of our last garage storage tip to get bulky items you rarely use out of there completely. No matter where you are located you'll find self storage nearby. It's surprisingly affordable to rent even a small 1x3m storage unit and get things like surf boards, ski gear and Christmas decorations out of the way completely, but still there when you need them.
That makes 14 of the best, cheapest and coolest garage storage solutions – but there are plenty of other easy space-saving ideas that can turn your garage from a big cluttered mess into a usable, efficient place to store, work and play. Can you think of something we've missed? Got any more bright garage storage ideas? We'd love to hear from you!