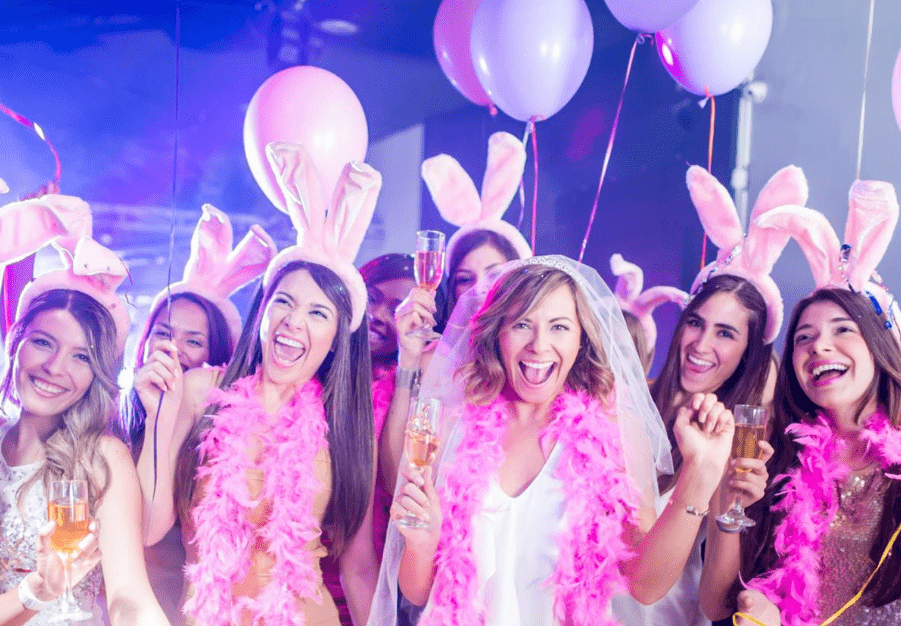 Even in 2019, getting married is still a very big deal. But perhaps even more important than ever is the manner in which we send the 'hen' off into married bliss. The hens night is the perfect way to celebrate those last glorious days as a bachelorette – and a great hens do is always made more memorable with great hens party ideas, from venues and locations to entertainment. But to make sure there's plenty of fun right through the night you need the best hens night party games to enjoy and remember.
So here are our 5 absolute all-time favourite hens party games:
1. Something for starters
Before we get too deep into the fun, how about a little quiz to start the hen night off with a quiet laugh?
If you have a hens party of 10, write down 10 questions about the hen on 10 separate pieces of paper and hand them out to all those in attendance. If anyone can't answer their question about the hen correctly, they need to buy everyone a drink.
2. Something classy
And before you're all too tipsy to stay classy, here's something else a little tame to get that hens party started.
It's another of the great hens party games that can be played just about anywhere – at your beach house party, at the venue, or even around the dinner table.
Again, you'll need a little piece of paper for everyone in attendance. Write down a 'theme' at the top of the page: things like school, work, embarrassing stories, and the groom. Everyone takes their theme and researches a story to tell the entire group about the hen. It will make everyone laugh, cry and reminisce – guaranteed!
3. Something silly
Now it's time to ramp up the laughs!
This wedding game idea works just as well at either a bucks party or hens parties – and involves writing up a list of words that are 'banned'.
Make them fairly common words, like 'stupid' or 'obviously' or 'TV'. Whenever anyone is caught uttering the banned word, they have to perform a challenge or skull a drink. And the really great thing about it is that it (and the laughs) can last all night!
4. Something naughty
Now a hens night wouldn't be a hens night without some naughty hens games, could it?
Hens parties are renowned for featuring plenty of 'willy'-shaped objects, and this one will be no different. You'll need a few tubs of play-doh, and everyone's task is to make their most lifelike 'Tan banana' they can possibly manage. The hen will be the ultimate judge, and there are bonus points if anyone recognises which real-life man the play-doh trouser-snake really belongs to.
5. Something Instagram-mable!
Finally, it's flat-out time to get sloshed. Hooray!
But let's do it with some feminine style, and make our very own cocktails. Turn it into a competition by getting all of the major cocktail ingredients together, not forgetting to make it truly hen party-memorable with garnishes including lollies, sprinkles, and exotic fruits. Just don't forget the vodka, gin, and rum. Yum! Never forget that it's 2019 now by making the winner the one with the most Instagram likes!
So there you have it — our all-time 5 favourite hens party games ideas! But the best thing about 5 awesome hens night games is that there are always dozens more to choose from as well! Got a favourite of your own? We'd love to hear about it below! Happy hens night!