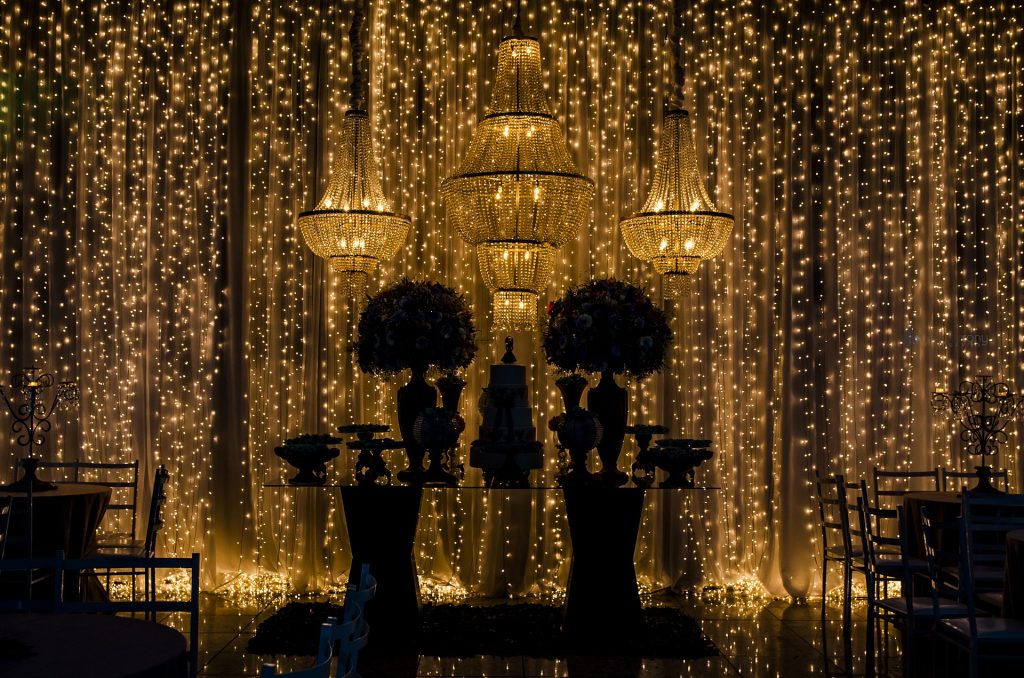 More event planners and hosts are integrating special themes into their parties. Whether you are hosting a wedding, a business gathering or birthday party, an event theme will make it a memorable experience for everyone.
Check out these 10 event themes that are becoming more popular amongst partygoers:
1. Tropical Fiesta
Tropical events feature bright colours and an array of patterns. You will want the environment to make your guests feel like they're someplace tropical.
Decorate the scene with artificial (or real) palm trees, foliage, pink flamingos and leis.
The food can consist of coconut, pineapple, fruit punch and any food involving tropical fruits and cuisine. Bring in a Photobooth hire to capture the moment and as a way of engaging people in the atmosphere of the night.
2. 70s Disco
Disco was big in the 1970s and a 70's theme event is still one of the most popular event theme choices for parties today. You'll first need a special dance floor that illuminates playful colours like yellow, blue and red.
The ceiling could have a silver disco ball that reflects light. The food can reflect the colours of the dance floor. A 70's disco event theme tends to go down well among the ladies as a hens night or other major milestone. The girls love to dance (unlike many of the blokes) and they love to dress up.
3. Star Wars
People still love Star Wars after 40 years. The best way to have a Star Wars-themed event is to have all the guests dress up in character costumes.
You will need people dressing as Storm Troopers, Darth Vader, Luke Skywalker, Obi-Wan Kenobi, Yoda and so on. The Jedi should have lightsabers too.
4. Alice in Wonderland
Alice in Wonderland is a classic children's novel that spawned several movies.
An event with an Alice in Wonderland theme can include people dressing up as characters from the story, including the Mad Hatter, the Cheshire cat, and the Queen of Hearts.
Offer cookies with iced with the message "Eat Me," and don't forget a rabbit hole. Serve tea and sugar to the guests, as well.
5. Jungle Safari
Turn your venue into a jungle safari. Instead of a tropical environment, gather all the green vegetation you can get. Include a lot of grass, trees, and plants throughout every area of the venue.
You could also use decorations that feature tigers, lions, monkeys, and other jungle animals. Perhaps the guests can dress up like these animals, too.
Serve a lot of meat because that's just what a jungle animal would want to eat.
6. Classic Hollywood
Classic Hollywood is represented by the look and feel of 1950s Hollywood.
You see these parties portrayed in old '50s movies that feature champagne towers, golden tablecloths, peacock centrepieces, and Martini glasses.
Men can wear tuxedos and women can wear cocktail dresses.
7. Casino Royale
Bring a live casino to your own party. Include blackjack tables, craps tables, slot machines and whatever other casino accessories you choose.
You can have real gambling on these tables or just use them as eating tables, instead.
The food could be your basic hamburger and fries, or you could decorate desserts to have casino themes to them.
Make brownies and Jello look like dice. Bake rectangular cookies to look like playing cards.
8. Greek Toga Party
Have your party guests look like Greek gods by having them all dress up in white togas. They could even wear green wreaths on their heads, too.
As for the decorations, you can use columns and pillars displayed on the walls and under the tables. Give the venue an ancient feel to it.
9. 1920s Speakeasy
A speakeasy – an establishment that illegally sells alcoholic beverages – was a popular venue in the United States during the 1920s while prohibition was taking place.
Mobsters and gangsters were frequently in them illegally selling and distributing alcohol.
If you want to turn this into a party theme, have people dress up in 1920s fedoras and suits or short dresses worn by flappers. Shindigs have some cool 1920's costumes, including Gatsby and Gangster outfits that you can hire.
And most importantly, serve lots of different alcoholic beverages.
10. Old World Australian
Old World Australia has a very rustic look to it with wooden accessories, native floral arrangements, and weathered timber furniture.
There should be very few technological gadgets at all, aside from the lighting.
If you want to go the extra mile, have your guests dress up like aborigines. Food can include basic crackers, cheddar cheese, honey, strawberries, chocolate, and mangos.