There are so many benefits to working from home. You get to have the freedom of being your own boss, and even the clichéd idea of working in your pyjamas is a real plus. But in truth, your working life at home can only ever be as good as your home office, and so many at-home business owners or freelancers get the home office totally wrong, from home office furniture to lighting choices. Here are some of the ways that you can make your home office, a healthy, happy and productive place to work.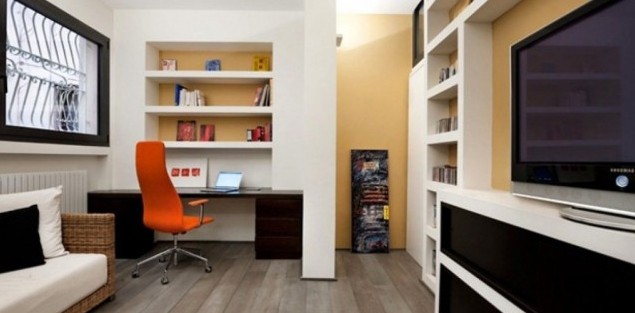 Your desk is everything. After years of working in an office with your body crunched over a desk at the wrong height, you could be forgiven for thinking "that's just the way it is". But actually, your desk is the heart of your office, and it deserves far more attention than most people give it. The best thing that you can do is remove the conventional sit-down desk altogether, an opt for a standing desk, or a sit-stand desk where you can choose between and standing or seated position.
This isn't just an of-the-moment home office furniture trend, it has genuine benefits. Recent studies have found that standing while at work reduces the risk of obesity, type 2 diabetes, and cardiovascular problems – all major concerns in the 21st century. But standing all day can also be demanding on the legs so a sit-stand desk is a fantastic compromise.
Changing your working position regularly helps to prevent back problems. While the risks of sitting all day have been well publicised in recent years, the answer isn't to try to stand all day either.
Lighting is important too. Lighting is something that every room needs, but because it is so omnipresent, it often gets overlooked. The home office is all too often shoved in the spare room that you have no other use for, and you'll allow a living room or bedroom to enjoy the best lighting in the house. This is a huge mistake considering the bedroom is a place to sleep, and lighting there is not so fundamental.
If you have the option to choose the room in the house for your home office, pick one with great lighting because this is great for mood, mental health, and productivity. Working in a space that is too dark can give you eye strain, increase occurrences of headaches and migraines, and potentially even give you seasonal affective disorder. If your working environment is on the dark side, invest in full-spectrum lightbulbs, which emanate a more natural light than other kinds of bulbs.
Don't forget to add some green. Something that's really easy to incorporate into home office design at any stage is some greenery. Potted plants and freshly cut flowers will help to clean the air of your home office, and it has been found that being around plants makes people feel less stressed. When you have to take an international conference call at 6am, those plants could be exactly what you need to be remain professional and calm throughout.
With these changes in home office furniture, lighting, and simple potted plants, you will transform your working environment, your productivity, and your health.