If there is one event at which you want to have perfect hair, it is your wedding day.  There is probably nothing worse than a bride with bad hair except maybe a bride with the wrong hairstyle.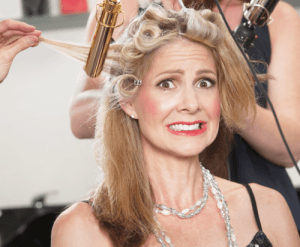 The whole wedding process is stressful especially when it comes to your dress, hair and makeup.
To help relieve some of that stress, here are some suggestions – do's and don'ts if you will – that hairdressers say eases some of the stress and even helps ensure you have a "good hair day" for your wedding.
Do's for Wedding Hair
Buy Your Wedding Dress. Please buy your dress first so that when you meet with your hairstylist, you have the actual dress or at least a picture (preferably of you in the dress).  Your hairstyle needs to complement your dress not overtake it. The neckline, length and wedding dress style all play a role in the best way to style your hair. You'll want to make sure your wedding hairstyle matches your dress.
Talk with your hairstylist.  When you meet with your stylist, talk about your ideas and let her know what you have in mind.  You may even want to bring pictures of wedding hairstyles you like.  That way, she will have a good idea of the look you are trying to achieve.
Listen to your hairstylist.  By the same token, listen to your stylist.  The style(s) you like might not work with your hair. Are you a bride to be with curly hair wanting a straight style?  While your hairstylist can straighten it, if humidity comes into play, your curls may be back earlier than expected. Your hairdressers' experience and advice will be priceless!
Book a wedding hair trial.  Experimenting with your hairstyle is not something you want to do on the morning of your wedding. Even if you've known your hairstylist for years, a trial will ensure you have the perfect style on the day when time is precious.
Sydney hairstylist Julie Peacocke from Lily Jackson Hair and Makeup Salon recommends trialling your wedding hairstyle, and makeup, at the same time. Julie says, "A wedding trial is required at least 6 weeks before your wedding.  It ensures we achieve the look you desire and allows you to experiment…".
Bring your accessories.  If you plan to wear hair accessories, it is a good idea to bring it to your trial appointment. This way, your hairstylist can incorporate them into your hairstyle so that it looks perfect rather than trying to add them at the last minute.
Don'ts for Wedding Hair
Don't be fixated.  This goes back to being open to ideas. If you get fixated on one style, you may miss out on another that better enhances your dress not to mention works better with your hair.
Don't do anything drastic.  This means you should avoid any major cuts or colour changes until after your wedding. It is always better to play it safe and stick with what you know. The same goes for wedding hairstyles that do not fit your personality.  If you are a really casual person, a very formal hairstyle is going to be unlike you — not to mention uncomfortable.
If you have short hair, don't feel you need to grow it out in time for the wedding. There are plenty of amazing short wedding hairstyles to choose from.
Don't get a headful of curls.  You do not want your hair to look like you took the rollers out but forgot to brush it.  Yes, curls are very stylish, but be reasonable and avoid a headful of curls. After all, they may not last the duration of the event and you don't want tons of curls that are starting to fall out. Also, don't go crazy with the tendrils around your face – the same principle about lasting several hours.
One Last Helpful Suggestion
A very helpful suggestion for brides-to-be is to go for a fitting immediately following (the same day) your wedding hair trial run.  This way you can actually see yourself with your chosen hairstyle and wedding dress together.  Take a picture to show your hairstylist, you can work together to make slight changes to ensure you have perfect wedding hair on your big day.