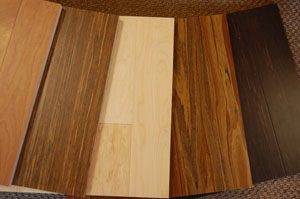 There are many choices when it comes to types of flooring. Not only are there different kinds. There are also different designs, materials, and colours. Each type of flooring has it's own characteristics, with its own attendant benefits and disadvantages.
Choosing Among Types of Flooring
The main types of flooring are Timber, Laminate, Carpet, Vinyl, Concrete, and Cork. Within each of these materials are unique colours, designs and styles that all have their own applications. When it comes to choosing what flooring type you're after you need to think about:
How heavy will the traffic flow be?
Will it be used in an area that gets wet?
How long should it last to pay off the cost?
How much maintenance will be required?
What's your budget? What is the job worth?
What colours and styles will look great?
Work through these questions carefully as you ponder which of these types of flooring would be best for your application.
Timber Flooring
Timber can be a great choice for flooring as it's durable, comfortable, easy to clean and looks perfectly organic. These are the main types of flooring in timber to choose from.
Solid Timber Flooring – Traditional timber flooring laid on bearers and joists. They are more difficult to lay than floating floors but can be stripped and sanded more in their lifetime.
Floating Floors – Easier to lay than solid timber because there is no need to nail them down. They can also be cheaper and more durable depending on how well they are engineered.
Parquetry – This refers to floors that are more elaborately laid than other timber floors. It refers to the timber being placed in a pattern or design and glued down.
Bamboo Floors – This is a relatively new idea originating in China that is environmentally friendly, readily sustainable, hardwearing and has a warm glowing timber look.
With most types of flooring in timber, you also get the option to choose from a glossy surface or a duller, matt finish. This can have a major effect on the look and feel of the timber.
Laminate Flooring
Laminates create the amazingly real look of wood but at a more affordable price. They are made up of a melamine or fibreboard material and then laminated with an image of real wood (or other design). They are then finished off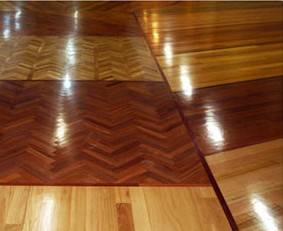 with a protective layer to make them wear and scratch-resistant.
They normally fit together using a locking system although different manufacturers use different locking designs. They are normally easy to lay as long as the surface is smooth and level, and aren't required to be secured to the subfloor. They can be laid over plywood, concrete, wood flooring, vinyl, or other hard flat surfaces, but be careful of condensation developing under them…
The main discruminators are cheaper than solid wood, easier to install, not as durable as solid wood but more longer lasting than carpet. Laminate floors are also scratch-resistant and less likely to have marks on them compared to solid timber.
Carpet
Carpet still remains one of the most popular types of flooring despite all the different options available today in Australia.  This is because it's generally still cheaper than other flooring types and has its own unique features per the following
Carpets have a wide range of designs, colours and styles that other flooring options can't match
They add warmth and comfort to a room because of their look, feel and insulating characteristics
They can be a safer option (especially with kids) as they have a softer surface and provide better "grip"
Carpets also reduce household noise because of their sound-insulating capabilities
On the downside, carpets can be difficult to clean and can often stain easier than other types of flooring. That said, there are products available to improve their stain resistance.
Styles of Carpet

to choose from include Cut Pile, Plush, Saxony, Shag, Loop Pile, Berber, Sisal and Hi/Lo, etc

Carpet Fibres

to select from are Nylon, Polypropylene, Wool, or Blends, and these may be Woven, Tufting, or Tiles.
Vinyl
Vinyl comes in a variety of styles and sizes. It can have it's own unique look or it can look like tiles, marble, timber and many other materials.
It is very durable and has a layer of cushioning that makes it softer and more comfortable to walk on than tiles or wood floors. This also makes it a lot quieter.
Overall, Vinyl is easy to maintain, comfortable and resilient enough to be used in residential or commercial spaces.
Concrete
Polished concrete floors are still not commonly used in Australia. But because of their significant benefits home builders are starting to use polished concrete floors instead of other types of flooring. Concrete comes in a range of colours and styles and can be stained. The polished concrete can also vary in shininess depending on the desired look.
There are a number of benefits to polished concrete. The most important is it is hard-wearing, cheaper than other floor types, has a much longer lifespan with low maintenance, and looks great almost anywhere.
Tile
Tiling is a great flooring option that is hard-wearing, stylish, popular at the moment, and low in maintenance. On the downside, tiles can cost a lot and generally require a higher level of expertise to install compared to the other floor types. Another disadvantage is they chip and look unsightly if something hard falls on the.
Cork
Cork has some significant advantages over other types of flooring in that it's very hard wearing, yet is comfortable to walk on because it has a soft warm feel under your feet. Unlike carpets and floating floors it's also suitable for use in wet areas like the kitchen or laundry.
These days there are a lot more colours and styles to choose from so you may find that Cork offers the look your after when you compare it to other types of flooring in the showroom.
The Expert's Tip
Before you purchase any of these types of flooring request a sample and loose lay it in the room. View it at various times of the day and after dark, because some flooring sellers use special overhead lights that may make it appear different.