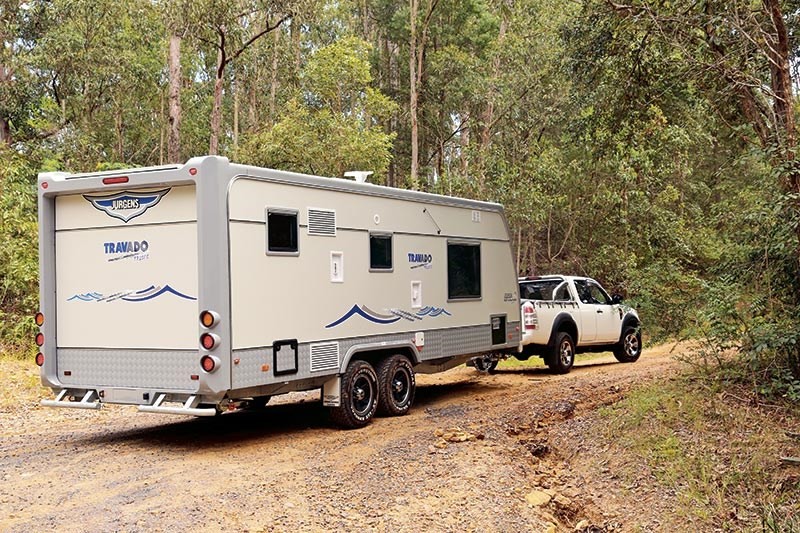 Have you considered a caravan holiday lately? If not, why not? It's an almost guaranteed way for the whole family to have fun. You disconnect from everyday life, re-connect with the people you love to be with, get out into the world and nature, explore endless destinations combined with true on-the-road freedom, and finish up with more dollars in the bank compared to a five-star trip. But to get there safely, you'll need not only to choose the right caravan, but understand that towing a caravan isn't exactly like returning home with a boot-load of supermarket shopping.
That's not to say caravan towing is impossibly hard, but you WILL need to think about how to tow a caravan safely.
Here's how towing a caravan safely is done:
1. Check
It's not as simple as turning a key, but it's not as complex as piloting a fighter jet either. A few simple caravanning tips for beginners should suffice to get you started!
The most important thing to remember when getting ready for that trip is not to hurry through your checks. The most crucial things to definitely not forget are checking the coupling, the safety chains and the break-away wires. And don't forget to plug in the trailer plug so that the lights work!
Then you'll release the hand-brake, double-check the gas is turned off, close the windows, pull up the corner legs, close all the hatches, secure the antenna and batten down the loose stuff inside.
You're ready to get out and explore. Before you hit the road read the next tips for safe towing and keep them in mind as you travel.
2. Learn to reverse
But before you go, you'll need to back out of the driveway. And it's not easy the first time! Reversing is definitely one of the trickiest and most useful of all the caravan towing tips.
The best tip is to take your time and be prepared to make a few mistakes. Just ensure that there's nothing to smash into while you're learning, and maybe ask a family member to stand outside so they can shout if something's going wrong.
Remember to reverse very slowly, and start experimenting with how the caravan responds as you turn the steering wheel the opposite way to where you want your load to go. Keep those steering inputs small and precise, and if it starts to go wrong, put the car back in a forward gear and try again.
3. Remember to look up and out
As well as looking behind, you'll also need to look up.
It's easy to forget that while you're in your usual car, the load you're towing is a lot taller. So you'll need to avoid those low-hanging trees and vertical posts, and take care when you're squeezing through a narrow street.
On a normal road, don't be afraid to stick to the outside lane if safe, and increase your normal gap between your vehicle and the car in front, just to be sure in case you need to stop suddenly.
4. Wider corners
The consequence of driving a long vehicle with the connection in the middle is that the caravan will try to take a shorter route around the corners than the car.
It means you need to take a wider berth than usual. It's the opposite to a racing car, taking the shortest possible 'racing line' whilst hitting the corner apex. You'll need to delay that turn for as long as possible, and accept that fact that, just sometimes, you may even need to use the other lane when it's safe.
5. Mind the 'sway'
Once you're up and at your highest speeds, you'll encounter what is called 'sway' – and it can be very scary if you're not prepared.
You'll learn that this phenomenon is reduced significantly if you balance up the load in the van properly. Then, using a weight distribution hitch can really help, as can ensuring that the pressures in your tyres are as recommended.
As you gain experience, you'll find that you'll perceive when winds may be higher than usual and ease the speed to minimise the sway effects. Avoid braking heavily – and always remain cool and calm.
---
Towing a caravan may not be easy, but it's not terrifying either. But as you gain experience and confidence, getting your van to its destination can actually be just as much fun as the holiday itself!
Are you a caravanning pro? Got a caravan towing story that your fellow readers can learn from? Just want to say hello? We'd love to hear from you!
Image source: https://www.caravanworld.com.au/caravan-reviews/1605/jurgens-travado-tr2505-review