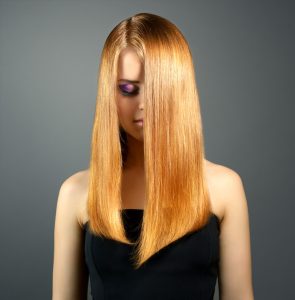 How many times have you woken up before work and, faced with the daunting task of taming and styling your locks, simply thrown your hair into a bun to save time? For those of us who have to do battle with our strands every morning in an attempt to control frizz and unruly curls, the time-consuming process of making your hair look effortlessly styled just isn't practical on a day-to-day basis. Throw humid or wet weather into the mix, and manageable hairstyles seem impossible.
This is where keratin treatments can be a lifesaver, eliminating frizz and leaving hair sleek and smooth. Plus, treatments can last for up to five months through washing, rain and humidity.
Keratin treatment myths
Keratin treatments as a hair-taming solution have been around for a while now, however previously these formulas were unregulated and contained a harmful chemical called formaldehyde. Understandably this caused a lot of people to be wary of the treatment, which was considered dangerous to both hairdressers and clients.
Fortunately, those days are long gone and keratin treatments are now regulated by the Therapeutic Goods Association, and the legal limit for formaldehyde in keratin treatments in Australia has been limited to 0.2%.
So what is a keratin treatment?
It is important to note that keratin treatment is not a straightening treatment, but rather an in-salon process that will soften curls, smooth waves and de-frizz your hair.
Keratin treatments fill in porous hair, closing the scaly cuticles in hair shafts and protecting them. Curly hair is naturally drier and more porous hair, which is what causes frizz and tangles. The protein keratin, which is naturally contained in our hair, is used to seal cuticles, re-building damaged strands and creating smoother hair.
Before applying a keratin treatment, stylists will wash your hair with a shampoo designed to open your hair shaft, and then completely dry your hair. The keratin treatment is then 'painted' onto the hair, in a similar way colour is applied, and left to absorb for around half an hour. Once the treatment has been absorbed, hair is dried again, and flat-ironed to create a sleek look.
Keratin treatments continue to work for 48 hours after you leave the salon, which means you can't touch your hair, wash it, use products or style it in any way.
The verdict
Keratin treatments, when done correctly, will leave you with hair that looks and feels healthier, needs minimal styling and maintains its volume. After the initial 48 hours are over, you can wash and style your hair as usual, but gone will be the days of worrying about the effects of rain or humidity, as keratin treatments eliminate frizz. Hair will dry 50% faster than before and even natural dried hair will maintain a sleek, shiny look, and a distinct lack of the dreaded frizz.
The treatment will last four to five months, which is why celebrities, including Zoë Foster-Blake, have fallen in love with it. Zoë even wrote a post about her amazing experience with keratin treatments on her blog.
It is important, however, to ensure you receive your keratin treatment at a reputable salon who will do a consultation prior to the treatment, and discuss which options are available for your hair type. We can help you find the best local hairdressers to look after your tresses.
Had a keratin treatment recently? We'd love to hear your verdict!