If I told you that there was a way to rank higher in Google for local search terms and appear more credible to your customers all in one fell swoop, that would be something that could really help your business, right?
Those are the types of benefits that getting more reviews, specifically Google reviews, can bring to your business.
Positive reviews make 74% of consumers trust your local business more. Beyond building trust, though, reviews are also a major factor in helping your business rank higher in Google's organic search results according to local search experts surveyed by Moz.
But to get those benefits, you need to actually get more Google reviews for your business.
To help with that, I'll use this post to dig into two simple concepts that you can use to get more Google reviews. While the suggestions are targeted towards Google reviews, the concepts should work for any type of reviews (and it's a good idea to get reviews on multiple sites, if possible).
You Have to Actually Ask for Reviews If You Want Them
In a 2008 paper from Francis Flynn and Vanessa Lake, the pair ran a set of studies that found that the average person underestimated how likely others were to comply with a direct request for help by as much as 50%.
Their conclusion? "If you need help, just ask."
Francis and Vanessa's study is a perfect parallel to reviews. Most happy customers are willing to leave you a review. But if you don't ask for it, they're far less likely to take time out of their day to log onto the computer, search for your business on a review site, and write a couple of paragraphs illustrating their experience.
So…the best way to get more reviews couldn't be simpler:
Ask your happy customers to leave you a review.
Notice how I didn't say a "positive review"? Just ask for "a review" and let your customer make up his or her mind.
How can you ask? Here are a few ideas:
Ask them in person right when they're the happiest
Create an email template that you can quickly customize for each customer
Put a request somewhere prominent on your website
Ask for reviews on your business documents
If you want an idea of where to start, here's the template I personally recommend:
As your [PRODUCT/SERVICE] is now complete, I was hoping you would take just a few minutes to leave a review on our Google listing. Or, if you'd prefer, here is a link to our Facebook page. Reviews are extremely helpful to both us and others who are searching for [PRODUCT/SERVICE]. I appreciate your time and welcome your honest thoughts.
While I recommend requesting a Google review as the first option, giving your customers a second choice such as Facebook makes it more flexible for them and helps you have a review presence on more sites. Some customers will leave a review on both, bonus!
Make Sure to Follow Different Sites' Policies About Requesting Reviews
While Google encourages business owners to ask customers for reviews, the same doesn't hold true for every single review site. For that reason, it's a good idea to make sure you're not breaking a site's policies by requesting reviews.
Here are some quick guidelines for popular sites:
Make It As Easy As Possible For People to Leave A Review
Most people are a little bit lazy. That's not a bad thing – it's just a human thing.
But it does mean that if you want to get more Google reviews for your business, you can't expect your customers to do all of the heavy lifting after you ask them to leave a review.
Heck, even if your customer is motivated and willing to leave you a Google review, they still might have trouble with the steps to actually do that.
So here's part two of getting more Google reviews for your business. Make the review process as painless as possible for your customers.
How to Create a Google Review Link Right to Your Business
Here's a neat trick. Rather than trying to explain how your customers can leave you a Google review, why not just give them a link that takes them straight there?
Grade Us offers a free tool that lets you input your Business Name and Postal Code to generate a link that takes customers directly to the Google review form:

Once you click Get Google Review Links, the tool gives you a variety of potential links. You can click the try it button to see what each link looks like: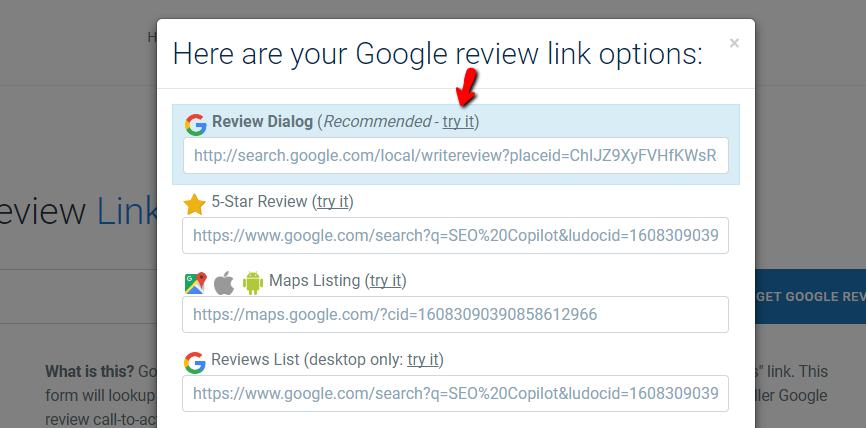 For example, if you choose the Review Dialog link, your customers will be taken straight to the Google Review form. All they need to do is choose a rating, enter their comment, and click post: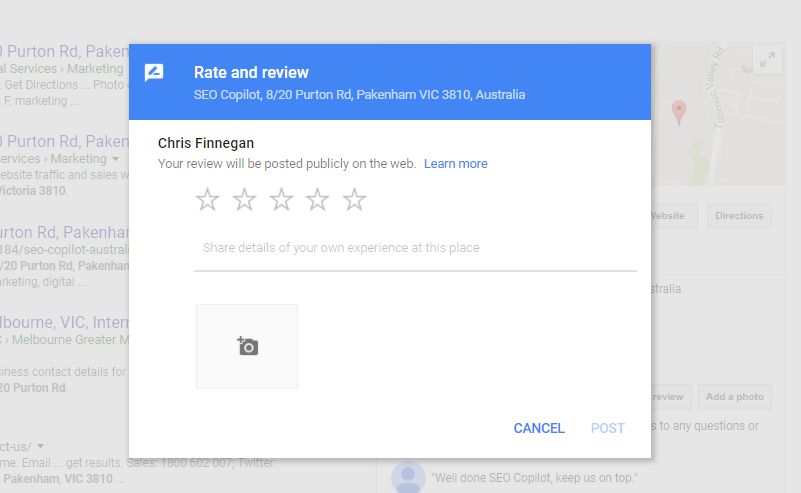 Don't Forget to Respond to Reviews
Once you start getting more customer reviews – your work isn't quite done. You should also respond to reviews (both good and bad). For good reviews, this helps cement customer loyalty, while responding to bad reviews well can lessen the blow to your reputation.
Getting More Google Reviews Isn't Complicated – You Just Have to Do It
The truth about getting more Google reviews is this. It's not complicated. You just have to put yourself out there and ask, as well as make it as easy as possible for your customers to leave reviews.
If you do those two things, you'll be able to get more reviews from your customers. And that, in turn, will help you build credibility and maybe even rank higher in local search.
The post, How to Get More Google Reviews For Your Business was originally published on SEO Copilot.