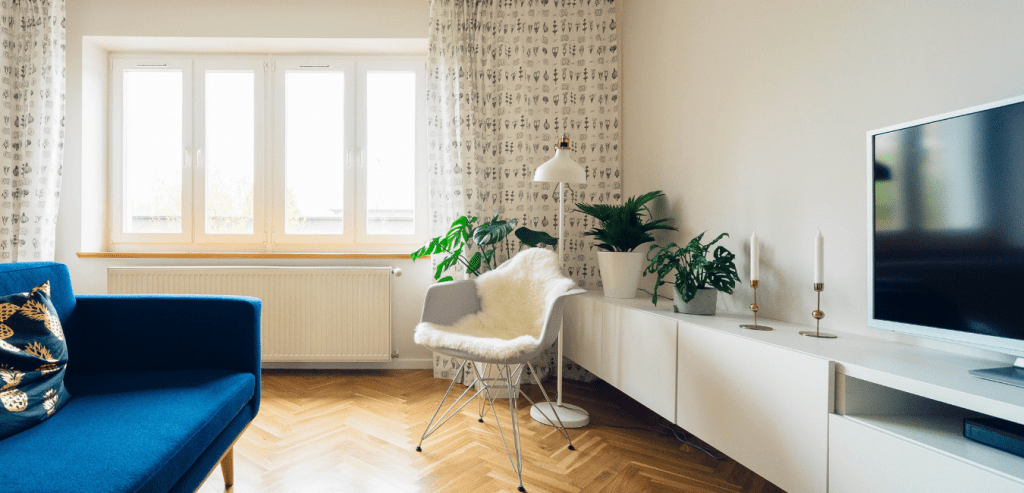 Just as fashions change, so too do trends in home decor, and for people who enjoy the DIY project, the changing trends are always an opportunity to tinker around and modernise the environment. With 2019 shaping up to be a particularly interesting year for decor trends, there's going to be plenty to do to keep yourself busy.
Some of the key trends to keep in mind when planning your own projects include:
1. Metal is back in vogue
Metal as an aesthetic choice ebbs and flows in popularity, but in 2019 it's going to be right back in front of mind. Specifically, gold tones are going to be popular again. Does this mean that a gaudy approach to maintaining your home? Absolutely not! Instead, the use of gold will be for finishes on table and desk legs, and will provide an elegant and more naturalistic metallic contrast with another key trend for 2019 decor, which is…
2. Raw, natural finishes
There's definitely a trend towards more naturalistic environments in the home, with wooden floors, and simple, naturalistic-looking furniture that is dominated by earth colours such as beige, natural greens, woody tones, and browns. The approach is often called "New Nordic", and while it has been kicking around as a home decor option for a couple of years now, 2019 is going to see it really shines, as it combines the best aesthetic advantages of a restrained, minimalist approach to clutter, with a more interesting and calming natural aesthetic and set of textures. The gold finishes, mentioned above, will be the approach of choice for designers that want to introduce a metallic texture to these environments.
3. Ethnic/ Tribal Patterns
Thanks to this naturalistic approach that aims to blend textures, more than colours, 2019 will also see a shift in the way that patterns are used in homes. Specifically, ethnic or tribal patterns, with their visual earthy, naturalistic tones, will be a popular complement to the colours and pieces of furniture being used in spaces.
4. Sustainable fabrics
Sustainability is a big trend in lifestyles in general, with more people cutting back on the meat and alcohol, as they invest in solar panels, electric cars, and ditch the plastic bags. It's not surprising in that context that the drive towards sustainability would also start to impact on home decor and DIY projects. Most particularly, sustainability is leading people to use sustainable fabrics, produced through animal-free leathers and worm-free silks (remember, certain other types of non-animal product material, such as cotton, is not considered "sustainable" thanks to the extreme amount of water that cotton crops consume).
These materials produce beautiful, comfortable furniture, and are easy to work with, which is just as well, because the other big trend in 2019, as far as furniture design is concerned, is that it's all about the curves. Square, blocky sofas and bed designs are out. Now DIY pros are showing off their mastery of crafting by introducing rounded features with their work.
5. Open shelving
While minimalism very much remains in vogue, one area of home decor design that is bucking the trend is shelving. Where minimalism would call for doors to conceal the contents of the shelves, many people are instead looking to remove those doors completely and leave a bold statement by displaying the contents for all to see.
This actually enhances the minimalist effect, when used sparingly, as it makes a greater feature of the simple elegance of the shelves, and helps reinforce how little clutter is in the space.
6. Washi Tape
Washi tape is a home decorator's dream. Made from washi paper – a Japanese invention and one of the finest, strongest examples of paper in existence (you can even use it to hold liquids), washi tape is an adhesive version, and incredibly easy to apply to walls, lamps, plants, shelving, or anything else you can think of. It's easy to work with and shape, too, and a big DIY trend in 2019 will be in using this simple, elegant material to instill a naturalistic, but highly creative vibe into the home.
7. The ceiling as a feature
One final trend in 2019 that is worth paying close attention to is the trend of making the ceiling a major feature of the room. With the room space itself becoming dominated with a low key, naturalistic tones, the ceiling presents an opportunity to move away from a plain neutral tone and instead attract attention with something textured and warm. Combined with a re-think towards lighting, 2019 will see more homes start to have a "resort-like" aesthetic, with uncluttered floorspaces complemented by exotic, creative spaces above the head.
Conclusion
As you can tell, the common trend of 2019 will be to maintain the spirit of minimalism but move a little away from its unnaturalness. Instead, the modern decor will be about creating an earthy, comfortable, and warm environment by combining different materials, textures, and designs, and implementing them from the ground to ceiling.