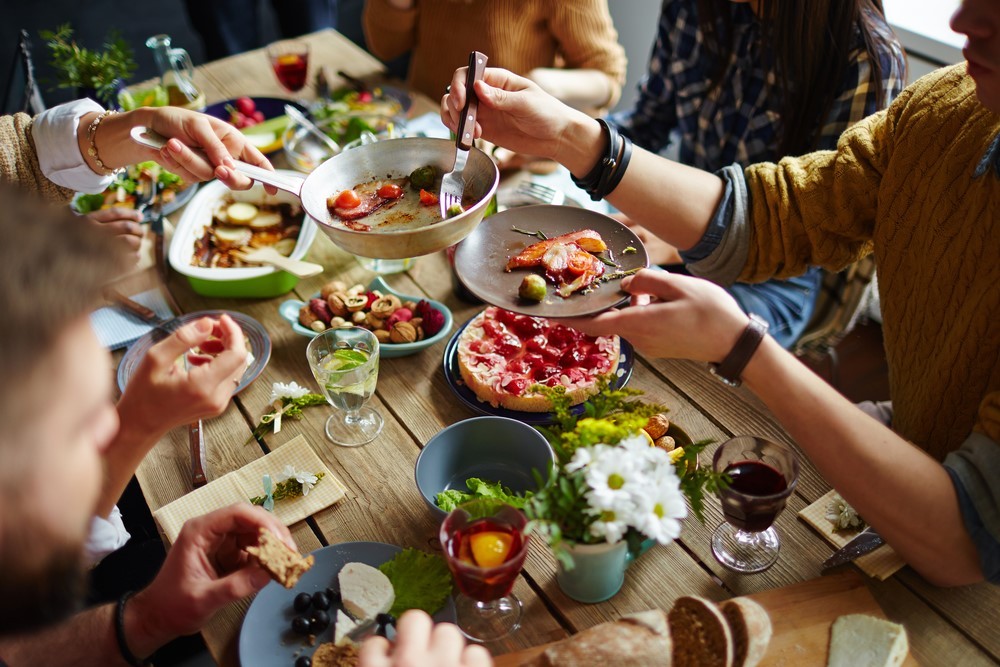 As the weather starts warming up for summer, building or improving your outdoor entertaining area can help you enjoy dining and relaxing in your own backyard.
Whether you're thinking of luxurious features or adding a more natural touch, these ideas will help you create a stylish outdoor entertaining space for summer.
French Doors
Also known as bi-fold doors, French doors are made of large glass panels which can fold into each other and create an opening in your home.
These are ideal for outdoor entertaining as they open and connect your backyard to your indoor area. When not folded, French doors add a stylish, seamless look to your home.
Louvre Roof
Getting outdoors in summer is great, but to be comfortable you need shelter from the summer sun. With a louvre roof, you can open or close the roof to suit any weather or time of day.
A louvre roof system allows panels to be controlled by adjusting their angle, letting just the right amount of sunshine in. Normally solar-powered, it's an energy-efficient way to provide optimal comfort for your guests.
Artificial and Natural Turf
Laying down artificial or natural turf in your entertaining area can add a touch of greenery and help to give it a more natural look.
Artificial grass might not be as soft as lawn, but it does come with a few other advantages, as it doesn't require watering and can be more resistant to damage.
Natural grass requires more upkeep, but when properly maintained has a better look and feel. It's also more resistant to heat and will stay cooler underneath your feet.
Both grass options can be used to improve your outdoor space and soften hard accents such as concrete or stone.
Unique Paving Patterns

Paving give you a unique opportunity to add detail and beauty to your entertaining area. The herringbone pattern pictured above with complimentary colour header is among the most popular paving patterns and designs.
Paving the area can often be more appealing, but also cheaper compared to the cost of concrete slabs, especially for small areas. Using larger size pavers or natural stone will increase costs.
Outdoor Kitchen
Outdoor kitchens are ideal for entertaining guests while cooking up a feast and they also add a modern and sleek design to your backyard. Outdoor kitchens are available in different types but are usually built in a galley style and include a preparation, cooking and washing area.
If you're looking for a more rustic, natural feel for your outdoor kitchen, you could also consider a quality barbecue or pizza oven. These outdoor options let you cook up a delicious meal for guests or they can enjoy creating their own custom pizza.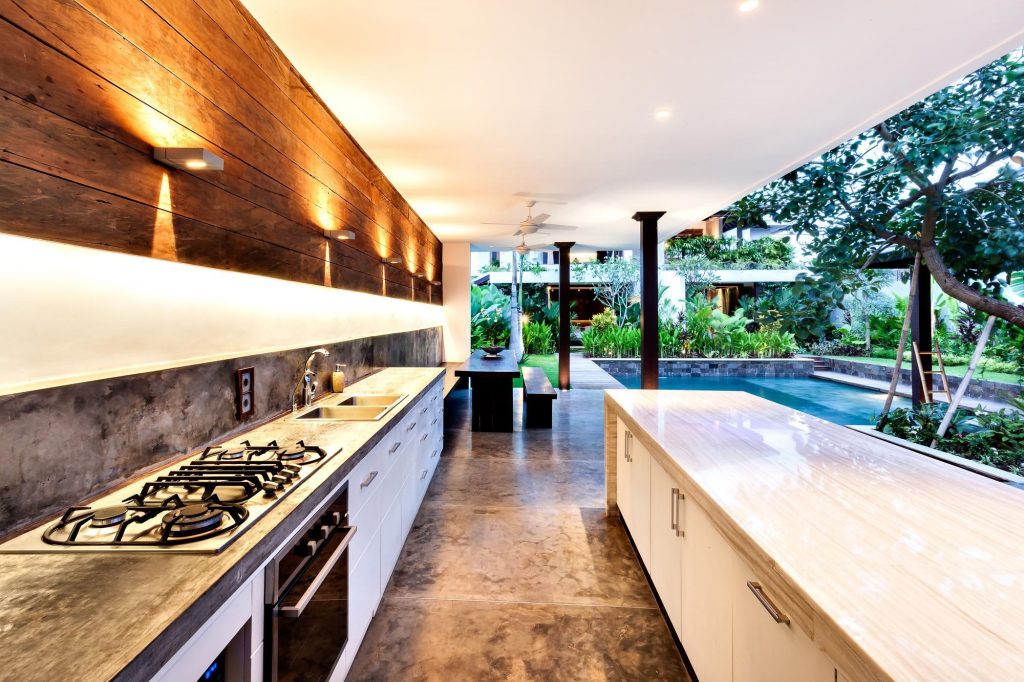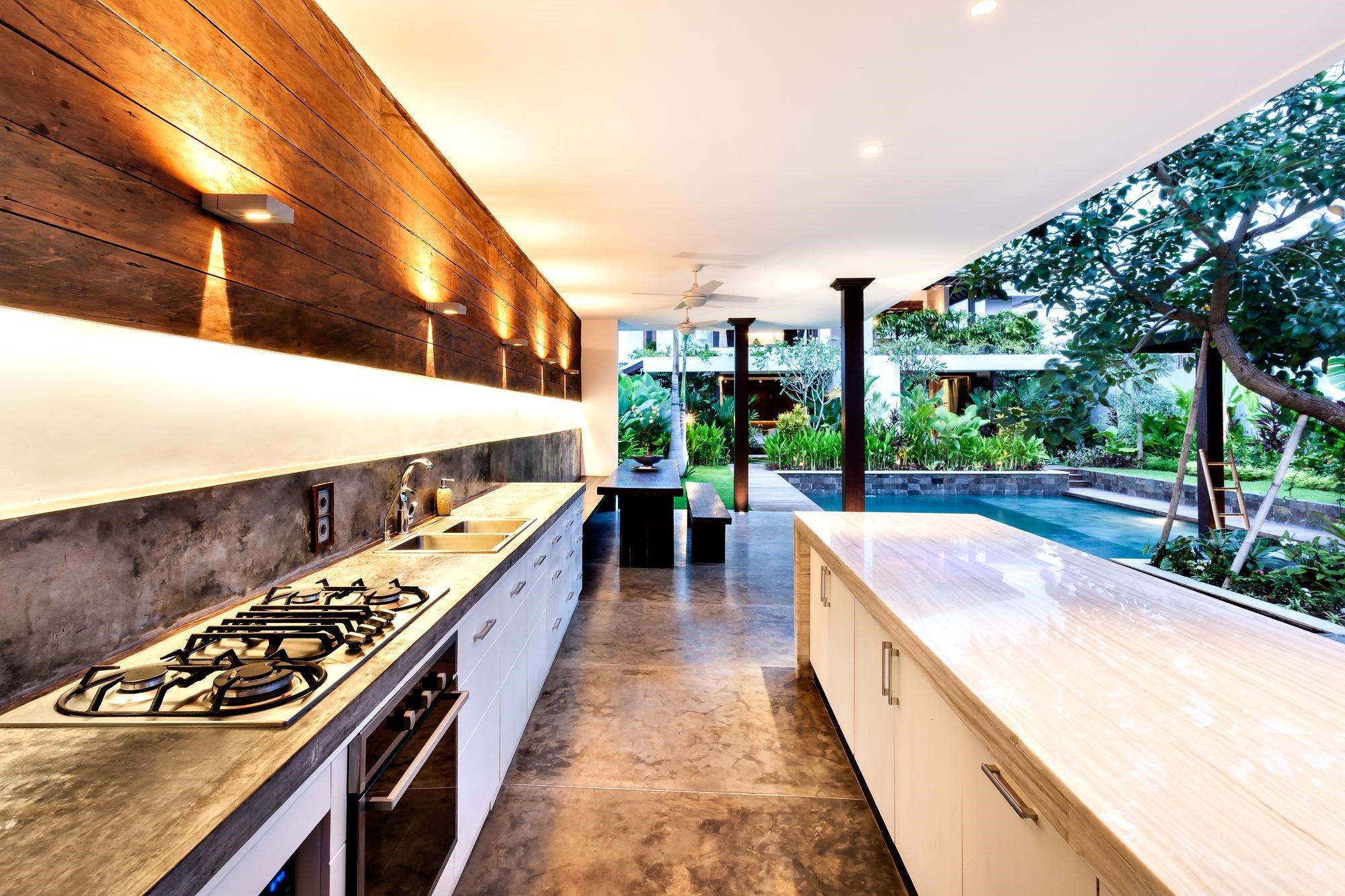 Feature Lighting
The right lighting can transform your backyard into an inviting area at night, while highlighting trees, glass and other features.
Festoon lights are a popular addition to warm up your outdoor entertaining area. These lights are made from globes connected in a long line and can add a festive feeling to your backyard.
Other lighting options which work well include coloured fairy lights, fixed LED's (in the ground or walls) and hanging lanterns.
Outdoor Deck
An outdoor deck can be part of your dining space or be a slip-proof addition to a spa or garden area. Wooden decks work well with the natural feel of a backyard area and pair well with deck chairs and outdoor dining tables.
Outdoor decks come in a variety of colours and styles, due to the diverse range of natural and composite timbers available. Natural timbers can also be stained to produce a deeper, richer colour, adding a luxurious touch.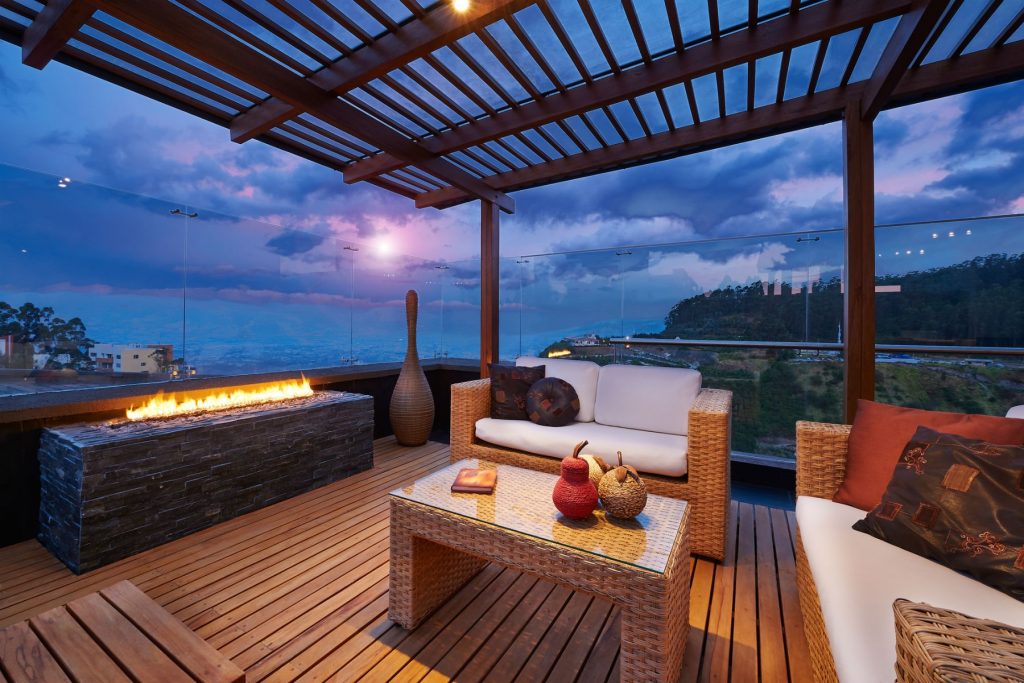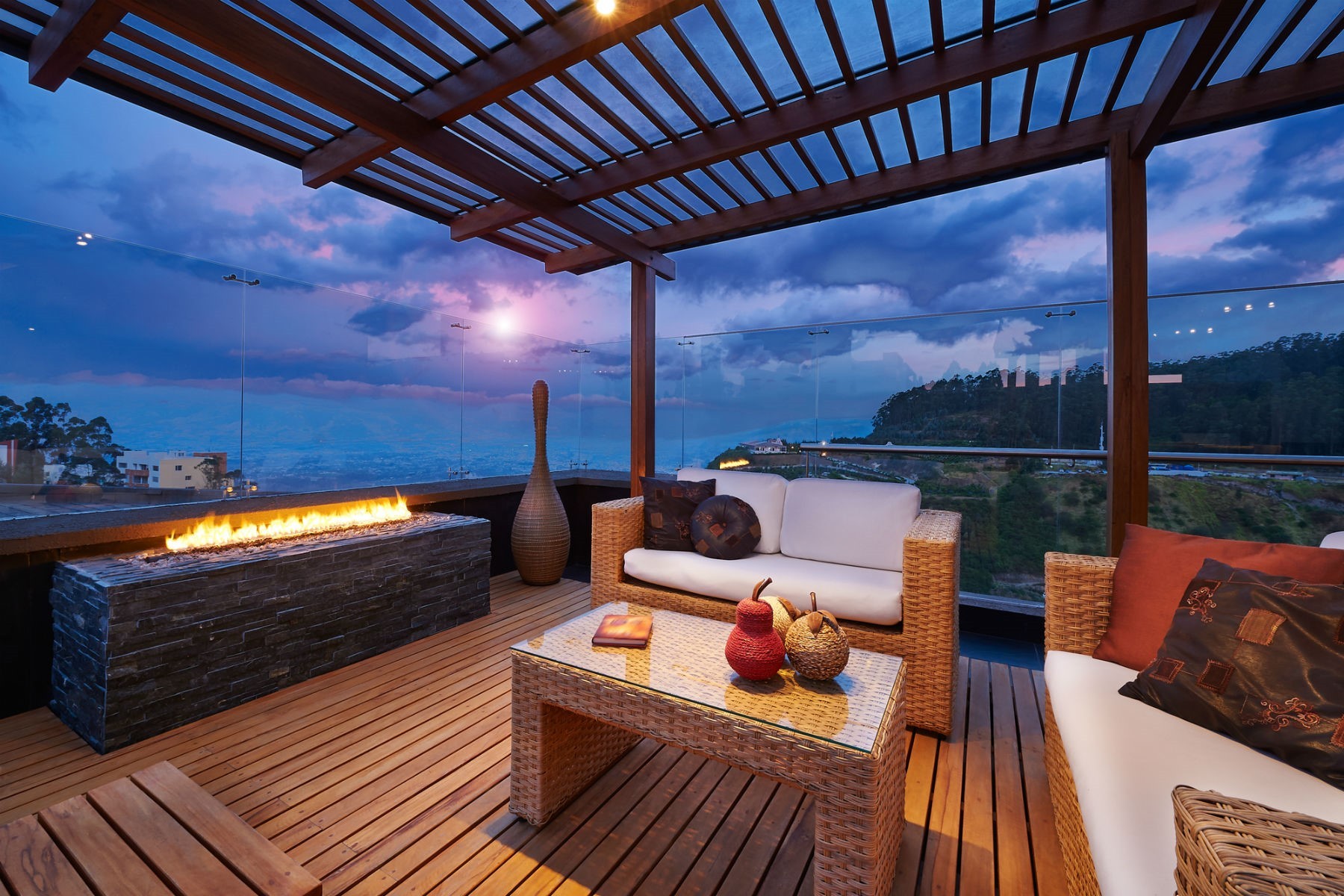 Pot Plants
Pot plants are a decorative option that can add to the theme of your outdoor area and help to contrast against furniture and other sharp design elements. Terracotta pots and stylish vases can host a wide variety of plants from succulents to topiary balls.
If you have enough space, large leafy plants can provide shade and a tropical feel. Hanging plants make the best use of smaller spaces and can be set up against walls or fences.
Placing a variety of pot plants in your outdoor entertaining area can help to give it a unique style and make it feel inviting.
Fireplace/Chimenea
Fireplaces and chimeneas can help to warm up your outdoor space at night and bring guests together. Fireplaces can be dug into the ground or brought up in raised fire pits made from metal, stone or clay.
Chimenea's are small portable fireplaces which are available in modern or traditional styles. Like the chimney of a house, they divert smoke from the fire upwards, warming up guests while keeping the area smoke-free.
With the right outdoor entertaining ideas for your backyard, your guests are sure to be impressed. Which idea will you use? Let us know in the comments below.