Franco Jewellers Melbourne
At Franco Jewellers, we pride ourselves in every piece of Jewellery, Bespoke to your Personal Desires, Budget and Passion – Something truly special: for a milestone, a loved one, or yourself.
Our Family business is recognised as the best in Melbourne, taking great pride in delivering consistently exceptional customer service experience. When you walk through our doors, you will have the personalised experience of passionate professionals, helping you to select the perfect piece of Jewellery suiting YOUR needs. One that will hold its value for generations to come. All of our collections reflect superior craftsmanship and a commitment to quality.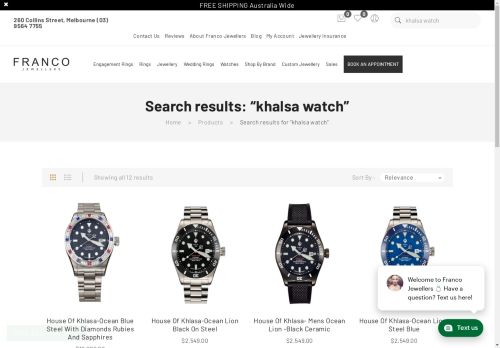 Show all timings
Saturday

10:00 AM - 05:00 PM

Sunday

11:00 AM - 05:00 PM

Tuesday

10:00 AM - 05:00 PM

Monday

10:00 AM - 05:00 PM

Wednesday

10:00 AM - 05:00 PM

Thursday

10:00 AM - 06:00 PM

Friday

10:00 AM - 07:00 PM
Additional Details
ABN:

83232192940

True Local URL:

https://www.truelocal.com.au/business/franco-jewellers/melbourne

Google Place ID:

Franco Jewellers - Custom Engagement & Wedding Rings Melbourne Place ID: ChIJa4wzQMhC1moRBLysBkBg-3Q