Wedding ring tattoos are becoming a growing trend for brides and grooms. It used to be that a nice gold band would signify the permanence of the marital commitment, but now it seems that a wedding band tattoo can also mark a couple's unwavering love for each other.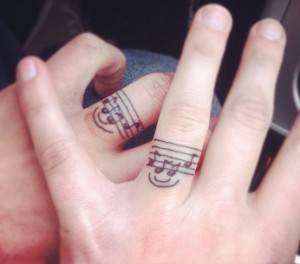 There are some lovely designs, often signifying something special to the couple. For example the wedding band tattoos pictured have a musical theme which may have brought the couple together in the first place.
If you and your significant other are thinking about getting wedding ring tattoos, there are six factors that you need to consider before visiting a tattoo artist.
More Apt to Fade. Last year, a rumour circulated about Beyonce's IV tattoo on her ring finger appearing to be partially removed. The truth is that tattoos on the hands are more apt to fade, and periodically need to be retouched. This makes total sense since hands do so much and take a lot of abuse.
Simple is Best. When choosing a design, remember that simple is best. Small, think lines really close together tend to bleed into each other and look smeared as time goes on. Also, straight lines are not as straight on fingers so try and go with something not quite as linear as you had planned.
Involves More Pain. Fingers and hands are very sensitive when it comes to getting tattoos. If you think about it makes sense – there is skin and bone – little to no fat so a wedding ring tattoo typically involves more pain. But, since the tattoos should be simpler (see above), the pain does not last quite as long.
Choose the Best Location. The location on the finger makes a huge difference in how long it takes for a tattoo to fade. Our skin sheds itself constantly especially on the palm side of our hands. Tattoos on the underside of the ring finger fade fairly quickly. Although a popular spot for a ring tattoo, the inside left of the ring finger is probably one of the worst spots to get one due to constant rubbing. That is why it is best to put a wedding ring tattoo on the top of the finger.
Post Care is Imperative. Think about the entire process before you get your wedding ring tattoos because post-care is imperative. You finger must be kept still throughout the healing because if you move it a lot, the ink can "blow out" (tattoo lingo for run) causing the tattoo to look like a huge mess. The ink can also fall out which is just what it sounds like.
Think About Timing. It sounds like a fantastic idea to go as a couple to get tattoos just before you wed; however, it is not the smartest time. The closer you are to your wedding, the more issues can arise from getting inked.
You want a tattoo to be completely healed before you get married to avoid any problems with the healing process. You do not want it to smudge on your dress nor do you want to sit by a pool on your honeymoon because you can't swim while your tattoo is healing. A good suggestion is to get them when you return from a honeymoon or just following the ceremony if you plan to delay your trip.
Getting inked at any time in your life is something to really think about before you actually do it, especially for wedding ring tattoos. Be sure to consider these factors and, most importantly, talk to a reputable and established tattoo artist before you make your appointment.