Don't want to turn into a "bridezilla" in the lead-up to your nuptials? Being a bride can be great fun; however, it can also be stressful. Your wedding day is meant to be the happiest day of your life, so make sure you're as de-stressed as can be when the big day rolls around.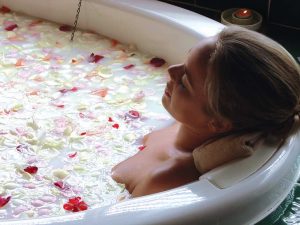 Relaxing & De-stressing
How you choose to unwind is a matter of personal preference, but the options are indeed endless. At least one of the following relaxation ideas should fit you as snugly as a glass slipper:
Massage is a good way to loosen up. Choose from a variety of treatments, including Thai and traditional deep tissue massage. Massage will help you unwind and flush toxins out of your system. Head to a salon for a little kneading – or even get your partner to do it.
A good soak in the tub is another way to chase away the blues. Add in a bath salt to ease your muscles or sweet-smelling bath bubbles to have you coming up roses. Even just 15 minutes in the tub with your favourite book (and one that you don't mind getting a bit soggy) can help ease anxiety.
Go for a walk or jog around your neighbourhood or at your local park or beach. There's nothing like exercise to get the feel-good endorphins flowing and make the big issues seem smaller.
Book in at the salon for a deluxe pampering package – facial, manicure, pedicure, the works! Many places offer special bridal packages. You can even take your bridesmaids along for a pamper party hens theme.
Try a yoga or pilates class. Stretching, soothing music and the relaxed atmosphere should do wonders for your peace of mind, as well as your body. Meditation is also in vogue right now – it's a good way to beat anxiety and aid general health.
Nestle into the couch and enjoy a chick flick marathon. There's nothing like a romantic comedy – or watching someone else's dramas on-screen – to put things into perspective. And, as they say, laughter is the best medicine.
Take time out as a couple, whether for a picnic or a weekend away – it'll remind you what the day is reallyall about and help you re-focus.
Invest in a wedding organiser folder. Sticking suppliers' phone numbers and photos you need in the one book will be less stressful than trying to locate random bits of paper.
Finally, kick back with your beverage of choice – a glass of bubbly or wine or a mug of hot cocoa. You deserve it!
Pre wedding stress relief do's & don'ts
DO plan ahead for every possible eventuality on the day such as having umbrellas on hand in case the weather turns bad.
DO invest in a "wedding day survival kit", containing such items as a nail file, bobby pins, wet wipes and safety pins. Have the kit on hand for peace of mind throughout the day.
DON'T worry if things do go slightly awry. It's more important that people are enjoying themselves – including you and your partner – than everything going exactly to plan.