It's official: you're in wedding countdown mode. In between getting wedding entertainment sorted, planning a venue and forcing your fiance to get fitted for a suit, your hair can get pushed to the back of your mind.
You are probably aware that different hairstyles suit different dresses, but did you know that certain earring styles lend themselves perfectly to particular wedding hairstyles?
Whether you have some antique heirloom earrings, or are just dreaming about that bridal bling, here are five wedding hair and earring combinations that are a perfect match for a stunning look.
1. Vintage bouffant and oversized earring jackets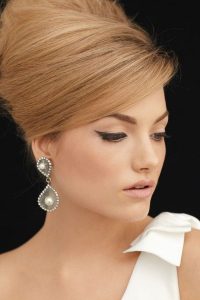 If you are planning on wearing a vintage dress, or even throwing a shabby chic style reception, this combination may just be your dream come true.
This voluminous bouffant screams '60s and when paired with these oversized, floral earring jackets, it becomes something undeniably demure and elegant.
Wisps of hair around the face keep the look modern and elegant, while all that volume on top adds some serious va-va-voom that your hubby-to-be will love!
2. Undone updo with round drops
Isn't this the definition of timeless and romantic? Although drop earrings may fall in and out of style, round sparkly drops will always be in style.
The undone, tousled nature of this side-swept up-do is the perfect juxtaposition to the diamond drops. The loose curls pinned around the face are a wonderful choice for brides who are struggling to choose between an updo and wearing their hair loose.
3. Half up, half down curls with chin-skimming drops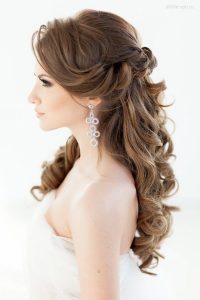 Speaking of those particular brides, this half up and half down hairstyle is also a great choice for those who are undecided.
The voluminous twist and tumbling girls look straight out of a modern fairy tale. The perfect pairing for this do? Long, chin-skimming drops.
Smaller drop earrings may get lost in such a large mass of curls. Extra long earrings also create a stunning balance between the pinned back front of the hairstyle and the tumbling curls at the back.
If you are planning on curling, or using heated tools on your hair, we recommend a pre-wedding keratin treatment to ensure your locks are in tip-top condition.
4. Statement hair accessory and small studs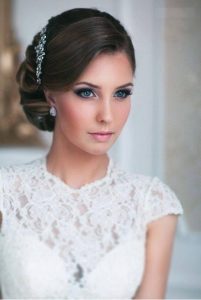 If you've already got that show stopping hair accessory, make sure you don't overdo it on the earrings!
But don't fret, small can be just as stunning! Simply opt for some small, sparkly studs and let that killer hair piece do the talking.
P.S. The smaller the earring, the cheaper they are to get in real diamonds!
5. Polished bun and pearl drops
This is the definition of neat in the front, party in the back! The sleek bun is made for the polished bride, while those straight-down, pearl drops give it a modern, yet elegant twist.
What's your dream wedding hair style and earring combination?