Want your wedding to stand out in yours and your loved ones' memories? Then consider getting crafty with flowers. When we think of wedding flowers we often just consider the bride's bouquet, but there are a whole host of other wedding flower ideas you can use to make our wedding one to remember.
Here are nine unique wedding flower ideas:
1. Flowers in the background
Why not create a large flower arrangement to stand behind you and your husband-to-be at the alter? Use greenery to cut down on costs, and thread blooms into the piece. It looks stunning in wedding photos and helps to give some colour to white walls.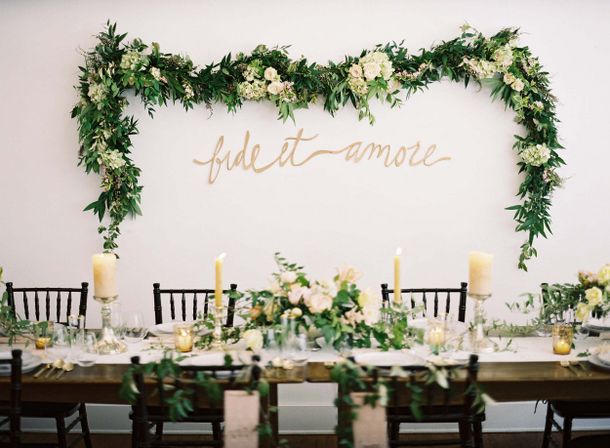 2. Hanging plants
Not just for a garden, think about incorporating some hanging plants into your reception decorations. Hanging pots with succulents inside create a funky edge to any wedding.
3. Flower pomanders
We often use pomanders at weddings but most of the time they are made out of tissue paper. Give this look a unique twist and make the pomanders out of a flower arrangement. A word of warning though – these can be heavy, so make sure you hang them securely!
4. A garden ceiling
Instead of decorating the ceiling of your reception area with lights, why not consider greenery instead? Drape ivy or boxwood from the ceiling – if the real thing is too expensive, consider fake greenery and then add bare branches to create a forest feel.
5. Consider fruit in your flowers
Why not add some grapes to your table arrangements? Bunches of grapes create a beautiful cascading effect and add a splash of green (or red!) to your blooms. Mixing fruit and flowers will surprise and delight your guests.
6. Floral chandeliers
If you have chandeliers at your wedding venue, why not decorate them with a floral arrangement? It can add some extra colour to your big day and create an elegant look.
7. A different bouquet
Why not incorporate some plants into your floral arrangement? Eucalyptus is uniquely Australian and the leaves can create a beautiful greenery in your bouquet. Perfect for an outdoor wedding.
8. Flower crowns
Why not wear a flower crown differently? Embellish the back of the crown rather than the front, impressing your guests when they see you from the back as you walk down the aisle.
9. Tape flowers to a wall
If it's a quirky wedding vibe you're after, why not tape individual flowers to the wall? Small stemmed flowers can create an impressive backdrop behind the cake table.
Flowers can be arranged in so many ways and we hope this article has given you some inspiration to do things a little differently. Find a florist with some creative flare to be sure to impress. Do you have any unique flower arrangement ideas? Let us know in the comments below!