When it comes to types of timber flooring there are a number of options to consider. These depend on the foundation you're working with, your budget, and the appearance you want. Each has it's own unique look and benefits. Let's examine each.
Types of Timber Floor Installations
Solid Timber Flooring
Traditional boards are types of timber flooring  laid on bearers or joists above the ground. These typically come in 100mm and 150mm widths and various lengths. The standard thickness is 19mm. Thicker timber is available. Solid timber floors require adequate ventilation underneath to prevent warping.
This timber is traditionally available in three grades. Lower grades have more knots and imperfections while the highest grades have the least. The price is based on the grade with the lower types being cheaper.
Compared to other types of timber flooring these strip floors have the advantages of being durable, comfortable and easy to clean. On the downside, they can dent or scratch easily. Every few years they may need to be stripped and sanded especially in high traffic areas.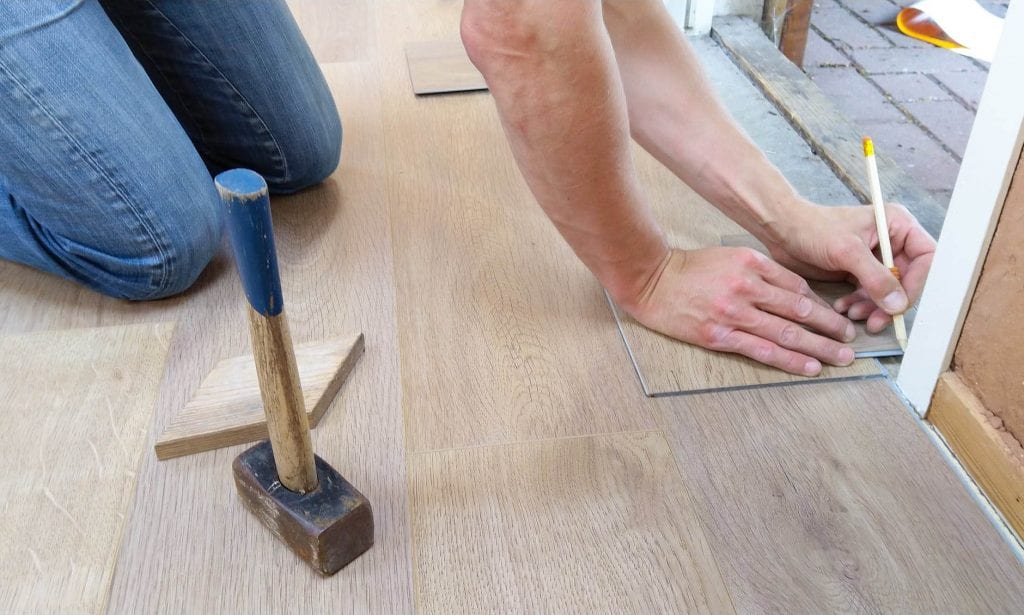 Floating Timber Floors
Unlike solid timber floors, floating floors aren't attached to the subfloor. This means they can be laid over the top of other surfaces like concrete, solid timber, plywood, or tiles. This makes them more flexible, and they can be used in a range of buildings like apartments. Floating floors use an interconnecting system to lock each plank together. To reduce the sound created by floorboards, an underlay is used to insulate any noise.
These types of timber flooring are available as natural timber glued to a fiberboard, or as a laminate fiberboard or melamine product that has a photographic image of timber on the upper surface. Because of this arrangement floating floors are unsuitable for areas that are susceptible to getting wet. For such areas you should consider other types of flooring.
Parquet Timber Floors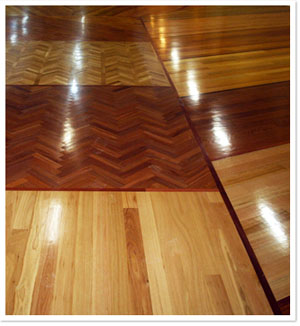 Parquetry involves gluing down timber in different shapes and sizes, and using various timber types and colours to create unique patterns and shapes. There's almost an infinite number of ways and styles that timber can be laid to create unique patterns and designs this way.
Timber underfloor heating
Can you have wooden floors with underfloor heating? Yes! Underfloor heating is great for timber as it heats the floor evenly and prevents warping. Combined with the low profile of electric floor heating systems it's quite common and quick to install during renovations underneath the floorboards.
Popular timber types for floors
Spotted gum, Tasmanian oak, Blackbutt, Jarrah and American oak are the most common types of wood for indoor flooring.
Combining three Tasmanian eucalyptus species makes Tasmanian Oak a popular choice for light to warm shades and colours in timber floors. The timber grain is straight with few knots.
Jarrah is a dense dark red timber with a natural resistance to termite activity. It's a popular choice for both indoor floors and outdoor decking.
Spotted gum shares this insect resistant trait, with lighter vibrant colours and stunning detail. There are four species that grow on the east coast making it a widely available and highly sought after timer flooring solution.
Bamboo Flooring is a relatively new option for homes. For environmentally conscious people it's a great option as it's a more renewable resource than traditional timber. This is because it grows so much faster than trees with bamboo technically being a kind of grass.
Bamboo is also a great option because it's very hard wearing and offers a strong, durable surface. Although less common it's a real alternative to the other types of timber flooring we discussed.
Installing timber floors in your home increases the visual appeal, is hard wearing and easy to clean. Current trends are for light to light brown colours and wider boards, although there are a range of options to suit your style and budget.