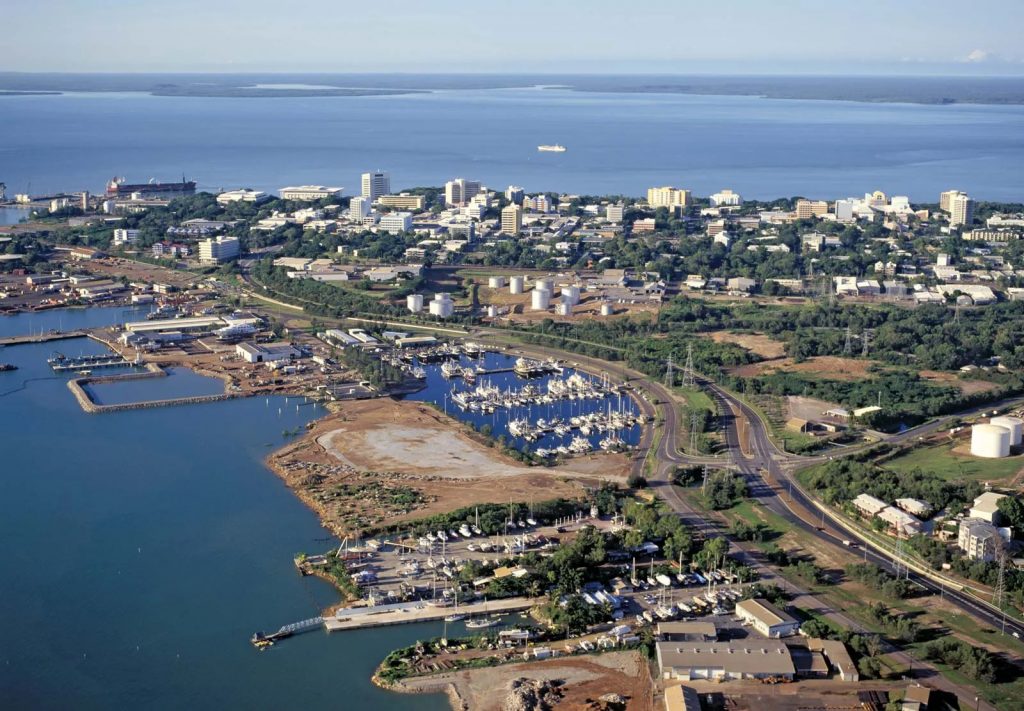 Darwin has become one of Australia's most popular tourist destinations, with beautiful national parks, a lively urban scene, and exciting events all year round. It's also a fantastic base for day trips to some of Australia's most stunning landscapes.
One of the best ways to see Darwin and its magnificent surroundings is to book a Darwin tour, and you'll find plenty of options available to ensure you enjoy the ultimate Darwin adventure.
Must-see destinations in Darwin
When planning your trip, including the following on your itinerary:
Darwin Harbour is larger than Sydney Harbour, surrounded by beautiful mangroves and clear waters, dotted with sunken ships from World War II and Cyclone, and home to many marine ecosystems. Take a walk along the shoreline, scuba dive the wrecks, or head out on a fishing charter. An adventure boat tour is also a great option to see the harbour.
Crocosaurus Cove gives people a unique, close-up look at Australia's famous Saltwater Crocodiles. The Reptile House, the Big Croc Feed Show, the Freshwater Aquarium, and the Turtle Billabong are all part of the park, where you can swim with crocs and hold their babies, among other things.
Mary River Wetlands and Corroboree Billabong are home to more saltwater crocodiles than anywhere else in the world. Take a cruise and see crocodiles, birds and other animals in their natural habitat. This is a must-see for nature lovers. Remember your camera.
Crocodylus Park takes you into the world of nature and is reputed to be the best wildlife park in Darwin. Of course, it has thousands of crocodiles, but it's also home to lions, meerkats, spider monkeys, marmosets, cassowaries, and much more!
Darwin Military Museum is an excellent place for history buffs to discover the rich military history of the NT and other parts of Australia. In 1942, the Japanese attacked Darwin's harbour and airfield and the museum houses many relics from that era.
George Brown Darwin Botanic Gardens covers 42 hectares and have a variety of north Australian and other tropical plant species. The Visitor and Event Centre is not only a great escape from the heat but also includes a mini theatre, retail gift shop and interpretive centre to learn about the history of the gardens.
Mindil Beach Sunset Market is a shopper's delight with over 200 unique stalls and over 60 food stalls. You'll find everything from exceptional local and international food (including local kangaroo and crocodile delights) to arts, crafts, and service stalls. There's something for everyone.
Take a short trip
When you're visiting Darwin, it's easy to take a day trip to see some of Australia's most stunning sights, including:
Kakadu National Park is a World Heritage site known for its cultural and natural beauty. It is the largest national park in Australia and is home to large areas of savannah woodlands, open forests, floodplains, mangroves, tidal mudflats, coastal areas, and monsoon forests. Kakadu is 2.5 hours from Darwin, so you might even want to book a night or two.
Litchfield National Park is just over an hour from Darwin, and the park is full of beautiful waterfalls and waterholes, surrounded by vine forests. Take a walk, explore the waterfalls, or enjoy a swim at the many waterholes. You can generally drive the entire park in a day (2WD acceptable) or organise to stay longer.
Tiwi Islands are a 2.5-hour ferry ride from Darwin, and you can take a day trip or stay longer at this beautiful island paradise. Inclusive of Melville Island, Bathurst Island, and nine smaller islands that are uninhabited, the islands are known for great fishing and friendly locals, with 90% of Aboriginal descent. It's a great place to learn about their fascinating culture.
Mandorah and Wagait Beach are just over an hour's drive from Darwin or 15 minutes by ferry and are some of the best tropical beaches in Darwin. You can swim, look for shells, have a picnic or walk along the sands. Enjoy a feast of fresh seafood and even visit the restricted site of the historic Charles Point Lighthouse.
Nitmiluk Gorge (Katherine Gorge) is a three-hour drive from Darwin, and you can go for a day or make a few days of it. It has beautiful waterfalls, great hikes, and peaceful water holes, as well as the 13 impressive gorges that have been carved from ancient sandstone. The ancient gorges are easy to get to, and it's easy to see why this is one of Australia's most famous places to visit.
Whether you're in Darwin for a day or a month, there's plenty to see and explore. So start planning your itinerary and include as many of the above suggestions as possible for an adventure you'll never forget.