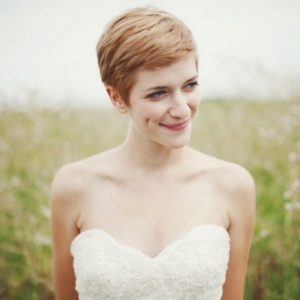 At first you might think short wedding hairstyles are limited or challenging. But you don't need to grow your hair out or add hair extensions to have the perfect bridal hair. Like any wedding hairstyles, short or long, it comes down to finding inspiration (hopefully in this post!), consulting with your bridal hairstylist, and of course, personal preference.
Short hairstyles are much more common since vintage trends have come into the spotlight, and they suit the casual outdoor Australian weddings perfectly. This means there are now many more examples to choose from. We've scoured the internet for the best short wedding hairstyles we could find, but before we get to them, lets look at some classic short wedding hairstyles for trendy brides.
Don't forget, these 9 wedding hairstyle do's and don'ts still apply!
Three Classic Short Wedding Hairstyles for Brides
The Short Wedding Hair Updo – This short wedding hairstyle suits the traditional bride. You can turn a short bob into an elegant and breathtaking, wedding updo to suit traditional church weddings perfectly.
The Tightly Cropped 'Pixie' – A tightly cropped pixie style is best for the bride who left troublesome hair-care far behind, and could not bother with the wind when she's out and about.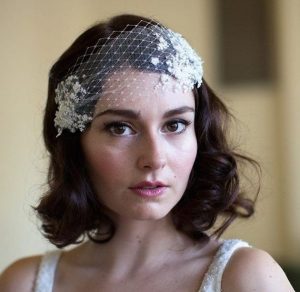 Pixie hairstyles are simply adorable, and who doesn't want to look adorable on their wedding day.
Hair accessories such as bridal hair pins and floral hairpieces can add extra style and detail bringing to life pixie wedding hairstyles and short bridal hair in general.
Short Vintage Wedding Hair – There are many gorgeous short hairstyles we can borrow from the 1930's to 60's. And vintage wedding hair is in vogue right now.
If short vintage curls inspire you, go ahead and try it out!
Prep your hair with flexible hold, brush smooth and curl the tips. When cool brush out, tickle a fringe if in the mood, and hold with a light hairspray for confidence.
More Examples of Wedding Hairstyles for Short Hair
Follow Wedding & Beauty's board Short Wedding Hairstyles on Pinterest.
Brides with shorter wedding hairstyles share many great advantages. They spend less time preparing on the morning of their wedding, can refresh their hairstyle with basic tools, and dance away the night not worrying that a hair got out of place.
Did you find your short wedding hair inspiration on this page? Know of inspirational celebrity wedding hairstyles for short hair? Please share your favourite in the comments!
Image Credit: http://www.brit.co/short-wedding-hairstyles/