There is nothing quite like planning a hens night for a good friend. While most hens nights for brides are geared around going out with the intention of drinking all of the alcohol in a 20-mile radius city, some brides may not want such a rage around their last "hurrah" instead opting for small gatherings with a few good friends. That makes a pamper party hens night theme the perfect option.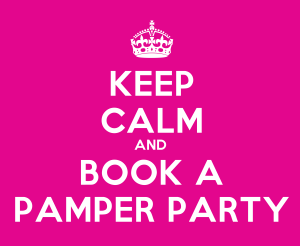 A hen party focused around pampering spa treatments is quickly becoming a top pick with brides and their friends.  Think about it…you plan spa days with your friends so why not take that excursion to the next level and celebrate with the hen and her closest friends and female relatives?
You can make it as big or as small as you want with fun and relaxing beauty treatments for each person to partake.
To give you a start, here are some fun suggestions for the ultimate hens night pamper party that everyone will cluck (sorry, we had to say it) about long after the party.
Pamper Party Location
The best hens night with a pamper party theme should involve having the party at a cool location like a suite at a local hotel or even a condo rental that comfortably accommodates several people. You can even go ahead and make it an overnight event.
Terry Cloth Bathrobes/Slippers
First thing's first.  When you go to a spa, the first thing you do is put on a soft and cozy bathrobe and slipper combo.  Plan the event with enough time to order bathrobes (monogrammed would be perfect) and slippers for the guests.  Not only do they put everyone in the right frame of mind, nice bathrobes and slippers make excellent party favors.  Oh, and make sure the bride's robe and slippers are a different color; a sash and crown add a little distinctiveness too.
Massages
You do not have to go crazy with full body massages, but everyone always loves a 15-20 minute head and neck treatments. Pamper parties are always a success when a massage chair or table is set up for treatments.
Spray Tanning
Another big hit at pamper parties is spray tanning. You know you look better when you have a little color so spray tanning is an obvious choice of activity; however, try to plan it at least a week before the wedding so that there is no chance of smearing spray tan on any of the gowns (bridal or bridesmaid).
Mani-Pedis
What would a spa day/night be without mani-pedis?  With all of the fun designs and strappy sandals all the rage for brides and bridesmaids, manicures and pedicures are a definite must-have at pamper parties.  The bride can choose a color for everyone and maybe even a design to be added (i.e. flowers, wedding bells, polka dots, etc.).
Facials
There is nothing like a calming facial to relax the senses not to mention what it does for your skin.  Masks and cold cucumbers on the eyes send everyone in a Zen-like place.  Since the hen party is all girls, no need to worry about what you might look like with blue clay or cream all over your face!
Food, Drinks, and Music. To make the whole party perfect, good food and drinks along with lots of fun music are essential. Whether you bring in pizza or plan for hors d'oeuvres with pamper-y drinks (think champagne, cosmos, sangria, wine), everyone will definitely be in a good mood to make the party memorable.
Here's some tips on the perfect pre-wedding facials.
Planning Your Hens Pamper Party
Working with an event coordinator and day spa for hen party takes the worry and stress out of making sure it goes off without a hitch.  By simply sharing your ideas, you can, then, let them handle the details so that you are free to just be part of the festivities.