"Sleep is the golden chain that binds health and our bodies together"
– Thomas Dekker
If we want to be healthy, we must sleep. And if we want to sleep, we must have a sleep-friendly room. Bedrooms are our retreats, where we go to get some rest and gather energy for all the new challenges ahead, and they should be decorated with these functions on mind.
Comfort is the first thing you should strive for when designing your bedroom, but you should also make it feel relaxing and soothing. Luckily, it's not that expensive to inject your room with these indispensable vibes, and you can even manage to introduce some of the latest décor trends.
Choose Your Palette
Choosing a colour palette for the bedroom is much more difficult than it used to be. Earlier, we had a set of rules that allowed us to paint the room in relaxing tones, like lavender, green and bluish. Now, everything is allowed, and it's especially trendy to paint the bedroom walls with deep moody tones.
If you decide for a dark colour on your walls, make sure it's not too stimulating and vibrant, like red, because it can cause anxiety. Forest green would, for instance, be a better option. If you prefer the "light side", neutrals are always trendy and easy to combine with other tones.
Multipurpose!
One of the biggest bedroom design trends for 2017 is turning it into a multipurpose room. Bedrooms are no longer just a place to sleep in, and if you have enough space, you can divide your room into zones with different purposes. For instance, your master bedroom is the perfect place to put a powder room in, but it can also have a comfy and inviting reading nook. Mark the zones with area rugs or specific colour palettes.
Bed – The Room's Centrepiece
Bed is the most important piece of furniture in the room. It has to provide comfort and quality, but also serve as decorative element. Choose the colour and the material of the bed frame depending on the prevailing tones in the room, but also consider the bedding (you can use it to add patterns), headboard (custom headboards are trending now) and cushions (throw on a lot of them in different patterns and shades to make the bed more alluring).
The mattress is a major consideration which can make or break any bed. You should choose a mattress that contours to your body and provides pressure relief while you sleep. This mattress buying guide by choice magazine is a must read.
Add Some Texture
A mix of different textures makes the room feel luxurious and comfy. A printed bed cover can be combined with perfectly smooth velvet pillow, and when covered with a soft fur throw it gives the full picture. You can also add texture by layering rugs.
Your regular wool rug can be covered up with a faux fur piece that can provide texture and a warm landing spot for your feet in the morning.
The Element of Surprise
For the end, you should include some unexpected decor element. A rustic stone fireplace or a modern electric piece will not only look soothing, but also warm up the space. Speaking of warmth, you can include wood through an accent plank wall and add canopy on the bed for a romantic feel.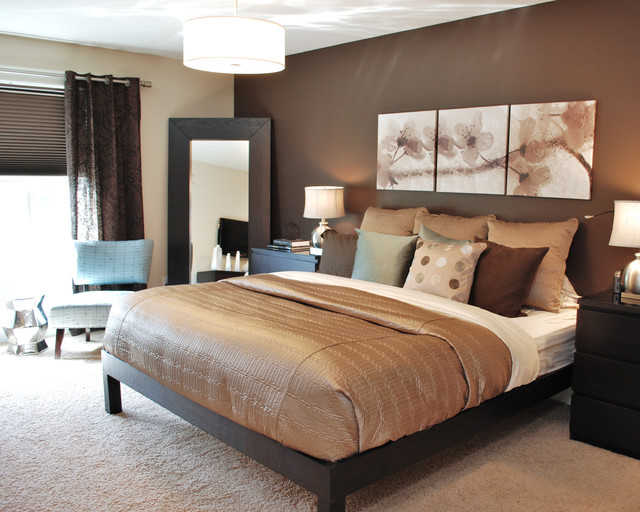 A large statement chandelier will provide just enough light for the bedroom (you should also have task lights, like wall lamps beside the headboard), while simultaneously being a unique accessory. Artwork or patterned wallpaper is also great ways to create a focus wall in your master bedroom.
Your bedroom is much more than your hideout after all, so you should do your best to make it functional, beautiful and comfortable, so the time you spend there (especially when awake) is amazing.