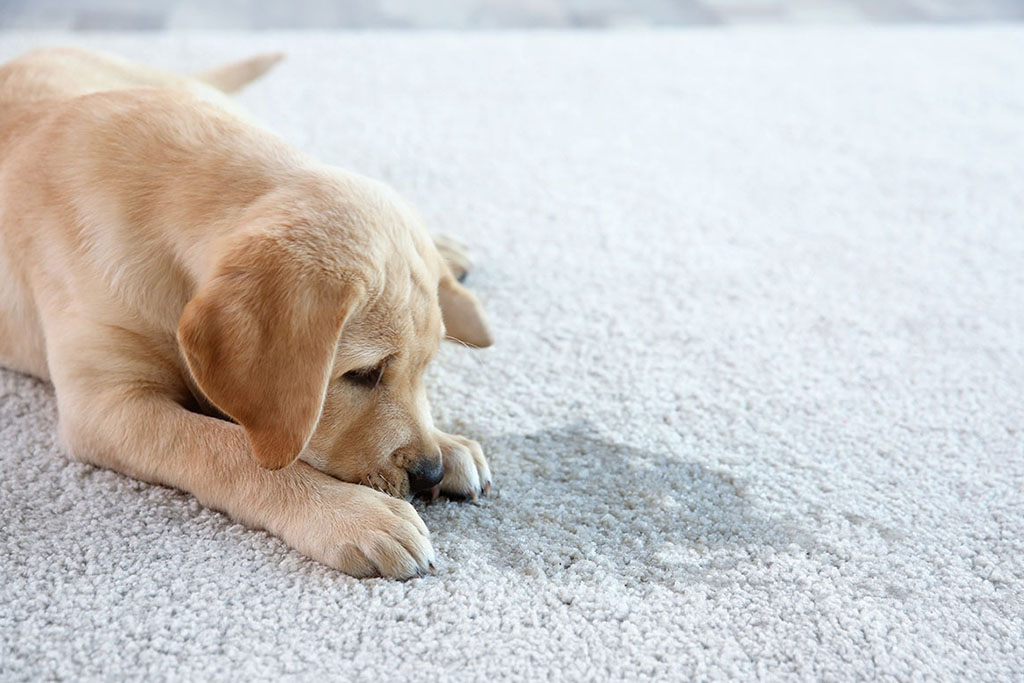 Accidents happen. As all cat and dog lovers know, removing the smell of dog urine and pet stains from carpets is tough. Whether potty training your pet or they just got overexcited, dog or cat urine can make your carpet smell bad. It's not very pleasant when your house smells of dog pee. So, how do you clean pet urine and get the dog pee smell out of carpets? Here are our tips for cleaning dog pee carpet stains.
Why does pet urine smell so bad?
Pet waste is a smelly cocktail full of hormones, bacteria, uric acid, and ammonia. Ammonia becomes more concentrated, converting to methanethiol over time, a pungent gas that gives your dog's urine a distinctive smell. Worse still, it turns acidic when the pee gets exposed to oxygen.  It would be best never to use ammonia-based carpet cleaners when removing the smell from your carpet fibre, as it will make the pee stain more visible and odorous. Aim for alkaline pet stain removers, or use a homemade vinegar solution.
How to find pet urine stains on the carpet?
If you missed your dog peeing in the act, it might be hard to find where the suspicious smell comes from. Sometimes, the stain will be noticeable — you may even catch your dog or cat peeing in the same spot to re-mark it. However, if you cannot find the pet pee stain, you'll need to use a black light to reveal the dog's urine smell.
Pet stain cleaning tools you'll need
To begin cleaning dog urine from carpets and rugs:
Paper towels.
Homemade cleaning solution
Commercial enzymatic cleaner.
Vinegar.
Baking powder.
Spray bottle
Soft-bristled brush.
Vacuum cleaner or steam cleaner.
Water.
Steps to clean pet urine stains from carpet
Here are five steps to cleaning pet stains and getting pee out of the carpet before the urine smells.
1. Soak up the urine
Before doing anything else to begin cleaning pet urine, you need to blot the stain. To dry dog urine, ensure you blot and don't scrub the stain, as this could worsen it. Use a thick layer of paper towels and press them or stand on them to apply pressure. The aim is to remove as much moisture as possible.  You can also use clean cloth or rags, but ensure you sanitise them in the washing machine later. When the towels are soaked, remove them and put a fresh set down. Press firmly once more. Repeat the process until the towels no longer pick up moisture.
2. Apply white vinegar and water
Fortunately, it would help if you had everything you needed to remove pet urine and keep your carpet clean at home. Distilled white vinegar is the go-to cleaning product to get urine out of the carpet. Moreover, it is safe for pets. Dilute the vinegar with equal parts warm water and spray on the stain. It's sensible to spot-test the vinegar solution on a small corner or discreet area of your rug or carpet to ensure it won't bleach or worsen the stain. If the vinegar solution doesn't work, you may need to use a commercial stain remover. Take care to use only a little enzymatic cleaner, damaging your carpet. Opt for alkaline solutions to counteract the acidity of pet urine.
3. Let it sit
Once you have applied the vinegar or commercial cleaner to the pet urine stains, let it sit for a few minutes until blotting so it dries completely. Repeat these steps to remove any remaining urine residue from the carpet.
4. Eliminate odours
Urine odours can stick around stubbornly. Removing the odour is vital. If smells or residue remain, your pet may re-mark the spot again. Remember, cat and dog noses are stronger than ours. Even if you cannot smell the urine stain, they probably can.  To eliminate odours, try sprinkling baking soda on your rug or carpet. Baking soda is an excellent tool to soak up nasty smells. Let the baking soda sit for at least 15 minutes or longer for more pungent smells. You might even let the baking soda sit overnight. In the morning, vacuum the baking soda. Another excellent way to remove smells is to use charcoal bags around your house to eradicate general pet odours.
5. Vacuum the area
Allow the pet cleaners to dry completely. Then, vacuum the area thoroughly to remove any baking soda and get dog urine stains out of the carpet. If the stain remains after vacuuming, repeat steps one to five again.  Don't worry if you still need to remove stains from carpets. You might need to call a professional carpet cleaner to remove stubborn stains. Additionally, if you deem the carpets are beyond restoration, consider hiring a carpet removalist to dispose of large amounts of carpet affordably and safely.
How to handle old pee stains?
If you miss your pet in action, it could be a few days before you notice pee smells and stains. Dried dog urine and set-in stains are notoriously difficult to remove. If it's been a few days since your pet soiled your carpet, you might need to level up to remove urine stains.  Try using an over-the-counter enzyme-based cleaner. Be careful of using harsh chemicals, as these could bleach your carpet or harm your dog. Most pet stain removers are fine. Pet cleaners will also neutralise odours to prevent pets from returning to the crime scene for repeat offences. Alternatively, you can try mixing half a cup of 3% hydrogen peroxide with two cups of water. You might also add a teaspoon of dishwashing detergent for extra cleaning power.  To clean dog stains, sprinkle baking powder over the pee and spray the hydrogen peroxide solution on the baking powder. Work the solution into the carpet with a soft-bristled brush and let dry before vacuuming.
Cleaning pet urine from carpet
Removing dog pee stains and smells is challenging for all pet owners. Whether your beloved furry friend is naughty or not yet potty trained, most dog owners have to clean pet pee out of their carpets at some point.  The key is to act fast and soak up as much urine as possible before it has a chance to dry on the carpet. The moist environment can attract pests, which will be a bigger problem. With most of the necessary urine-eliminating ingredients in your kitchen cupboards, you can get rid of the stain within minutes.