Evites?  To a hens party?  Don't you think you should put a little more effort into your invitations for such a festive and commemorative event?
Here are a handful of ideas of how to create sensational hens party invitations that you can put together yourself either by downloading a template or actually making them from scratch. Your invitation always sets the tone for any party so be sure to design one that kicks off a party that guests anxiously await and even come up with their own ideas for what should take place especially when there is a theme to the party.
Crafty Hens Party Invitations
If you really want to make a splash with a hens party you are hosting, particularly for a really good friend, you can take time to make a crafty hens party invitation to send to guests.
These take a bit more time but are well worth the effort when received by the guests and the bride to be. If you have a theme, incorporate it into the invitation. There are tons of ideas and step-by-step instructions on YouTube from planners and stylists like the Brideas Channel to walk you through how to make unbelievable one-of-a-kind hens party invitations along with what you need to make them.
Easy Hens Party Invitations
There are tons of online invitation templates on websites that you can download and print yourself or customise and have printed for you. Even though you might not get to unleash your own creativity with these invitations, there are lovely inviting designs that do not take much time to put together.
Themed Hens Party Invitations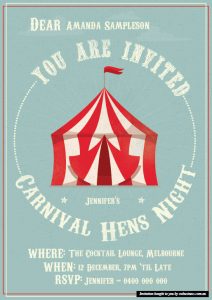 A hens party in its truest form should have a theme – any kind of hens theme from an 80's disco to a day spa getaway – anything you can imagine as long as it creates a lot of "woo-hoo" moments.
There are so many classic ideas and designs with a themed hens party invitation, they are bound to set the scene and create some excitement!
We found the best examples of themed hens invite templates at the Secret Women's Business blog.
If you want the entire event to have a hens theme but need help to put the party together, there are hens party planners who can help you with all of the details including the invitations!
The main thing is that the bride-to-be gets to have an amazing night (or day) with the important girls in her life before she gets married.
And it all begins with a hens party invitation….