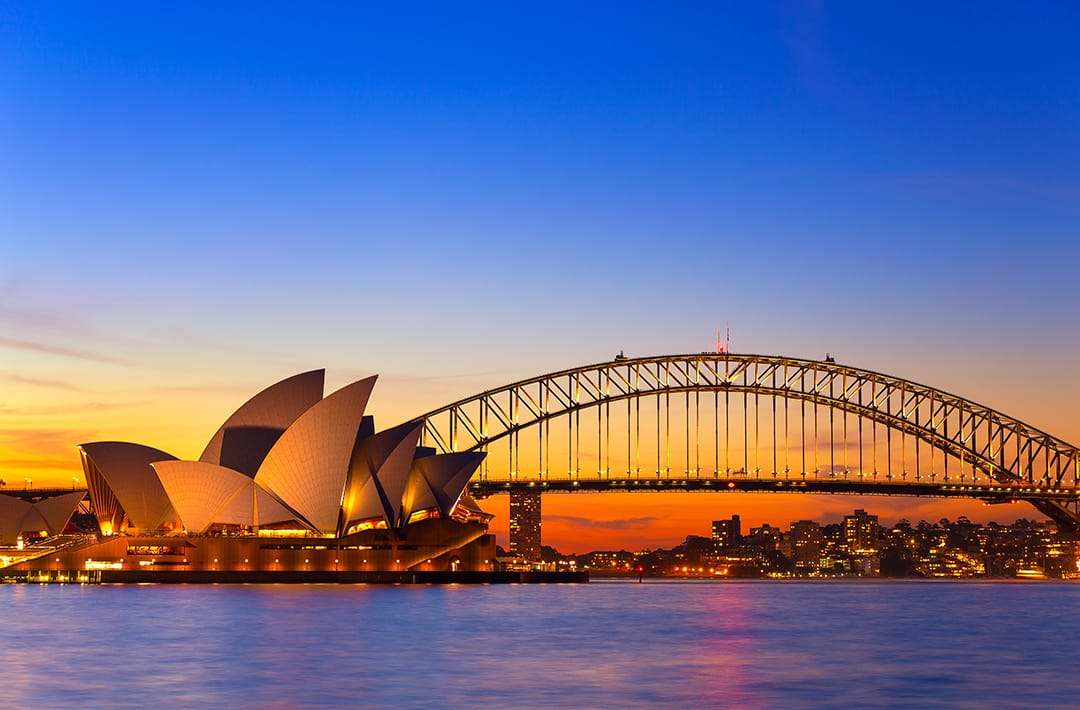 Sydney offers scopes for jobs, lively festivals, health & financial services to the graduates but has a high cost of living and issues with local transportation.
Being the largest city in Australia, Sydney attracts thousands of graduates each year. The versatile culture, enthusiastic cultural calendar all year-round & some of the world's famous beaches are Sydney's focal points.
However, relocation is not an easy task if you are trying it for the first time. It's important to know about the lifestyles, pros & cons of your desired city & job allocation facilities, etc.
Throughout this guide, we will focus on explaining in detail about life in Sydney.
Pros & Cons of Sydney
The Pros
1. Suitable Weather
Being in the subtropical zone, Sydney never faces freezing cold weather. On average, you will see a minimum of 16℃ to a maximum of 26℃.
Though there's no freezing or wet season in Sydney, the summer can become intolerable sometimes with a whooping temperature of over 38℃.
2. Diverse Cultural Community
Sydney has a massively diverse community. It is largely populated by overseas people from China, India, the UK, Vietnam & New Zealand. For the last decade, Sydney has been in the top 10 global city lists of the world.
A lot of people even use removalists in Sydney to move from other states just to be part of the diverse culture of Sydney.
With numerous tight-knit migrant people, Sydney's suburbs have procured a vibrant, diversified cultural community.
3. Electrifying Lifestyle
Sydney just needs an excuse to party. Sydney is always enthusiastic about festivals, music, and celebrations.
The inner & west part of Sydney is progressing rapidly & offers lots of fests like Tropfest, Indian Sydney Community fest.
4. Sufficient Job Scopes
Currently, the insurance, health & construction sectors are reigning in the market as the top-most paid jobs. Besides these, you can get a job in sectors like professional, scientific & technical.
5. Great Sightings of Beaches & Parks
As mentioned before, Sydney has some of the world's most exciting beaches like Manly, Bondi, Collins Flat Beach, etc.
Besides the beaches, Sydney's national parks such as Sydney Harbour National Park, Ku-ring-gai Chase National Park & Royal National Park are also intriguing.
The Cons
1. Costly Living
According to a 2018 study, Sydney is the world's one of the ten most expensive cities to live in. You have to pay hefty prices for the fancy lifestyle & other commodities.
2. Poor Condition of Local Transport
Public transports often face outbursts, over-crowded conditions, delayed timing, over-price, sudden cancellation, etc.
It's sometimes better to walk rather than get on a bus or train here.
Housing & Livelihood Cost
1. Housing Cost
If you are a graduate who wants to settle down in Sydney and start your first job, think again. It's the world's 32nd most expensive city to live in.
You need to pay from $550-$1200 for a unit per week, depending on the location.
2. Necessary Goods' Price
Commodities and products of daily necessity are also not cheap here. You will have to pay $6 for a dozen eggs, $4 for a loaf of bread, $16 for a basic lunch. $53 will get you a pub dinner for two.
3. Livable Areas & Cost
You will need to pay $650 per week for a unit in the inner city & eastern suburbs, whereas $800 in the inner west. Again the cheap units will cost you $450-$550 per week in the Canterbury-Bankstown, Hills District, the upper north & south shore areas.
4. Accommodation Types
Here You will have multiple options to choose from. You can go for flats, apartments or share a room in a house. As a fresh grad, sharing the room will be a wise choice.
Working Scopes for The Graduates
1. Prime Sectors
There are plenty of job opportunities in the Sydney CBD. The main sought after jobs are in the insurance, finance sectors, and business directories.
As a graduate, you can remain confident that you have a 2.5 times chance of getting a job here than any other neighbouring state.
2. Trivial Sectors
Sydney offers handsome salaries to professional graduates like engineers, psychologists, teachers, architects, etc. & they all are paid handsomely. You can earn from $50,000 up to $80,000 per year in your designated areas.
How Is Life In Sydney?
1. Famous Shopping Brands
Sydney is an excellent place for shopping for clothes, arts & crafts, and fresh flowers. You will find plenty of amazing malls and famous brands like BondS and Armani readily available here.
2. Art & Cultural Festivals
Major festivals like Vivid Sydney, Sydney Film Festival, Intimate jazz show at Venue 505 are the most popular ones that occur every year among other numerous cultural festivals.
3. Vibrant Nightlife
Sydney comes alive at night with the all-night pub, bar, casino to party. However, because of recent lockdown laws, you can't stay in a bar after 3:00 a.m.
4. Foods
For food lovers, Sydney has a Good Food Month & Wine show arranged every year. Besides this festival, some local shops are also worth visiting like Chinese Noodles Restaurant, Mamak, Fahim Fast Food, etc.
5. Remain Up-to-Date with Websites
To get the latest information about the vibrant cultural activities & other festivals, you can visit some websites like Time out Sydney, What's on Sydney, etc.
You can further take part in the annual Korean Film Festival, Sydney Writers Festival, etc.
6. Find Friends & Partners
In Sydney, to meet new people, you can use Facebook, Tinder, MeetUp, Nabo, etc. You can also volunteer in any local community, do cycling, join salsa dancing classes to meet new people.
Miscellaneous
1. Legal Help
If you are a graduate below the age of 25 years, you can ask for free legal advice. You need to update your contact info & enrollment address after moving to Sydney.
2. Health Facilities
Many hospitals in Sydney offer free medical checkups. NSW hospital, Sydney Sexual Health Center, etc., provide free services to the new settlers.
3. Financial Suggestions
National debt online site offers free financial suggestions if you need them. They can help you manage your superannuation, opening a bank account & many other facilities.
Final Thoughts
Sydney is an amazing place for graduates if you can afford the expenses. The job market is also very lucrative and has plenty of openings. Ultimately it all comes to your preference. We hope our guide was able to provide you the information you need to make a well-informed decision.