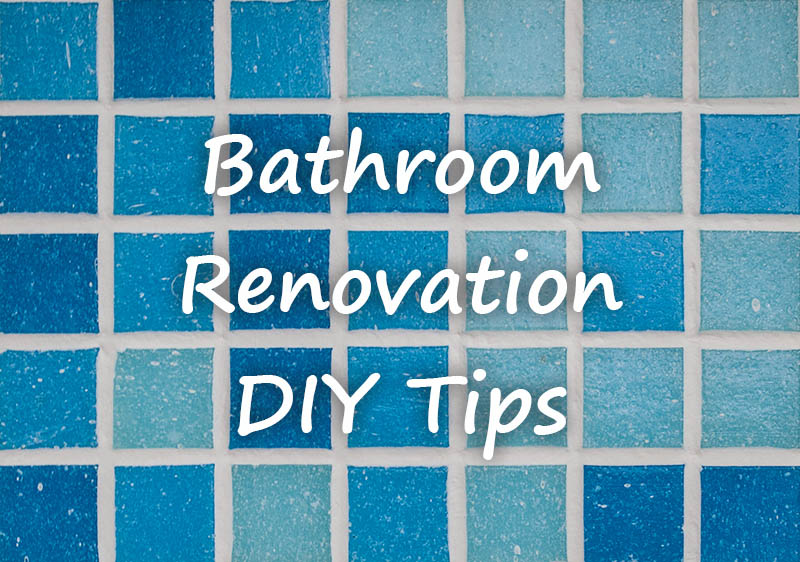 Are you thinking of upgrading your bathroom? Perhaps you're considering moving house and want to add some value to your home, or maybe your bathroom is so outdated it's simply getting on your nerves. Whatever the reason for the home improvement, we've come up with some helpful DIY bathroom renovation tips to ensure you get the stunning result you're after.
Improving your toilet
Plastic toilets can look cheap, and sometimes, if you've bought a home off the plan, it might be a plastic toilet that comes as standard. Spend a bit of money on a ceramic model and you can create a modern touch to your newly renovated bathroom in no time at all. Just keep in mind that you might need to find a local plumber if you're unsure how to install a toilet properly.
Update your floor
One way to easily renovate your bathroom is to replace the tiles with a more modern design. New tiling will lift the entire look of your bathroom and if you want to create an expensive touch to the room, think about tiling some of the walls as well.
Tiling is a job you can do yourself if you have the stamina and a good eye for detail.
Add a lick of paint
There's nothing worse than paint that is showing signs of streaky water lines on your bathroom's ceilings or walls. Get rid of this dirty look by choosing a paint to upgrade your bathroom with.
If you are planning to sell the property soon, try and choose a neutral colour, such as beige, which will appeal to most buyers, rather than an out-there colour like orange, which won't.
Rethink your décor
One of the ways to quickly update your bathroom's feel is to redecorate it with more of a modern twist. Get some inspiration from websites like Pinterest or our own bathroom remodelling tips, and then decide on a theme for the space. Perhaps you want a sleek and modern bathroom? Or maybe a nautical theme suits your home? Whatever your style, purchase items that complement this theme so as to make an impression on anyone who enters the space.
Keep your budget in mind
It is easy to over spend during a renovation, so make sure you keep your budget firmly in mind when deciding what improvements you want to make. Plan the entire work before you get started, so you can feel that you are safely keeping within the limits of what you want to spend. You don't want to get halfway through the renovation job only to find you've run out of money!
DIY money saving tips
Take the time to shop around and compare prices from different stores. Wait for items to come on sale so you can pick up a bargain. Consider purchasing demo items so you can get them for a good price and if you are buying multiple items, see if you can get a discount.
Consider browsing for items online because you can often get things cheaper on the net than in the stores. Make sure that with everything you purchase – whether online or in store – you keep the receipts, so if there's a problem, or you purchase an item you no longer need, you can easily return it.
Undertaking a bathroom renovation is no mean feat, but with a little patience you can create a beautiful space that really works for you.
Have you recently undertaken a bathroom renovation? Let us know your tips in the comments below!