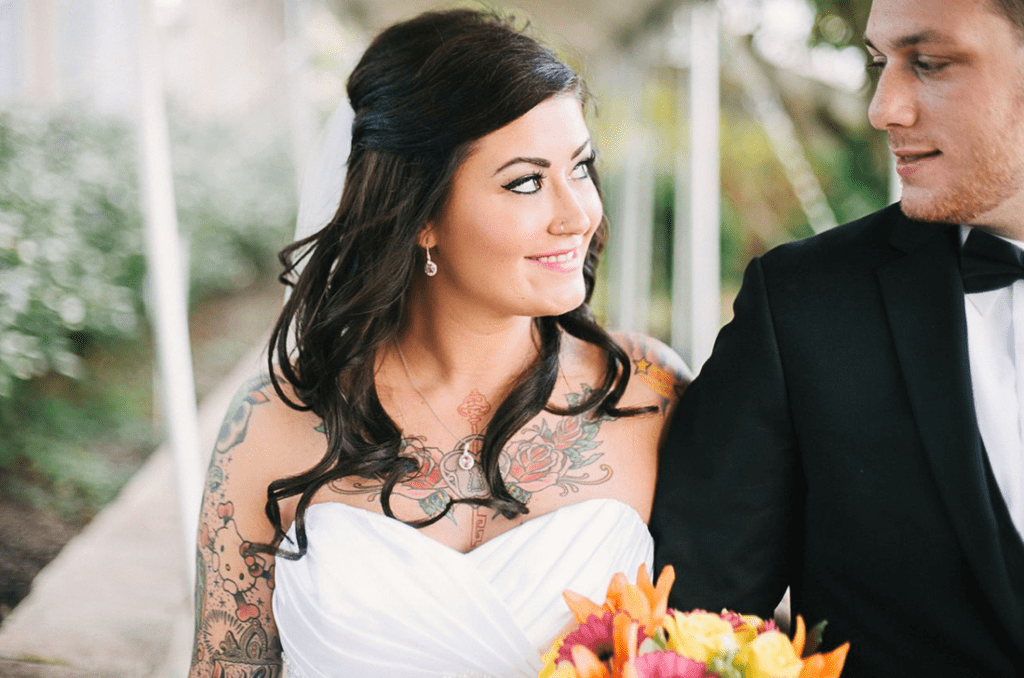 It used to be that tattoos were a bit of a taboo and something that was not shown in public. But since they've become more popular and mainstream, there are more tattoos in areas not easily concealed. Many people now have more that one, even wedding band tattoos!
Even though they are not the big deal they once were, there may be a time when it's not appropriate to showcase the work of art travelling across your back or down your arm – namely, your wedding.
While you likely love your tattoo and are not the slightest bit ashamed of it, there could be other reasons to consider covering a tattoo for your wedding.
Will it take away from the gorgeous wedding dress you have chosen for the day? Will Grandma be offended?
Let's look at ways to cover your tattoo.
Covering a Tattoo with Concealer. Using a medical grade concealer can often cover the tattoo. The best way to ensure you hide it is to buy three shades of concealer (Dermablend is great) with the darkest one matching the shade of your skin and the other two slightly lighter. When applying it, use a concealer brush and apply the lightest colour. Once covered, apply the second shade in the same manner then top it with the darkest colour. Not only does it eventually match your skin tone, but the tattoo should be virtually covered. This type of concealer does a good job at covering any kind of mark or scar on your skin but you need to be careful about not getting it on your bridal gown.
Professional Air-Brushing. Many a bride has had to cover her "tat" so that her parents (mainly her mother) do not see it. Professional air-brushing is a process that takes concealer to the next level. Done by a make-up professional or a micro-skin colour specialist, air brushing consists of a light concealer mist to cover most tattoos. The professional grade make-up used in this process not only covers the entire tattoo, it typically lasts throughout an entire day of festivities and does not rub off onto the dress's fabric (a huge concern among most brides who make a large investment in their gowns) and is worth the expense.
Tattoo Cover Up. Advancements in Laser tattoo removal have made it possible to fade an old tattoo and cover it with a new tattoo. However, if you feel that you have a tattoo that should be replaced before your wedding, you are going to need to plan at least 6 months ahead. And yes, you'll feel some laser tattoo removal pain, but if you were brave enough to get a tattoo in the first place you'll be fine!
First find a laser tattoo removal clinic to fade the tattoo making it easier to cover. For complete removal, most tattoos require at least 4-6 treatments, but you also need to wait between treatments. So plan ahead to include tattoo removal in your wedding beauty timeline.
You'll also need time to have the cover up tattoo inked, and for it to heal.
Did you cover a tattoo for your wedding? Share your experience in the comments.