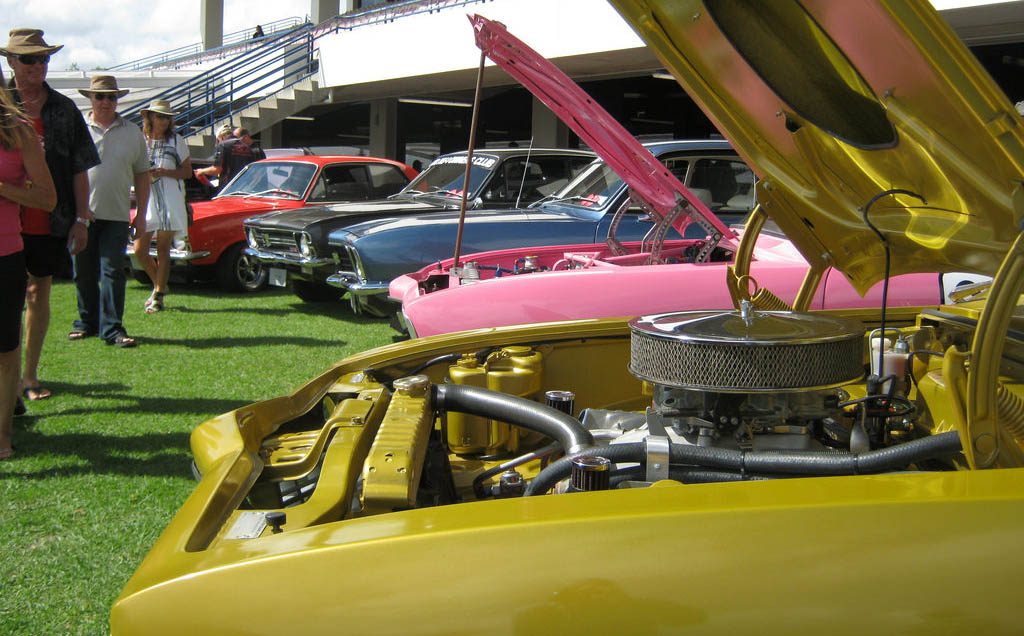 Who doesn't love a sexy classic car? Ok, so when it comes to dropping the kids at school, or pushing the boundaries and enjoying the convenience of modern technology, the head probably rules the heart and you need a modern car.
So why do we love a classic car? They're elegant, they're unmistakably beautiful, they're mechanical rather than electronic, loud rather than environmentally friendly, sturdy rather than super-safe, as bold as they are fast and nostalgic – and more.
And what's the only thing better than a classic car? It's a classic car event! Meet like-minded people, entertain the entire family, get your racing motor running, and simply indulge in that world you love – where the journey is always better than the destination: classic cars.
Upcoming Australian Classic Car Events in 2017
Wintersun 2.0
–
Location: Murwillumbah Showground, Murwillumbah NSW
Link: www.wintersun2.com.au
The Event: If it's pre-1978 motors or special-interest vehicles that get your engine running, Wintersun 2.0 in early June is for you. There's music, street food, all sorts of competitions and events even on-site camping at this iconic, re-born NSW country festival for every type of motoring enthusiast.

Sydney Classic Speed Festival
Date: –
Location: Sydney Motorsport Park, Eastern Creek NSW
Link: www.speedfestival.com.au
The Event: A little later in June, Sydney Motorsport Park is the perfect place for classic car lovers to be spending the Queen's Birthday long weekend.  It's 60s and 70s classic car racing at its finest, headlined by some well-known Supercar and professional racing drivers and all sorts of categories including handicap and split-grid races.  If you have a car to enter, you'll get lots of track time at this fun, 60s and 70s-themed speed festival.
Shannons Melbourne Winter Classic Auction
Date: 17 July 2017
Location: 40 Corporate Drive, Heatherton Victoria
Link: www.shannons.com.au/auctions/2017-shannons-melbourne-winter-classic-auction

The Event: Shannons Auctions offer you 3 ways to bid on classic cars and motorcycles. in person, online or by phone. A 1973 Chrysler VH Charger XL Coupe with no reserve, or a 1934 Harley Davidson 750cc 34R Solo Motorcycle are examples of vintage motoring history up for grabs. If you plan to bid at this huge classic car auction, register in advance, please following the link to Shannons website.
32nd NSW All Holden Day
Date: –
Location: Hawkesbury Showground, Clarendon NSW
Link: www.nswallholdenday.com.au
The Event: It's not too hard to remember that, for the most iconic name in Australian classic motoring, the first Sunday in August is when you can always get your full Holden fix.  It's nothing short of the biggest Holden showcase anywhere in Australia, but there's also something for the whole family including a swap meet and trade stands.  So bring your Holden-badged vehicle to take part in this event that's been an Aussie favourite for over 30 years!
Winton Festival of Speed
Date: –
Location: Winton Motor Raceway, Winton Victoria
Link: www.wintonraceway.com.au/
The Event: Get your racing fix at Winton Motor Raceway, where hundreds of classic cars from the 40s to the 90s and plenty of high profile drivers will go head-to-head in August.  A calendar favourite since 2010, the Festival of Speed is one of the best attended classic car events in Australia, featuring historic V8 touring cars like Mustangs and Monaros, the more nimble Toranas and Escorts, crowd-pleasing 911s and Corvettes, and even open-wheelers.
Historic Sandown 2017
Date: November 10th-12th Historic Sandown
Location: Sandown Racecourse, Springvale Victoria
Link: www.facebook.com/historicsandown
The Event: It's at spectacular Sandown where you should be completing your exciting year of indulging your passion for classic cars, at the 26th edition of this always-spectacular historic racing event.  Visitors always love meeting the drivers in the paddock and getting better acquainted with classic sports cars, which once upon a time was the most spectacular and fastest form of motor racing in Australia.  There's over 40 races, 400 cars including touring cars and F5000s, and so much more.
So if it's classic cars that you love, indulge that passion in style with some of Australia's best and most incredible array of events, festivals, race meets, auctions and more.  Whether it's a big and bustling event or something a little lower key, there's something for every motoring aficionado, weekend enthusiast or a fun-loving family looking for a cool day out.
Have we missed your favourite event? Add to our list of classic car events in the comments!
Image Source: Flickr