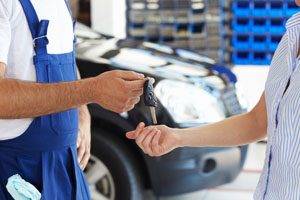 Choosing a mechanic to maintain our vehicles is crucial to our lives, particularly in Australia given the state of our roads and the distances that we travel to get to places. It's important that we keep them in good working order.
It can be a pretty sickly feeling when you are running late for a meeting, and you find your car won't start. If you pack your vehicle to the hilt ready for that big holiday journey to Ayres Rock and you don't even make it up the first hill, you may regret not choosing a car mechanic more carefully.
Choosing a Mechanic Can Be a Challenge
Choosing a mechanic may not be easy. There are so many things to consider. What type of mechanic are they, do they service your make and model, how reputable are they, what other services do they offer such as courtesy car, etc, and do they do specialist work. You also need to consider where they are located, and how you are going to get your car to and from their workshop.
One of the best ways to choose a mechanic is by word of mouth, but sometimes that's not always available. In this article we'll take you through a number of things that you should consider when choosing a mechanic. You may need to try a few before you settle on the one that meets your needs, and that you can trust with ongoing car servicing and repairs.
Types of Mechanic Services
Let's start by looking at the different types of mechanics out there:
New Car Dealers – These are usually one of the more expensive options available, but they do offer a full service and generally use only genuine parts. They also specialize in your make of car and can diagnose problems faster than other services.
Independent Operator – These shops typically do a wider range of cars. They can be a cheaper option for servicing, and many can carry out logbook servicing that doesn't impact your new car warranty.
Sub-Component Specialists – These  specialize in certain aspects of a vehicle such as auto electrical repairs, gearbox repairs, and suspension settings. It can be best to take your car to a specialist shop when you know you have a specific problem with that part of your vehicle.
Mobile Workshops – These can be by far the most convenient way to get your vehicle serviced. They can come to you at home or work. Make sure you know their home base in case you have a problem later.
Now we know what type of service is right for your car. It's time to contact local car mechanics and ask a few questions.
Questions You Must Ask When Choosing a Mechanic
If you find a mechanic specialist who is able to look after your vehicle and charges a reasonable rate, then you've struck gold as far as keeping your car well maintained. But there are also some questions to ask first.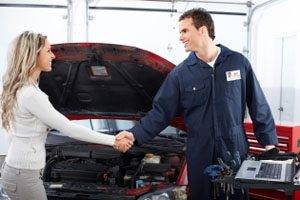 Use them as a checklist to help you when choosing a mechanic.
we've compiled a list of essential questions that will make you feel more confident with the mechanic you finally decide to entrust your car with.
What Accreditation Do They Have?
To be a formal mechanic they need to have either a TAFE certificate or a formal apprenticeship qualification. The latter is more desirable as it means they've undertaken four years of on-the-job / classroom training.
Another accreditation to check when choosing a mechanic is whether they belong to a motor industry association such as the ARMA. Whilst this isn't any guarantee of standards, it does increase the authenticity of their business.
Can They Come to You?

Getting through a day without your car can often be a logistical nightmare, especially if you have a fair way to travel to work or shops. Thankfully, some mechanics have mobile workshops to ease the problem, and can do repairs and servicing at your home of place of work.
What About Warranties & Guarantees?

Despite what the dealerships imply, you are fully within your rights to get your vehicle serviced by any mechanic you choose (as long as they use genuine or equivalent parts). The only exception is if it is a repair that is covered under warranty. This has to be done by the dealership's mechanic although they should not charge you for it. As long as the mechanic is qualified and uses appropriate parts then your warranty should be safe.
What Are Your Operating Hours?
If you have to work during the day then you have to drop your car off, and fetch it later outside of your company's hours. When choosing a mechanic, it is best to find one who opens early and shuts late so you can drop your vehicle off before work and pick it up afterwards. Another major difference between mechanics is that only some of them are open on Saturday. If you find it hard to get any spare time off during the week, then choosing a mechanic like this this can be a godsend.
What Makes and Models do you service?
What type of vehicle do you own? Is it a sedan, a 4×4, or a high performance vehicle. When choosing a mechanic service be aware that not all mechanics have experience of all vehicles. There are specialists out there that focus on certain types of vehicles like 4×4s, Heavy Vehicles, Light Commercial, Machinery, etc.
When choosing a mechanic make sure they are familiar with your brand of car and are generally aware of your specific model of vehicle. Brands quite often have similar problems across all their models. If your mechanic is familiar with working on these types of cars, then they are more likely to know about common faults and how to fix them. This can save you time and money in the long run as you aren't paying for them to diagnose the problem, and then work out what's wrong each time.
Can You Lend Me a Car for the Day?

Can you do without your car for the day? If not, how will you get back to the mechanic to pick your car up later? While this certainly shouldn't be a main factor when choosing a mechanic, it is something you need to think about. If you choose a mechanic who has a courtesy car or shuttle service it will cost extra, but this is far more convenient in the long run.
How long have you been in business?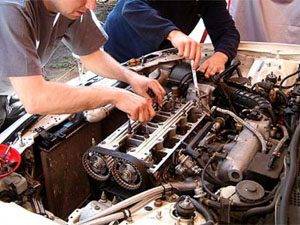 Check how long have they've been in operation. An easy way is to search for their ABN and find the registration date. Mechanics that have been around for a while can be a good indication that they are reputable. That said, it's by no means guaranteed.
Last Thoughts on Choosing a Mechanic
When choosing a mechanic one of the best ways to find one is via word-of-mouth. No matter how you found them, do your homework and ask the right questions. Find out as much as you can online, such as how long they have been operating and what their customer reviews say.
Visiting a mechanic before booking in gives you one last insight into their work. What impression does their workshop give? If they can't look after their own shop and keep it clean and organised and tidy, then what's the likelihood they're going to take good care of your car and not leave spanners in your engine?
Don't be afraid to get a second opinion, especially for larger jobs. Some accident repairs can run into thousands of dollars, so there could be a significant variance in the cost. And don't forget the mobile options where the mechanic comes to you. They can be a very convenient alternative.