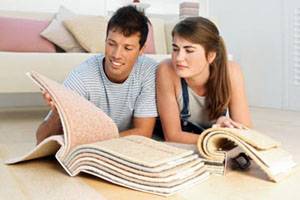 There are so many carpet styles to choose from these days that it's hard to make heads or tails of it all. Each one has its benefits and its downside. Let's take a look at each in detail to see what's best for you
Cut Pile
Cut pile is created by taking loop pile and trimming the top. This results in a trimmed carpet that has a dense yet soft look and feels. This is one of the most popular carpet styles used in residential housing.
Saxony
Saxony cut pile carpet is made from two or more fibres and heatset straight. This style of carpet is best suited to formal areas where a luxurious look is required and usage is low. This is because Saxony carpets show up footprints and vacuum marks very easily. They also tend to wear quicker than other carpet styles.
Plush
Plush pile carpet styles have a luxuriously smooth look and feel almost velvety. They are comfortable, and like Saxony are great for formal areas. This carpet style also has a tendency to show footprints and vacuum marks. Plush carpets are available in a nylon fibre or blended fibres with wool. They are typically only available in a single colour limiting their design potential.
Twist Pile
This pile carpet has two or more yarns twisted together to form a tuft. These carpets are more hardwearing and tend to last longer than other carpet styles. They still have comfort or softness to them but are less likely to have the shading (footprint and vacuum marks) than the previous carpet styles.
Shag
Shag carpet is made up of long cut pile that is thread in different directions. This gives it a luxurious feel and that "shaggy" appearance. It is very durable and yet has a soft feel.
Loop Pile
These carpets are durable and heavy-duty. They're also able to withstand heavy traffic and easier to keep clean. They don't tend to show footprints or dirt marks as easily as other styles of carpet. On the downside, they don't tend to be as comfortable as cut pile carpets. They are often found in rental properties as these carpet styles are easier to clean and normally cheaper than cut pile.
Berber
As a loop pile, Berber reduces the impact of footprint and vacuum tracks. They are even thicker than standard loop pile carpets for increased durability.
Sisal/Cord
This is a loop pile that is made up of loops in straight rows. Loops can also vary in height to create different patterns. Like other loop piles, they are very long-lasting but still not as resilient as many types of timber flooring.
Multi-Level (Hi/Lo)
Using loops of varying heights, Hi/Lo carpets have a textured finish surface that remains durable and able to withstand heavy traffic.
Cut & Loop Pile
Combining both cut and loop piles adds the benefits of each style. This combination creates different patterns and a blend of textures. They are soft but durable and are ideal for medium traffic areas like lounges.
Which Carpet Styles Best?
Different carpet styles and fibres have their pros and cons. It's important to consider the amount of use the carpet will get, and what sort of look and feel you're after. Given all the choices it's best to talk with an expert about the right carpet to put in your house.