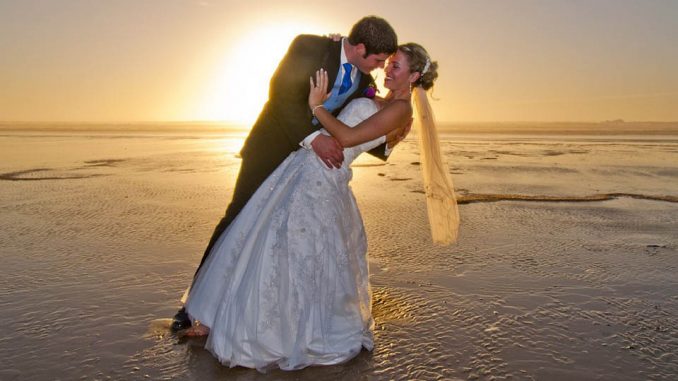 Almost every girl dreams of the perfect wedding – but that doesn't mean every girl dreams of a big, showy, extravagant wedding event. Some think sand between the toes, sun on the face, the gentle sound of surf and seagulls and the guarantee of a perfect coastal sunset sound like perfection. So after picking a perfect sandy venue, the next question is obvious: how do you choose the right beach wedding dress?
The good news is that because a beach wedding is typically pretty chilled out, there aren't any hard and fast rules about the necessary styles of beach wedding dresses. Beach brides can slip into grand, sweeping gowns, lacy ruffles, simple slip dresses and sexy, bohemian off the shoulder beauties.
So whether you're planning to say 'I do' on sparkling Caribbean sands or you're just zipping down to your local Aussie surf spot, a beach wedding is the ultimate in romance. To help make your day at the ocean unforgettable, we've come up with a few tips to help you select the perfect beach wedding dresses:
1. Carefree
Yes, you want to look elegant and beautiful, but if you're a beach wedding babe, it's probably a good bet that you're also a carefree spirit.
It's therefore the perfect opportunity to take that carefree attitude to your wedding planning and apply it to your beach wedding dress choice. It doesn't mean skipping on the very best in designer style and elegance (You should find and consult a local wedding dress designer that inspires you). Beach weddings are the perfect opportunity to go barefoot, leave your hair down and bare some leg and shoulder.
2. Comfort
Sand, sun and an ocean breeze – all sounds perfect, right? Just bear in mind that sand gets stuck in hems, sun makes you sweat and an ocean breeze can actually be a gale-force nightmare.
The lesson here is that comfort and practicality are major considerations when it comes to beach wedding dresses. We're talking about things like an elegant yet very practical hat, something that flows rather than tangles in the wind, and lightweight, breezy materials so that you don't melt in the sun.
3. What to avoid
When picking the perfect beach wedding dresses, it's also very helpful to know what to definitely avoid.
First, just think about the last time you were at the beach. What's the first thing you did? That's right: you took your shoes off. And if you don't want to do that on the big day, contemplate how you're going to get about on the soft sand while still looking elegant rather than ungainly.
Then, stick with light, subtle and simple details rather than hot and hefty indoor dress selections like heavy beads that can add kilos to your wedding day load.
4. Match the hair
After picking that perfect dress, most brides will then turn their imagination to the perfect wedding hairstyle. But for seaside nuptials, it's particularly important to match your wedding dress and hairstyle. Loose braids are on trend, especially with a more romantic style of beach wedding dress featuring lace.
We've talked about the heat and the wind, but the beachside humidity that makes your hair fizz can be another outdoor wedding challenge. A sure elegant and practical beach wedding winner is a tight yet intricate braid, which will look beautiful but remain manageable and maintenance-free all day.
Did you have a perfect beachside wedding? Did you say 'I do' in the shallows and now know which beach wedding dresses to definitely avoid? An army of budding beach wedding brides would love to hear from you!