Vintage wedding fashions have only grown in the last few years of wedding style, with new modern ideas being integrated into historical trends. While styles are often mixed and re-imagined, it can help to know exactly what each decade had to offer. From delightful, to sleek, to sweet and cheeky, each era featured markedly different looks.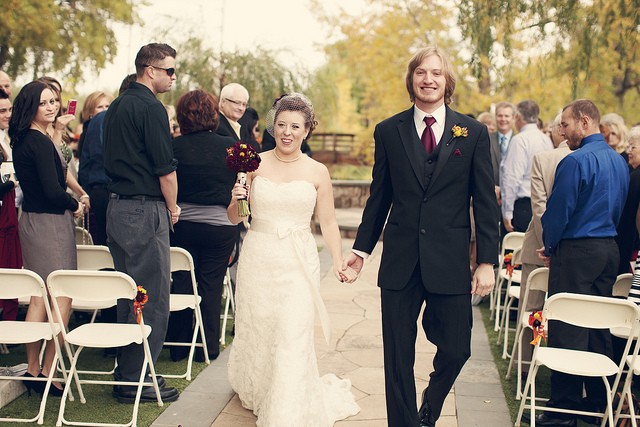 The classical 1910s
The 1910s look is often indulgent in terms of lace and volume, around the chest, the arm, and around the skirt, but it is always brought in at the waist for a very sweet, classical look.
Hair: up, with hats and veils
A woman's hair was her greatest assent in this era and was almost never cut. On wedding days it was brought up and often dressed with veiled hats. The large style made the head and neck look small and the body elongated. For a modern take on this style a traditional up-do can work wonders, with some body in the hair around the face for volume. You can pair with a smaller veil attuned with more modern tastes, or go even smaller.
The roaring 1920s
When we think of 1920s fashion, we envision the young "flapper" girl, with her boyish bob, thin eyebrows, and shapeless dress, although the traditional 1920s dress was far more ethereal and modest. This simply means you have a greater wealth of inspiration to choose from, to create some glorious vintage fashion.
Hair: short and angular, with bands
While the 1910s style was about volume, the 1920s hair was often pinned down close to the head by the wedding veil. This style is perfect for women with short-mid length hair, but by no means does it rule out the longer cuts. A band around your head, either floral or diamond is an instant way to get the look, or simply ask in store about a flapper hair accessory.
The feminine 1930s
This era spoke to the glorious beginnings of the Hollywood golden age. As the Great Depression drove people to the movies for escapism, they found a new world of sophistication and beauty. Long satin gowns that hug the figure and provided a long flowing hemline gave the women a look of sublime femininity.
Hair: wavy, borrowing from other eras
Chin to shoulder-length waves were favoured in this era. There was a transition from the more "fun" look of the 1920s to the volumed curls and waves of the 1940s. This style in vintage is therefore difficult to pin down, as it can sometimes borrow from the both other eras in its modern interpretations.
The sophisticated 1940s
The 1940s were all about simplicity, with clothing that was both practical but looked polished and sophisticated. In terms of wedding dresses the same look often shone through, coming in tight and sure of itself around the chest and midriff, before running into a usually generous skirt.
Hair: experimentation is key
This era saw the birth and popularisation of the pin curls, victory rolls, and up-dos. This kind of hair was a statement unto itself, and in a vintage version, we should expect no less. Longer hair was usually required for these kinds of techniques, but you can also use a fixable hold, inspired by the 1940s, if your hair is too short. See our related post for more wedding hairstyles for short hair.
The elegant 1950s
The 1950s were all about marriage and the happy family home. We think of the bouncy 50s skirts and the continued hair styles of the 1940s, but we also have Grace Kelly's wedding gown and a very elegant wedding fashion. Both looks are used today for wedding inspiration.
Hair: longer hair styled
For 1950s hair, you can try a modernised version of the bouffant or pompadour, both easily integrated and celebrated in vintage wedding styles. These styles do require a bit of hair to do, just like the 1940s, so pixie cuts may require some imagination or styled veils.
Which vintage era will you co-opt for your big day? Whatever you choose, ensure your hair matches your dress, so you look a million dollars!