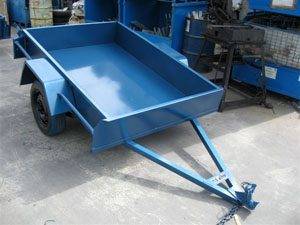 In this article we'll look at trailers, and the different types that you'll find in yards for hire, and retail shops. We provide a brief overview of the types of trailers available, and make suggestions regarding how to use them best.
The Common Types of Trailers
Car Trailers
These are flat bed types of trailers that normally don't have much of a sidewall beyond what's needed to stop the load slipping. They tend to be a bit over 6 foot wide, but can vary in length. They should also include a set of ramps which are integrated into the trailer, so that you can load and offload vehicles with everything you need.
Box Trailers – Open
These trailers come in all shapes and sizes, though box trailers generally come in a 6'x4' shape with 1' high sides. However dimensions can vary with sizes as large as 9'x5'. Sides can also be increased to 2' and higher. Box trailers can also be light duty, medium duty, or heavy duty double axle.
Box Trailers – Enclosed
These types of trailers have the same base as an open box trailer plus they have an enclosed top that fits over the trailer. These can be of varying heights and the door at the back can be of different styles too. They include a combination of the rear flap of the box trailer, plus a door to the enclosure itself, or one main door. The main door can open to the side, or drop down and become a ramp or lift up. Some enclosed trailers also have an opening to the side.
Boat Trailers
Of all the trailer types these would be the most varied in size, shape and features. These types normally come with the purchase of a boat and are designed to fit the boat. The key differences are the shape and the ability for these trailers to be submerged in water. They also  have a winch at the front (hand or electric) that helps to pull the boat onto the trailer.
Bike Trailers
These types of trailers are designed specifically to transport motorcycles. They are usually sized to accommodate three of them. Their structure is a simple frame with 3 channels about 6 inches wide and with rails running the length of the trailer. Bikes are then placed in these channels and secured to the trailer using straps.
Livestock Trailers
These are trailers specifically designed to carry large animals like cattle and sheep, with the most common variety designed to carry horses (known as a horse float).
Hiring vs Buying a Trailer
If you plan on using a trailer regularly, it might be better to buy. Work out the trailer hire cost vs buying over 12 months of usage. Buy a trailer if the cost of hire is higher. If you are looking for a trailer to hire or buy make sure it is safe to use and has full accident coverage. Check the auto electrics, testing the indicators and brake lights. Test trailer brakes are on and working.