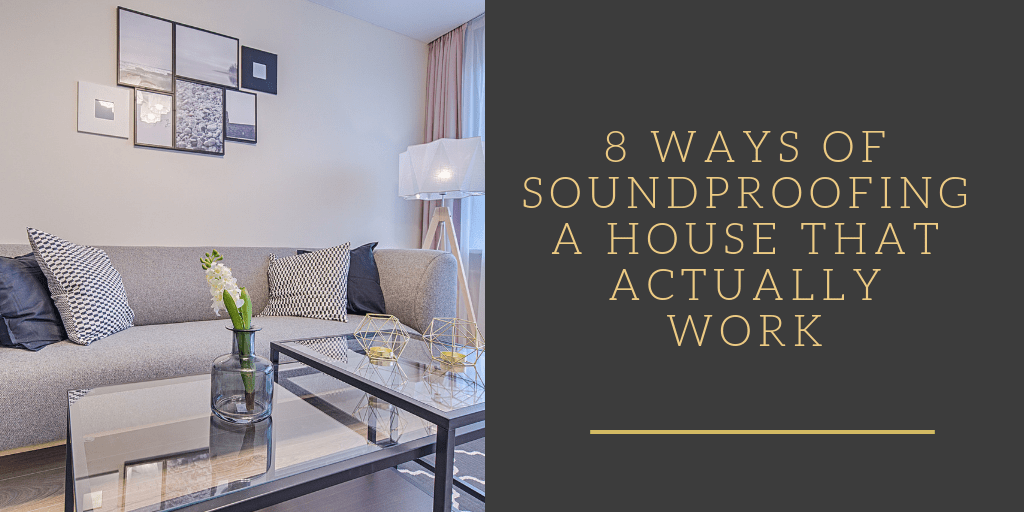 For those who stay in metro cities, it can be a nightmare to suffer from the entire disturbance created because of the noise outside. Moreover, if you happen to share a wall with your neighbours then things get even worse. A good way of dealing with this problem is to soundproof your house. There are several budget-friendly ideas that you can incorporate. To begin with, you can determine the source of noise and then work on the areas of your house which are the closest to it. Below are the top 8 ways of soundproofing your space.
1. Block outside noise through windows
If you have a single pane window then chances are that the noise will be easily amplified. You should upgrade it to triple pane windows. This option could be a little expensive and if money is not the issue then it works wonders for your living space. You will immediately notice how the noise can no longer penetrate through the window to create any disturbance. An alternative could be to cover the windows with thick curtains. The more layers you add, the better it is. Ensure that the areas around the window are sealed well. Moreover, you can also shop for a sound-blocking quilt and hang it up and remove as and when needed.
2. Weatherproof the Front Door
If you can easily hear everything that is said in the hallway, then it certainly implies that there are air gaps that you need to fix. Since sound travels through air, it is important to rectify all the gaps that you see light from. Adding a door sweep under the door will also work. You could add in a thick rubber strip. This way you will keep noise as well as bugs, drafts, and dust. Foam weatherstripping is also a great option.
3. Use the Right Decor
Apart from the main door, sound can also travel within the rooms and in the interior doors. This could be annoying especially when you have an important work to take care of. In such cases, you can use a draft stopper. It could be homemade or purchased one and will easily block away from any unnecessary noise. There are variants available in the market which would simply attach to the door so that you don't have to keep placing it over and again. Adding cushions to your room also helps. The foam inside it acts as an amazing absorbent. You could choose fancy cushions that go along with the rest of your home decor while blocking out the noise.
4. Reduce Noise Reflection
Noise reflects from hard surfaces like ceilings, walls, floors and the like. This is why empty rooms produce an echo. You can cover the bare walls and ceilings with different types of furniture to absorb sound. This will help in curbing the sound so that you cannot hear the commotion, barking, and voices. Alternatively, you can use rubber textile mats on the wall to soften out the annoying noise.
5. Invest in a Rug Pad
You can use a thick rug on the floor to avoid any noises from the floor below to bother you. Also, rugs are made such that they absorb a lot of sounds. If you are to move around any furniture inside the house then even that will be easy since the rugs will prevent any noise.
6. Use a Bookcase
If you are staying in an apartment that has thin walls then you might have faced the ordeal of listening to the chatter in the next room. You might even have woken up from your peaceful sleep just because the tenant next door is playing loud music. If thin wall is the problem then you can add a bookcase to create a barrier. As an added piece of furniture, the bookcase will also absorb the noise. Massive objects resist vibration and also reduce sound transmission. To make sure that the work is done perfectly, there should be no gaps between the walls and the bookcase for the noise to pass.
7. Acoustic Panels
Acoustic panels are a very important part of soundproofing. They are available as boards which you can use to put on the walls or even fabrics that can be hung. You can choose the option that best suits your individual needs. Acoustic panels are extremely efficient in absorbing the sound. It can easily bring down the noise by over 30 decibels. Each panel comprises sound-muffling materials. Some acoustic panels are such that you can create a silent zone anywhere. All that you will have to do is to put the panels together and assemble them within no time.
8. Window Inserts
Do you absolutely cherish the view from your building but do not want to tolerate the terrible noise? Then window inserts are perhaps the best option for you. They are clear panes of acrylic or glass that you can install on your existing windows. Installing window inserts brings down the noise by 50%. The best part is that you do not have to compromise the view from your apartment as you can clearly see it. These inserts are designed in such a way that they create an airtight seal that blocks the noise. Moreover, you can simply pop it out when you do not need them so that ventilation is ensured.
Conclusion
In the bustling metro life of today, there is hardly any place where you will find the quiet and peace that is needed. Noise can be caused due to a variety of sources such as honking cars, chatter from the neighbours, kids playing outside and the like. More often than not, you might experience noise pollution that simply cannot let you sleep.
This is when soundproofing comes to the rescue. With the above-mentioned tips, you can very well soundproof and make your apartment or home more peaceful and tranquil. Based on your budget, you can choose the options that work best for you.