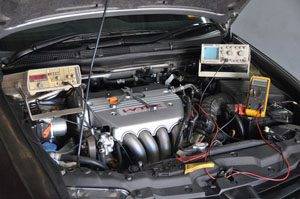 There are many reasons to hand your car to a mobile auto electrician for specialized servicing or repair. The easiest way to remember what auto electricians do, is if it requires power to run, then one can help fix it.
By comparison, a mechanic may not have the qualifications, training and experience to do this kind of specialist work.
In this post we describe a few of the typical problems local auto electricians solve in the course of a busy day.
Problems Starting your car
There are a myriad of electrical reasons why your car might not start (that doesn't include leaving it in drive, running out fuel or other simple mistakes). Auto electricians can diagnose the problem and fix it.
Alternators & Starters
If you can't get your car started because the engine won't turn over, then there's a possibility your alternator is not charging your battery and so the starter motor is unable to turn. The easiest way to know if it's a problem with the battery when this happens and you are unable to start the car is to try to turn on the radio or internal light. If you get no response or a weak effect it's time to call a mobile auto electrician for help.
Car Batteries
Of course, it could always be your battery that is unable to accept a charge because it has a 'dead cell' or other defect. As with above if there is a problem with the battery, then an auto electrician can quickly sort it out for you.
Air Conditioning
If you find that over time your air conditioning doesn't seem to be pumping out the same amount of cool air, then you may find that the system needs to be re-gassed. Regardless of why it's not working, it's best to take your car to a mobile auto electrician to get it sorted and the seals checked at the same time.
Instrument Repairs
Does your speedo say that your doing 60km/hr but a guy on a push bike just went past you up a hill? If that's the case, then your electric speedo may have lost its memory  and need recalibration. Don't try to do this yourself or you could break it! This a job for a specialist mobile auto electrician.
Audio System Installations
As our cars get older the stereo systems just don't seem to maintain their level of quality, especially with all the new features available like ipod connectivity, etc. Auto electricians can install your new system so that it's fitted correctly, and according to the design of the manufacturer.
Power Windows, Mirrors, Etc
Anything on your car that needs electricity to operate is a job for a mobile auto electrician. This even includes windscreen wipers, sunroofs, power windows, power mirrors, headlights, etc. If any of these things stop working then an auto electrician can be of assistance. Don't take a chance and short out your wiring harness.
Keyless Entry, Remotes & Immobilisers
Just like all the other points above, keyless entry uses a powered device to unlock your car. Mobile auto electricians are equipped to diagnose and fix any problems you have with remote access to your car.
The Jobs a Mobile Auto Electrician Does
These are just some of the typical services that mobile auto electricians can provide. Some don't provide all of them, while and many provide a lot more than this list suggests.  Before you have an actual problem it's best to check with your local mobile auto electrician and find out what they do.