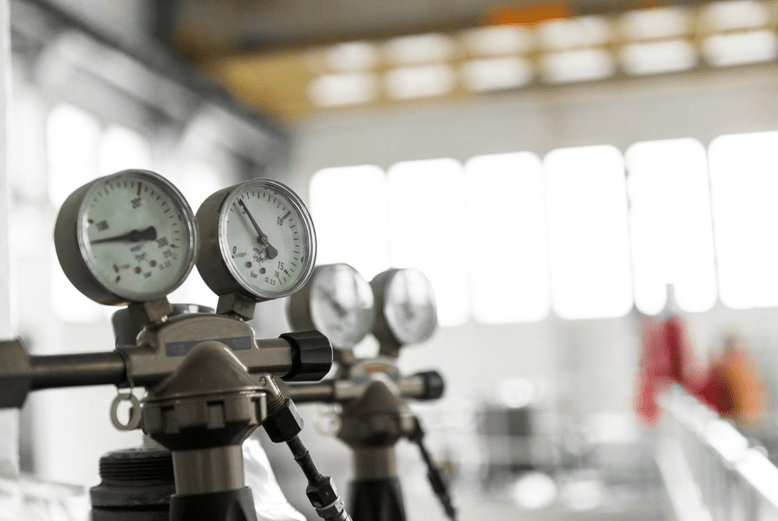 Air compressor power tools and applications in a wide variety of industries such as manufacturing and food processing. They are also used behind the scenes in smaller businesses and help to power everyday appliances such as air conditioners that cool our homes.
How Does a Compressor Work?
Air compressors work by compressing space that is filled with air, reducing its volume and increasing its pressure. Compressors are normally powered by electricity or gas but provide clean energy which can power commercial and industrial applications, as well as air tools such as nail guns and paint sprayers.
An air compressor's output is measured in cubic feet per minute (CFM). The higher its CFM output, the more compressed air it's capable of producing and the more applications it can power at once.
Air pressure is measured in pounds per square inch (PSI). As pressure increases, more capacity is used. CFM and PSI will both change depending on an application's requirements, for example providing more compressed air at a lower pressure or less at a higher pressure.
While air compressors all achieve the same result, their methods of compression differ depending on their type.
Rotary Screw Compressor
Rotary screw compressors use a set of interlocking rotary screws to quickly and efficiently compress air. The rotary screw movement is continuous, providing a constant flow of air and a consistent pressure which is ideal for extended industrial use.
Rotary screw compressors are generally bigger than other models and are less portable. However, what they lack in portability they make up for in efficiency and output, providing large amounts of compressed air without frequent interruptions.
Piston Air Compressor
Piston or 'reciprocating' air compressors work by moving a cylindrical piston forwards and backward, drawing air into a chamber and then reducing its volume to compress it.
Pistons are used to power a wide range of air compression needs, but due to their design is best suited for smaller, consumer grade applications.
Reciprocating compressors can come in single or two-stage variants, where the compression process is repeated in a secondary chamber to compress the air to an even higher pressure.
Oil and Oil-Free Compressors
Air compressors need proper lubrication to avoid parts wearing or breaking. While oil-based lubrication is effective, it can lead to small particles of oil contaminating the compressor's output.
Depending on the application, oil particles may be beneficial, for example when powering tools such as pneumatic drills. However, when being used in sensitive applications, such as to assist in medical procedures or compiling circuitry, air output must be contaminant-free.
Medical grade air compressors operate in similar ways to other models but can provide compressed air of a much higher quality. These machines use an oil-free lubrication system, substituting water to complete the same function. This allows proper function without the risk of oil contamination.
Water particles which remain in the compressed air can then be sent through an effective drying and filtration process, leading to air that is almost completely free from water vapour and contaminants.
Air Dryers and Air Receiver Tanks
Air receiver tanks allow for safe storage of compressed air. While they aren't essential to running the compressor, they help to improve its efficiency and reduce wear and tear from frequent stopping and starting.
Receiver tanks are also required to use air drying and filtration technology. Air dryers come in a variety of different types and can be fitted to a compression system to dry and filter air, removing water vapour and other particles. Dryers and receiver tanks can help to improve a compressor's efficiency and air quality while reducing wear and tear.
Which compressor type will you use for your business? Let us know in the comments below!