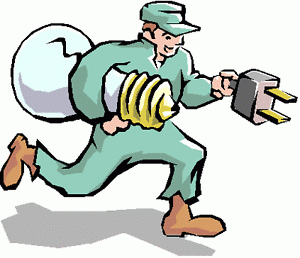 Choosing an electrician can actually be a bit more difficult than you first think. The electrical field is so diverse in products and capabilities that it's hard to find one that has a good grasp of it all. You'll often find an electrician who focuses on specific products like solar, home automation, automotive work, emergency repairs, commercial and more. Make sure they can do the job before you get them out to quote.
How to Go About Choosing an Electrician
Ask to See Their License
All building electrical work requires a licensed electrician to carry out the service. This includes installation, repairs, alterations, or removal. It affects fixed appliances, wires, and fittings too. Regardless of how 'handy' you are around the house, all electrical work should be left to the professionals.
It's a very serious offence to modify electrical work without a license. Individuals can potentially be fined very large sums of money and then there's the insurance angle too. Don't be afraid to ask, many electricians expect it
Discuss Their Experience
Don't let them do their learner's test on your home. How long have they been in the industry? While choosing an electrician this way isn't a guarantee of quality, it does give you a sense of their expertise. The more experience an electrician has, the more likely they are to know what products are suited to your situation.
When choosing an electrician find out what kind of previous work they've done before. Is it similar to what you need them to do? Obviously, if it's just a power point relocation than don't worry. If you want a well-lit backyard with floodlights, strip lighting, automatic sensors, etc. then you want to make sure the electrician is familiar with this type of work. Don't just assume they know all about it. If they don't know, then you'll have to pay for them to learn what to do and what products are available.
Guarantees & Compliance
When choosing an electrician, it's important to ask about the electrical compliance certificates. An electrical compliance certificate is a legal document that certifies that electrical work has been done in compliance with the relevant regulations and safety standards. It's important to obtain this certificate when any electrical work has been done, as it serves as proof that the work was done safely and correctly.
A good electrician should always provide you with an electrical compliance certificate for any work they do. This certificate should list the work that was done, the date of completion, and the electrician's license number. If the electrician can't provide you with a certificate, it's a red flag that they may not be qualified or experienced enough to do the work properly.
In addition to the compliance certificate, it's also important to ask about warranties and guarantees on their work. A good electrician should stand behind their work and be willing to offer a warranty or guarantee to ensure that the work is done correctly and will last.
By asking about compliance certificates, warranties, and guarantees, you can ensure that you're hiring a qualified and reliable electrician who is committed to doing high-quality work in compliance with all relevant regulations and safety standards.
Before Choosing an Electrician Get Another Quote
Always get at least two quotes for the job, even better three when choosing an electrician. Depending on the task you'll find prices can vary immensely. That said, you don't necessarily want to go with the cheapest quote. There are a lot of other factors that you want to consider, for example the quality of materials, workmanship, and how quickly they'll get the job done. Spending a few extra dollars now could save you a substantial amount in the long run.
Don't Take Things for Granted

While comparing the quote and going through the plans, check what they're like to deal with and how they communicate with you. Do they follow up on what they said they would, were they on time (or at least close) and how do they react to your questions, etc? This could be an indicator of what they will be like when the job gets started. Choosing an electrician carefully should mean fewer regrets in the future.