Weddings are emotional by default. With the celebration of love, the joining of families and so much joy in one room, it's only natural to get a little teary.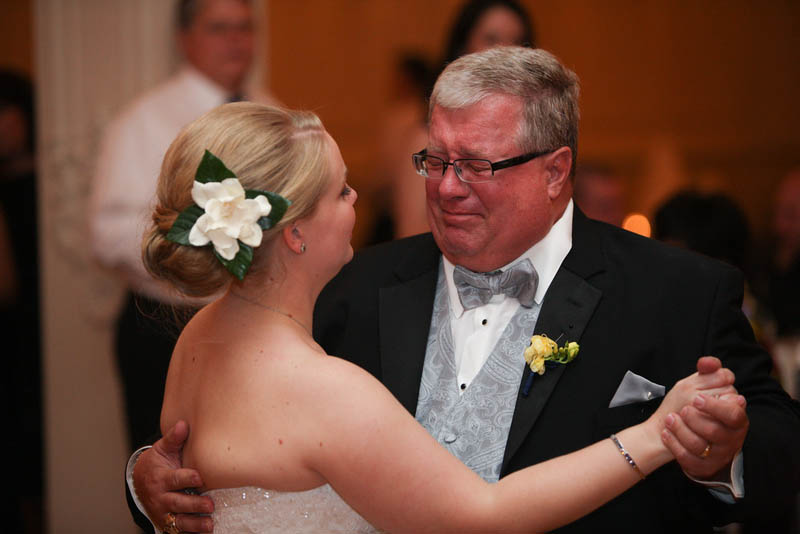 There is one moment during the wedding day, however, that is more touching than the rest: the special dance between the bride and her father.
The father-daughter dance symbolises a special and unbreakable relationship that remains strong throughout everything. Therefore, choosing the right song is crucial – but tricky. The song should be about love, of course, but not the kind of love that would be appropriate for the bride and groom. It must be gentle and tender.
There will be songs that are already special between a father and daughter that hold amazing memories from her childhood. However, if these songs are not quite wedding-appropriate, you may be a bit stuck. To help you out and give you a little bit of inspiration, we have listed the most common and popular father-daughter dance songs.
The 50 best father-daughter wedding dance songs
1. "My Girl" by The Temptations
2. "Isn't She Lovely" by Stevie Wonder
3. "Unforgettable" by Natalie Cole and Nat King Cole
4. "What A Wonderful World" by Louis Armstrong
5. "Landslide" by Fleetwood Mac
6. "Sweet Pea" by Amos Lee
7. "Come Fly With Me" by Frank Sinatra
8. "Brown Eyed Girl" by Van Morrison
9. "I Loved Her First" by Heartland
10. "You Are So Beautiful" by Joe Cocker
11. "Just Fishin'" by Trace Adkins
12. "The Way You Do the Things You Do" by the Temptations
13. "Dance With My Father" by Luther Vandross
14. "Over The Rainbow" by Israel Kamakawiwo'ole
15. "My Wish" by Rascal Flatts
16. "Your Song" by Elton John
17. "You Are the Sunshine of My Life" by Stevie Wonder
18. "Cinderella" by Steven Curtis Chapman
19. "The Way You Look Tonight" by Frank Sinatra
20. "You're My Best Friend" by Queen
21. "She's Leaving Home" by The Beatles
22. "Times of Your Life" by Paul Anka
23. "It Won't Be Like This For Long" by Darius Rucker
24. "The Wonder of You" by Elvis Presley
25. "In My Life" by The Beatles
26. "Father and Daughter" by Paul Simon
27. "Because You Loved Me" by Céline Dion
28. "My Little Girl" by Tim McGraw
29. "Michelle" by the Beatles
30. "How Sweet It Is" by James Taylor
31. "Forever Young" by Rod Stewart
32. "My Funny Valentine" by Frank Sinatra
33. "I've Got the World on a String" by Frank Sinatra
34. "There Goes My Life" by Kenny Chesney
35. "Butterfly Kisses" by Bob Carlisle
36. "Daughters" by John Mayer
37. "Daughter" by Loudon Wainwright III
38. "Dance With My Father" by Luther Vandross
39. "Annie's Song" by John Denver
40. "I Got You Babe" by Sonny & Cher
41. "Have I Told You Lately" by Rod Stewart
42. "Can You Feel The Love Tonight" by Elton John
43. "You'll Be In My Heart" by Phil Collins
44. "It Had to Be You," by Ray Charles
45. "When You Need Me" by Bruce Springsteen
46. "(They Long To Be) Close To You" by The Carpenters
47. "Lullabye (Goodnight, My Angel)" by Billy Joel
48. "While You Were Sleeping" by Elvis Perkins
49. "You Are The Sunshine Of My Life" by Stevie Wonder
50. "Daddy's Little Girl" by Michael Bolton
This list has everything from Phil Collins to Luther Vandross to John Mayer – there is something for every special father-daughter relationship.
When does the father-daughter dance happen?
Weddings are grounded in centuries of tradition. Some elements have been modernised, while others are still present at a lot of wedding receptions. As the tradition goes, the newlyweds enter the reception officially man and wife, and soon after the cake is cut. Then, there is usually a toast, which is followed by the all-important First Dance between the bride and groom. Following this is usually the wedding party dance, which involves the two families, the bridal party, the groomsmen, the flower girls and the page boys.
After the wedding party typically comes the special father-daughter dance. This is a quiet, tear-jerking moment. In the case where the bride's father isn't there, the bride may choose to dance with their grandfather, or whomever she deems suitable.
At some weddings, the father-daughter dance is followed by the mother-son dance, although this particular moment isn't as common.
Wedding DJ vs live band: what do you choose?
When planning your wedding entertainment, one of the biggest dilemmas you'll be confronted with is whether you hire a DJ or a live band. The option you choose will come down to your personal preference and musical taste, as well as your budget. Both options have advantages, but which is right for you?
DJ: pros and cons
Hiring a DJ for your wedding day is advantageous because of versatility. Good DJs will have an enormous catalogue of songs to choose from, meaning that you can curate a playlist exactly to your taste and you don't have to worry about a song not being available. Another good thing is that guests can request songs throughout the night.
A professional DJ will also be able to work with you to create the perfect playlist and will understand what certain songs must follow others, and how to work up to musical peaks.
Another advantage of a DJ is that they are generally less expensive to hire for the entire occasion, compared to if you were to hire a whole live band for your reception. However, this depends on how high profile the DJ is. It's also worth noting that some wedding venues may already have a DJ on their roster, whom you can hire for a reduced price.
Live band: pros and cons
A DJ is a good option, but hiring a live band on the wedding will create a special, intimate and authentic evening. There is nothing quite like live instruments and a live vocalist performing some of your favourite songs. And remember that a top quality band can be incredibly versatile – they can play anything from pop songs to smooth jazz to complement any moment in the day.
Though hiring a live band is generally the more expensive option, it's recommended that you allow space in your budget to do so. Or, to compromise, why not hire a live band for 3-4 hours so that they are playing background music through dinnertime, and then perform the important First Dance and father-daughter dance live. Then, ideally, you'd have a DJ to take you into the night.
Conclusion
While planning a wedding can be stressful and test a couple, it's important to not lose sight of the intention behind it. Listen to your gut instinct and act with love, and you'll have the most perfect day.
Congratulations!