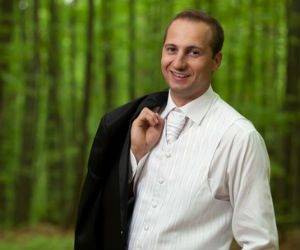 Knowing what to wear on your wedding day is not as easy as one might imagine. Many people assume that brides are the only ones who bother thinking about their wedding appearance; however this is not true. Looking good on the big day also concerns the groom.
This is one day that manly pride needs to be put aside to make way for a little metro-sexual pampering.
Hair: Styling for the Big Occasion
No cheap cuts haircuts will do justice for this special occasion. Instead of the usual barber visits, grooms should opt for a unisex salon. Then a top hairdresser can tailor a cut to suit their hair texture, facial features and personal style. Schedule an appointment at least a week or two before the wedding to ensure your chosen salon doesn't get booked out. The groom should also check out what styling products his hairdresser uses – and buy them, if necessary – as well as glean styling tips for the big day. Or, he could just have his hair professionally styled on the day.
Nails: Getting that Perfect "Man-icure"
We don't advise a hot pink hue here, but a "man-icure" is recommended for the big day. Having clean, manicured nails can enhance the wedding band and look good in any close-up photographs. Grooms should head to a nail salon one or two days before the wedding. There, the manicurist will buff, file and shape their nails, trim the cuticles and exfoliate any surrounding dry skin. A coat of clear polish is optional.
Skin & Facial Care: Prepping for the Spotlight
Grooms should consider a three-step skincare regime in the lead-up to their wedding day – that is, cleansing, toning and moisturising. Arranging a facial a few days before the wedding can also be a good way to get rid of any dryness, dead skin, impurities or build-up. A moisturiser with SPF factor is also advised to protect the skin on the day.
It is essential that groom shaves on the morning of the wedding – or at least gives his goatee, beard or moustache a trim with a quality beard trimmer. He could even head to a barber to have it done professionally. A good way to get a clean shave? First, apply a hot towel to the face to soften the hairs, then layer on the shaving cream, and finally, shave in the direction of the hair growth, using a new razor. But, make sure this is done well before dressing to avoid any potential blood stains!
Teeth: Flaunting a Bright Smile
Grooms with less than immaculate pearly whites (hello coffee and wine stains) should consider teeth whitening. Dentists now offer these procedures (with price tags around the $500 mark), but there are also do-it-yourself products for the home. Treatments should be undergone at least a fortnight before the big day, as there may be some sensitivity initially and a need to steer clear of certain foods.
Accessories: Completing the Look
Those donning a suit should opt for a belt in the same colour as their shoes. (A tux, on the other hand, doesn't require a belt.) Shoes should be shiny and new – patent or plain leather shoes are the standards. For a classic look, a groom's vest should be neutral, with just a hint of colour in the tie (as should the groomsmen's). It is also the look to have a little of the shirt cuff poking out from under the suit sleeve. The groom can then show off their personal flair with their cufflinks.
Last Minute Tips
Make sure all clothing is well-fitted. For the coat, have your groom stretch his arms across the front and flex to ensure it will remain comfortable all-day.
An expensive, well-cut suit or tux can really be worth it.
Odd-coloured or patterned socks should be avoided – plain black is generally best.
Out-of-character looks or trends should be steered clear of. The wedding photos will last longer than any fast fad!
A groom's appearance on his wedding day is equally crucial as the bride's. Every detail, from the hairstyle down to the shoes, matters in achieving the perfect look. While it's essential to put effort into looking impeccable, it's equally important to remain comfortable and stay true to one's personal style. After all, it's a day of celebration, love, and memories – and looking one's best only adds to the magic.